ALMONDIGAS RECIPE
PORKSAVOR® ALL-IN-ONE SEASONING MIX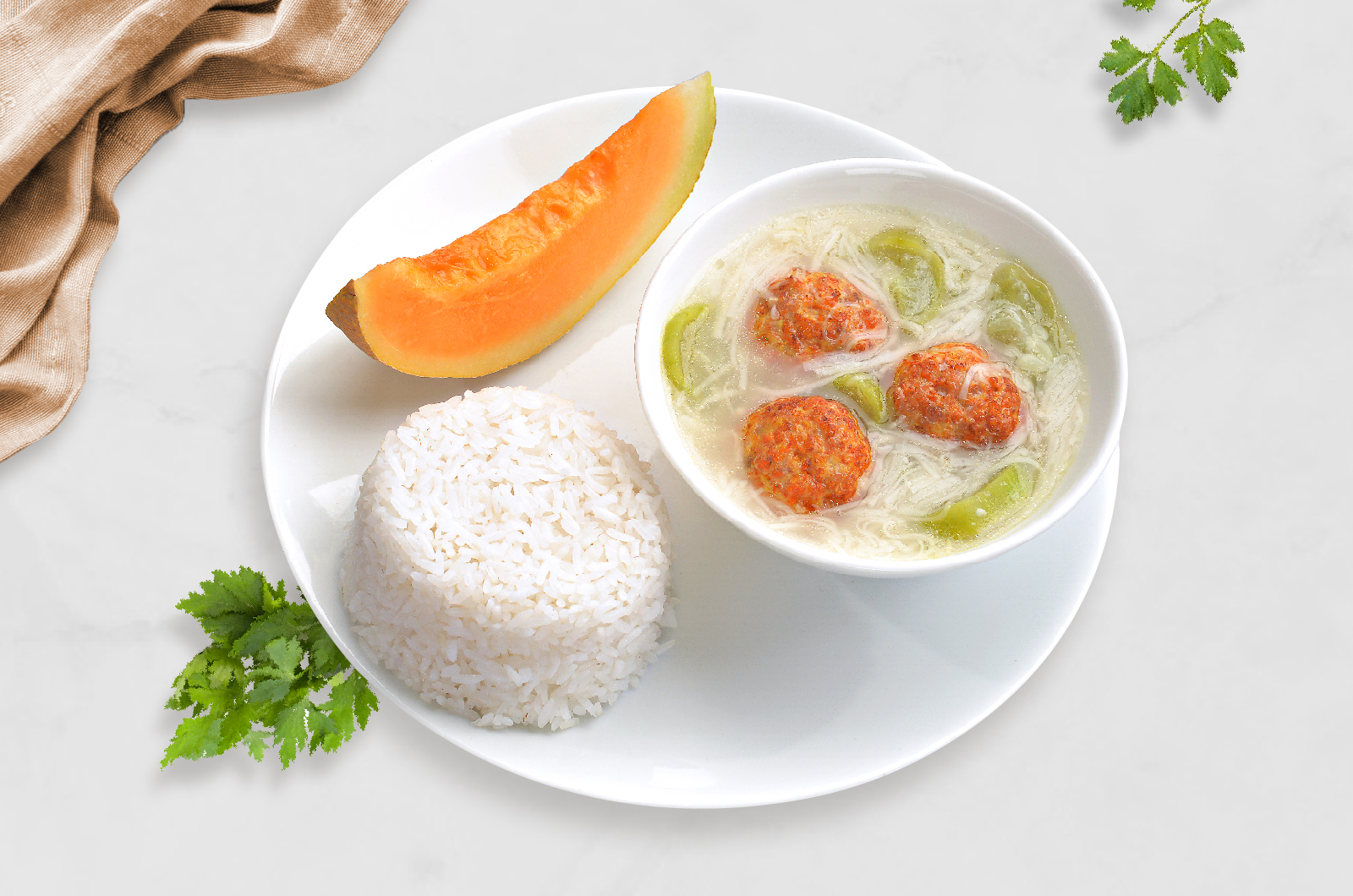 Ingredients
1 cup (140 grams) Lean pork, grounded
1 1/4 cup (100 grams) Carrot, grated
1/4 cup (35 grams) Onion, minced
1 tablespoon (12 grams) Garlic, minced
1 piece Egg
2 pieces Sliced bread, shredded
1/4 teaspoon (1.25 grams) Salt
1/8 teaspoon (0.60 grams) Black pepper, ground
1 pack (8 grams) PORKSAVOR® All-in-One Seasoning Mix
5 tablespoon (25 mL) Cooking oil
1 1/2 cup (120 grams) Eggplant, sliced
Soup
2 tablepsoons (30 mL) Cooking oil
1/4 cup (35 grams) Onion, sliced
1 tablespoon (12 grams) Garlic, minced
4 cups (1 Liter) Water
4 pieces (600 grams) Sponge gourd, cut to 1/4 inch thick rings
1 pack (75 grams) Misua
1/8 teaspoon (0.60 grams) Black pepper, ground
1 pack (8 grams) PORKSAVOR® All-in-One Seasoning Mix
NUTRITION INFORMATION
Nutrition Facts
Calories per serving
562
Carbohydrates (g)
81.7
Proteins (g)
13.8
Fat (g)
19.9
Phosphorus (mg)
214
Calcium (mg)
118
Iron (mg)
4.5
Vitamin A (m g RE)
852
Thiamin (mg)
0.3
Riboflavin (mg)
0.21
Niacin (mg NE)
7.2
Vitamin C (mg)
79
Procedure
Meatballs
1. MIX. In a bowl, mix ground pork, carrots, squash, onion, garlic, egg and shredded bread.
2. SEASON with salt, pepper, and PORKSAVOR®.
3. FORM. Take 1 tablespoon of the meat mixture and form into a ball.
4. FRY. In a pan, heat oil and fry the meat balls until golden brown. Drain excess oil from the meat balls by placing them on a strainer or plate lined with table napkin.
Soup
1. SAUTÉ. In a pot, heat oil to sauté onion and garlic.
2. BOIL. Add water and sponge gourd. Bring to a boil until sponge gourd is cooked.
3. SEASON with ground black pepper and PORKSAVOR®.
4. BOIL. Add the misua and fried meat balls. Boil for 1 minute. Serve while hot.
No. of Servings: 4-5 servings
Serving size: 3 Meatballs (90 grams), 1 cup soup with Sponge Gourd (120 grams)
Meal Serving Idea: 1 cup Rice, 1 bowl Almondigas (with 3 meatballs), 1 slice Melon
Cooking Tips
Flour is a good binder substitute for bread, if sliced bread or pan de sal is not available.
Product Used