AMPALAYA WITH PORK AND EGGS RECIPE
AJI-NO-MOTO® UMAMI SEASONING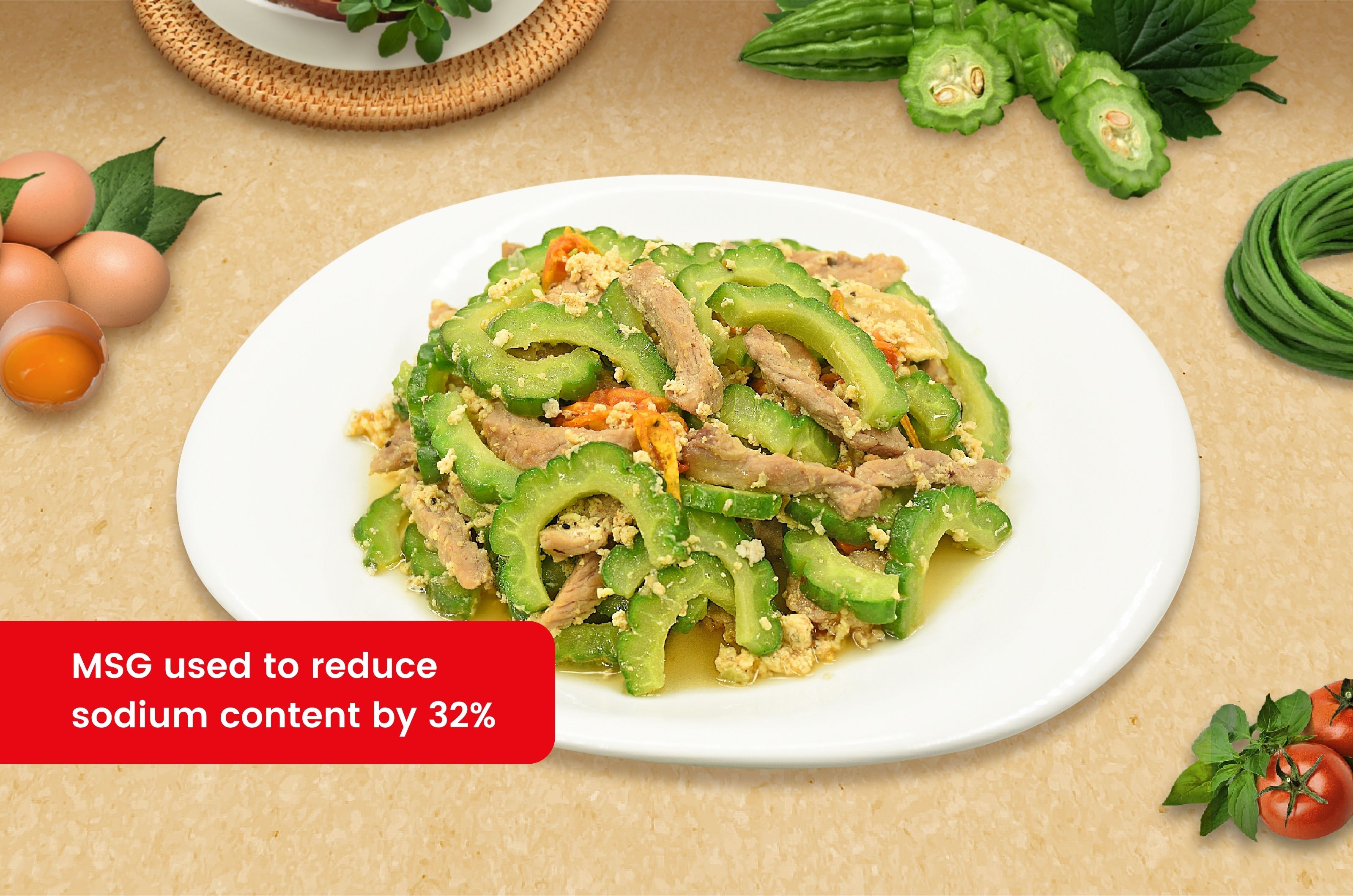 Ingredients
3 Tablespoons (45 ml) Cooking oil
1 cup (250 grams) Pork, strips
1 teaspoon (5 grams) Salt
1/4 cup (60 grams) Onion, chopped
1/4 cup (60 grams) Garlic, chopped
1/2 cup (120 grams) Tomatoes, sliced
3 cups (750 grams) Ampalaya, sliced thinly
1 cup (250 ml) Water
1/2 pack (5.5 grams) AJI-NO-MOTO® Umami Seasoning
1 teaspoon (5 ml) Fish sauce
1/2 teaspoon (1 gram) Pepper, black, ground
2 pieces (120 grams) Eggs, beaten
Reduced sodium by 32%
Original sodium content: 4 1/2 teaspoons (23 ml) Fish sauce, 1 3/4 teaspoons (8.5 grams) Salt
NUTRITION INFORMATION
Nutrition Facts
Calories per serving (kcal)
170.9
Carbohydrates (g)
6.9
Proteins (g)
7.2
Fat (g)
12.7
Dietary Fiber (g)
2.2
Calcium (mg)
53.5
Iron (mg)
1.5
Sodium (mg)
304.9
Good to Know Nutrition Facts!
Ampalaya is rich in vitamin C, an important nutrient in wound healing.
Preparation time: 15 minutes
Cooking time: 20 minutes
Procedure
SAUTÉ. In a pan heat oil, sauté pork strips, add salt and cook well. Add onions, garlic and tomatoes, cook until fragrant. Add ampalaya, and continue sautéeing for three (3) minutes. Add water.
SEASON. Add AJI-NO-MOTO®, fish sauce and pepper, mix well and cook for another minute. Add beaten eggs, mix well, and cook for another minute.
SERVE. Transfer to a serving plate Serve and enjoy.
Makes 10 servings
Serving size: 1 cup (140 grams)
Cooking Tips
To remove the bitterness of ampalaya, rub with salt and squeeze to draw out the bitter juices from it. Rinse well and let it rest for a few minutes before cooking.
Product Used