ARROZ CALDO WITH TOKWA RECIPE
CHICKENSAVOR™ ALL-IN-ONE SEASONING MIX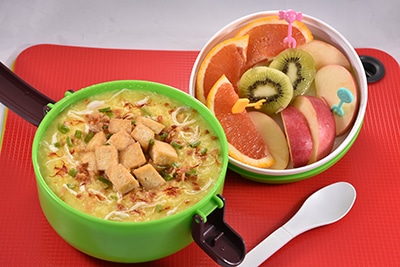 Ingredients
1/4 cup (65 ml) Cooking Oil
2 pieces (120 grams) Tokwa, cubed
1 tablespoon (12 grams) Ginger, sliced
1/4 cup (35 grams) Onion, minced
1 tablespoon (12 grams) Garlic, minced
1 cup (200 grams) Chicken, boiled and shredded
1 cup (170 grams) Rice
2 cups (500 ml) Water
Pinch Ground Black Pepper
2 teaspoons (10 ml) Fish Sauce
1 pack (8 grams) CHICKENSAVOR™ All-In-One Seasoning Mix
As desired Saffron (for color)
NUTRITION INFORMATION
Nutrition Facts
Calories per Serving
217
Carbohydrates (g)
25
Proteins (g)
8.2
Fat (g)
9.3
Dietary fiber (mg)
38
Calcium (mg)
36
Iron (mg)
1.0
Sodium (mg)
218.3
Good to Know Nutrition Facts!
Rice is a good source of energy. It gives the body a lasting energy compared to those given by sweet sources!
Procedure
BOIL AND SHRED. In a pot, pour water and add the chicken. Let it boil until chicken becomes tender. Let the chicken cool enough to shred. Set aside both meat and stock.
FRY. In a hot pan, pour oil fry the tokwa until golden brown. Drain on a strainer and set aside.
SAUTÉ. In a hot pan, saute ginger, onion, garlic, and shredded chicken.
BOIL. Add the rice and chicken stock. Cover the pot and let the rice be cooked. Stir occasionally.
SEASON with ground black pepper, fish sauce, and CHICKENSAVOR™ . Add saffron until the desired color is achieved. Serve while hot.
Makes 10 servings
Size per serving: 1 1/2 cup Arroz Caldo (120 grams)
Cooking Tips
Be sure to store the rice up to the bottom to avoid some portions being burned or scorched.
Product Used