ASIAN SALAD WITH OYSTER SAUCE DRESSING RECIPE
SARSAYA® OYSTER SAUCE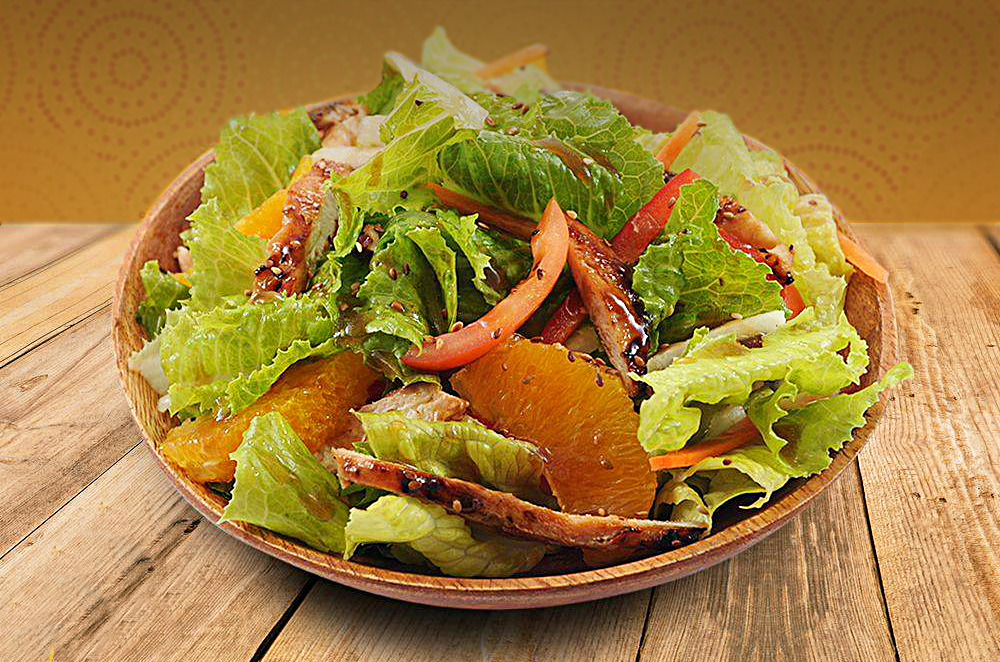 Ingredients
SALAD DRESSING
1  pack ( 30 grams) SARSAYA ® Oyster Sauce
½ cup (100 mL) vinegar
1 tablespoon (10 grams) garlic, finely minced
1/8 cup (40 grams) white sugar
2 teaspoons (10 grams) sesame oil
6 tablespoons (80 grams) corn oil
CHICKEN
2 tablespoons salad dressing
1 pack  ( 30 grams) SARSAYA ® Oyster Sauce
2 teaspoons (5 grams) coriander leaves, chopped
2 pieces (200 grams) Chicken breast, filleted
2 teaspoons (10 grams) soy sauce
VEGETABLES
3 heads (400 grams) lettuce leaves, cut into bite-size pieces
1 piece, medium (200 grams) cucumber, peeled, seeded and cut into sticks
1 cup (100 grams) carrots, cut into thin sticks
¼ cup (40 grams) singkamas, cut into sticks
½ cup (75 grams) red bell pepper, cut into sticks
½ cup (70 grams) tomatoes, seeded, cut into wedges
2 pieces, medium (150 grams) fresh oranges, peeled, segmented
2 tablespoons (10 grams) sesame seeds, toasted
NUTRITION INFORMATION
Nutrition Facts
Calories per Serving
10
Carbohydrates (g)
1
Proteins (g)
1
Fat (g)
0
Preparation and Cooking Time:  40 minutes + 2 hours marination
Procedure
SALAD DRESSING
COMBINE SARSAYA ® Oyster Sauce, vinegar, garlic and sugar in a bowl.  Stir until sugar is dissolved. Add corn oil and sesame oil slowly while whisking continuously. Set aside.
CHICKEN
MARINATE. Combine 2 tablespoons of the salad dressing, 1 pack SARSAYA ® Oyster Sauce, soy sauce and coriander leaves in a bowl. Add chicken fillet , mix well and marinate for at least 2 hours.
GRILL AND SLICE. Grill the chicken for 5 minutes on each side.  Let cool. Slice into strips.
SALAD ASSEMBLY
Assemble lettuce leaves, cucumber, carrots, singkamas and bell pepper in a bowl. Add salad dressing and toss. Top with grilled chicken, tomatoes and orange segments. Sprinkle with toasted sesame seeds.
Ideal to chill for at least 15 minutes before serving.
Cooking Tips
Add an Asian touch to a basic vinaigrette with the addition of oyster sauce and some sesame oil. This dressing will go well with a wide variety of salad vegetables. Add some fresh fruits for color and sweetness and even, toasted nuts or fried noodles for some crunch.
Meal Serving Idea:
Asian Salad with Oyster Sauce Dressing is best served with rice, steamed maya-maya and sweetened red beans for dessert.
Product Used