BAKED TAHONG RECIPE
AJI-NO-MOTO® UMAMI SEASONING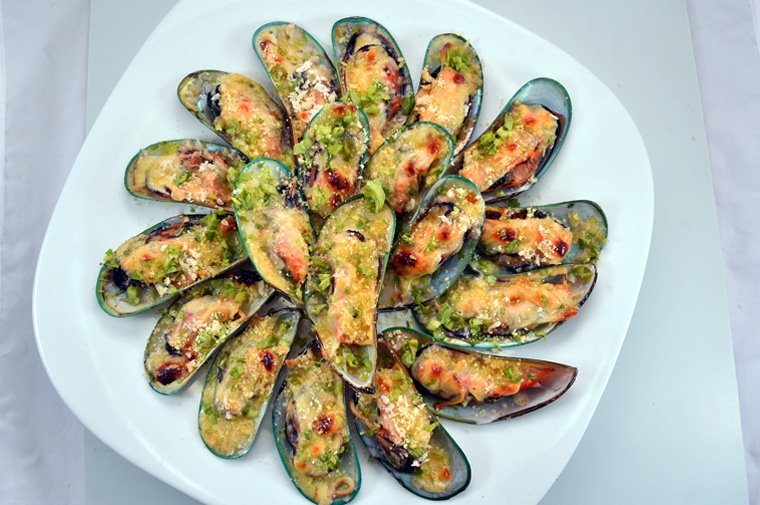 Ingredients
18 pieces (570g) Mussels (Tahong)
2 tablespoons (30g) Butter
10 cloves (15g) Garlic
1/2 teaspoon (2g) Iodized salt
1/2 teaspoons (1g) Pepper
2 tablespoons (30g) Cheddar Cheese
2 teaspoons (5g) Breadcrumbs
1/4 teaspoon (3g) AJI-NO-MOTO® Umami Seasoning
Preparation and Cooking Time: 1 hour
Preparation
Procedure
CLEAN. Wash, clean and remove the beard of the mussels then take off the half shell and place mussels (tahong) on a baking tray. Set aside.
SAUTE. In a hot pan, put butter and saute garlic until soft.
SEASON with salt, pepper and AJI-NO-MOTO® Umami Seasoning. Place butter and garlic mixture on top of the mussles then add grated cheese and breadcrumbs.
BAKE. Pre-heat oven in 250°F and bake for 5 minutes.
SERVE immediately.
Makes: 5 servings
Serving size: 3 pcs (109g) Baked Tahong
Cooking Notes
Good to Know Nutrition Facts!
Mussels are not just good sources of protein but are also good sources of Calcium!
NUTRITION INFORMATION
Nutrition Facts
Calories per Serving
133
Carbohydrates (g)
7
Proteins (g)
7
Fat (g)
9
Dietary Fiber (g)
0
Calcium (mg)
117
Iron (mg)
2
Sodium (mg)
451
Product Used