BANANA HEART TOFU BURGER RECIPE
AJINOMOTO® BRAND GINISA FLAVOR SEASONING MIX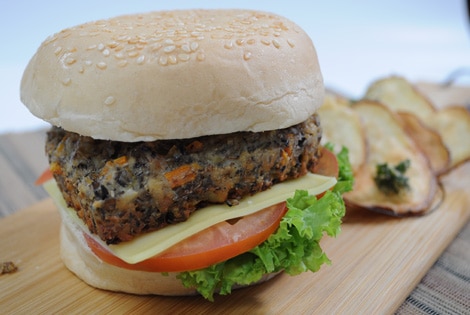 Ingredients
2 pieces banana heart, medium, minced
2 pieces red onions, medium, minced
8 cloves garlic, minced
1 1/2 cups carrots, minced
2 blocks tofu, firm, minced
1 tablespoon soy sauce
2 pieces chicken egg
4 tablespoons all-purpose flour
1 pack 7g AJI-GINISA® Flavor Seasoning Mix
4 tablespoons cooking oil, palm oil
20 pieces burger buns
20 pieces cheese, square
250g iceberg lettuce
150 g cucumber, sliced
5 pieces tomatoes
4 tablespoons mayonnaise
12 tablespoons catsup
NUTRITION INFORMATION
Nutrition Facts
Calories per Serving
289
Carbohydrates (g)
31
Proteins (g)
13
Fat (g)
13
Good to Know Nutrition Facts!
This is a low fat choice for burger lovers, since it is a meat – free patty and it does not have to be fried in a large amount of oil. Little oil would be enough to sear the patties. Also, banana heart is a rich – source of dietary fiber.
Preparation and Cooking time: 1 hour
Procedure
MIX AND SHAPE. Thoroughly mix banana heart, onions, garlic, carrots, tofu, AJI-GINISA®, soy sauce, eggs and flour. Spoon 2 tablespoons of the mixture, form into a ball, and slightly flatten up to ¼ to ½ inch thick or flatten to your desired thickness.
SEAR. Heat a frying pan, add one tablespoon of oil at a time. Sear for 1-2 minutes or until both sides are golden brown. Drain excess oil in a paper towel. Set aside.
MIX catsup and mayonnaise. Set aside.
ASSEMBLE in bun. Start with spreading ½ teaspoon catsup-mayonnaise mixture, patty, cheese, tomato, lettuce, and finish with another 1 teaspoon of catsup-mayonnaise mixture then put on the other half of the burger bun.
How to prepare Banana Heart:
PEEL the red leaves off the heart. Take the stems out from the inside of the buds (which would have become bananas had they been left on the tree). Discard the stem. Continue to peel the leaves until only the white leaves are left.
SLICE, SOAK AND SQUEEZE. Mince the banana heart. Soak the banana heart in salted water (4 cups water with 3 tablespoons of salt) for 30 minutes. Place the minced banana heart in a cheesecloth, and squeeze to drain excess water and bitter sap. Set aside.
Makes 19 servings
Serving size: 1 pc (40g) Patty
Cooking Tips
Pour hot water on pancit canton for 3 minutes right before adding. Cooling the pancit canton will cause it to dry hence it will become sticky.
Product Used