BAOZI (STEAMED PORK BUNS)
PORKSAVOR® ALL-IN-ONE SEASONING MIX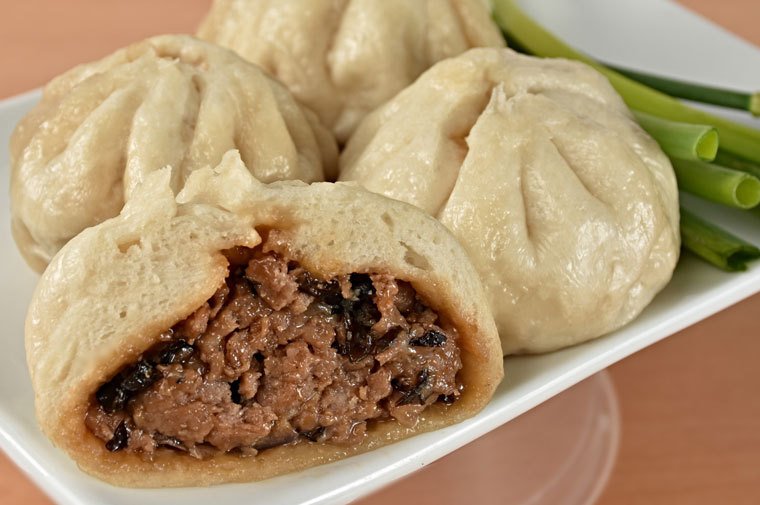 Ingredients
1 cup,250g Pork, ground
1/2 cup,32g Shiitake Mushrooms,thinly sliced
1/4 cup,10g Spring Onions,minced
1 tablespoon,15ml Soy Sauce
1 teaspoon,5ml Sesame Oil
2 tablespoons,30ml SARSAYA® Oyster Sauce
2 teaspoons,10ml Vinegar
1 teaspoon,5 grams Sugar
1/2 teaspoon 1.25g White Pepper, powder
1 teaspoon 2.5g Cornstarch
1/3 cup,80 ml Water
1 pack,8g PORKSAVOR® All-in-one Seasoning Mix
1/2 teaspoon,2.5g Salt
1 1/2 teaspoons 4.5g Yeast
1 cup,240ml water
2 1/2 cups,300g All – Purpose Flour
NUTRITION INFORMATION
Nutrition Facts
Calories per serving (kcal)
220.4
Carbohydrates (g)
27.3
Proteins (g)
9.4
Fat (g)
8.2
Dietary Fiber (g)
1.4
Calcium m(g)
113
Iron (mg)
2.0
Sodium (mg)
498.7
Nutrition Tips
Steamed food maintains more of its nutritional value and nutrients than food that is baked or boiled. A 2007 USDA comparison between steaming and boiling vegetables shows the most affected nutrients are folic acid and vitamin C. When compared to raw consumption, steaming reduces folic acid by 15%, and boiling reduces it by 35%. Also, steaming reduces vitamin C by 15%, and boiling reduces it by 25%
Reference: https://amisyvivian.wordpress.com/2013/09/14/benefits-of-steamed-food/
Preparation and Cooking time: 1 hour
Procedure
MIX all filling ingredients such as ground pork, shiitake mushrooms, spring onions, soy sauce, sesame oil, SARSAYA® Oyster Sauce, vinegar, sugar, white pepper, cornstarch and water.Sprinkle with 1 pack of PORKSAVOR®. Blend well and chill for at least 30 minutes.
COMBINE salt, yeast , water and all – purpose flour , knead to make a dough and rest for at least 1 1/2 hours.Cut into equal size and cover with cloth. Press down sliced dough with your palm. Using a rolling pin, roll the dough into a round thin wrapper.
WRAP the filling by folding the edge of dough counterclockwise until the bun is completely sealed. Place the buns on a steamer brushed with oil to prevent from sticking.
STEAM the buns for 15 minutes over high heat. Turn off the heat but do not open the steamer cover yet . Let the steam set in the buns for another 5 minutes before you take them out.
SERVE and enjoy!
Makes 9 servings
Serving size: 1 pc (108g) Baozi
Cooking Tips
When rolling dough, make sure the center of the wrapper is thicker than the edge for easy folding.  Don't open your steamer after turning off the fire, let the steam sit in for another few minutes for the buns to be soft and fluffy.
Product Used