BARBECUE SHAWARMA RECIPE
SARSAYA® OYSTER SAUCE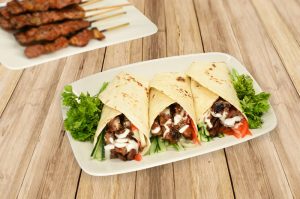 Ingredients
1 cup (240 ml)  Pork Barbecue, sliced
1 pack (3og)  SARSAYA® Oyster Sauce
2 tbsps (30 ml)  Water
4 tbsps (60 ml) Yogurt
1 tsp (5g)  Garlic, minced
4 pcs (40g)  Tortilla bread
4 tbsps (60g)  Cucumber, strips
4 strips (60g)  Tomato, strips
4 tbsps (60g)  White onions, strips
NUTRITION INFORMATION
Nutrition Facts
Calories per serving
314.2 Calories
Carbohydrates (g)
19.5 grams
Proteins (g)
15.1 grams
Fat (g)
19.3 grams
Dietary Fiber (g)
0.5 grams
Calcium m(g)
68.8 milligrams
Iron (mg)
1.2 milligrams
Sodium (mg)
653.4 milligrams
Good to Know Nutrition Facts!
Cucumbers are rich in vitamins and it helps hydrate the skin and promote eye health.
Preparation time: 15 minutes
Cooking time: 15 minutes
Procedure
MARINATE. In a bowl, mix barbecue, SARSAYA® Oyster Sauce, and water. Heat the mixture on a pan until sauce is reduced. Set aside.
MIX. In a separate bowl, mix yogurt and garlic. Set aside.
TOAST. In a pan, toast Tortilla Bread on both sides.
ASSEMBLE. On a countertop, assemble toasted tortilla bread, cucumber, tomato, onion, barbecue mixture, and yogurt sauce.
SERVE. Serve and Enjoy.
Makes 4 servings
Serving size: 1 pc (145g) Shawarma Wrap
Cooking Tips
Slice barbecue into smaller strips for better texture.
Product Used