Beef Kaldereta
AJINOMOTO® BRAND GINISA FLAVOR SEASONING MIX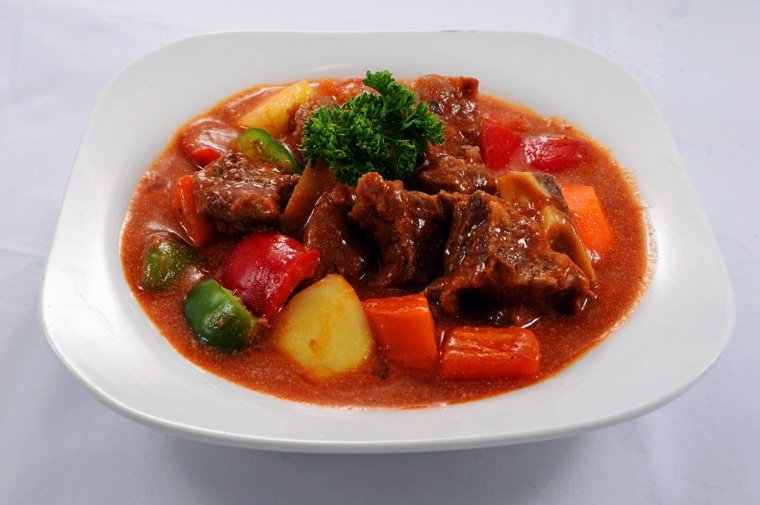 Ingredients
1 tablespoon 12g cooking oil
500g beef, kaldereta cut
1 cup 160g carrot, big dice
1 cup 180g potato, big dice
1/2 cup 70g green bellpepper, big dice
1/2 cup 70g red bellpepper, big dice
1 cup 250ml tomato sauce
1 can 85g liver spread
2 cups 500ml water
1/2 cup 65g onion, red, minced
5 cloves 10g garlic,minced
1/4 cup 50g cheese, quickmelt
1 teaspoon 4g patis
to taste salt
to taste pepper
1 pack 7g Aji-Ginisa® Seasoning mix
Preparation
Preparation and Cooking Time: 30-40 minutes Makes: 5-8 servings
Serving size: 175 grams (1/2cup)
Procedure
SEAR. On a hot pan, add oil and sear the beef until brown on all sides.
SAUTE. Add onion and garlic and saute well.
SIMMER. Add tomato sauce and water and let it simmer covered. When the liquid is reduced down by half add carrot, potato, liver spread, and cheese. Let the cheese melt and mix well. Lastly, mix in bellpeppers.
SEASON. with Aji-Ginisa® Seasoning Mix. Add salt,patis, and pepper to taste.
Meal Serving Suggestion:
1 1/2 cup Rice
1 serving Beef Kaldereta
1/2 cup Buttered Corn
1 piece Banana
Cooking Notes
Good to Know Nutrition Facts!
Try this lycopene-rich yet low sodium Beef Kaldereta!
NUTRITION INFORMATION
Nutrition Facts
Calories per Serving
276 kcal
Carbohydrates (g)
13.7
Proteins (g)
16.8
Fat (g)
17.1
Dietary Fiber (mg)
1.9
Calcium (mg)
114
Iron (mg)
2
Sodium (mg)
454.20
Product Used