BEEF PARES AND FRIED RICE RECIPE
AJI-NO-MOTO® UMAMI SEASONING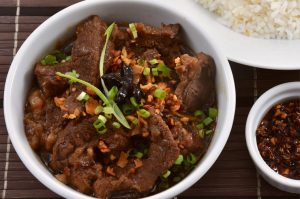 Ingredients
1 kilo (1000 grams) Beef Flank Steak ( Camto /Kalitiran)
2 tablespoons (30 grams) Cooking Oil
2 tablespoons (30 grams) Onion, red ,chopped
2 tablespoons (30 grams) Ginger, thinly chopped
2 tablespoons (30 grams) Garlic, minced
2 pcs (3 grams) Star Anise ,whole
1/4 cup (60 ml) Soy Sauce
1/4 cup (60 ml) Vinegar
1 teaspoon (3 grams) Black Pepper peppercorn
1 pack (12 grams) AJI-NO-MOTO® Umami Seasoning
3/4 Liter ( approx 800ml) Water
1/4 cup (45 grams) Toasted Garlic ,chopped
1/4 cup (30 grams) Onion, white , chopped
1/8 cup (28 grams) Chili Sauce
7 cups (770 grams) Rice ,fried
NUTRITION INFORMATION
Nutrition Facts
Calories per serving (kcal)
 602
Carbohydrates (g)
49.6
Proteins (g)
31.7
Fat (g)
30.5
Dietary Fiber (g)
1.9
Calcium m(g)
25
Iron (mg)
7.2
Sodium (mg)
752.7
Good to Know Nutrition Facts!
Flank steak has 31% of vitamin B6 and 107% B12, 58% zinc and over 30% iron making sure you get a great amount of necessary vitamins in your life. Flank steak is made of massive amounts of protein, which is extremely necessary to keep you nice and healthy. Protein is energy, the easiest kind of energy to convert into glucose for your brain. This is the easiest way to give your body energy, without sacrificing deliciousness.
Preparation and Cooking time: 1 hour
Procedure
SEAR beef until tender then set aside.
SAUTÉ onions, ginger, garlic and star anise until fragrant.
ADD seared beef, soy sauce, vinegar, black pepper, AJI-NO-MOTO®  and water. Bring to a boil . Simmer for a few minutes.
SERVE hot and ideally paired with your fried rice . Add toasted garlic, white onions and chili sauce on the side and enjoy your home made Pares!
Makes 7 servings
Serving size: 1 cup (200g) Beef Pares & 1 cup (200g) Fried Rice
Makes 7 servings
Cooking Tips
Flank tends to get chewier the longer it's cooked, so cook it to a nice rare or medium rare to achieve desired tenderness of the beef.
Product Used