BEEF PICADILLO
AJI-NO-MOTO® UMAMI SEASONING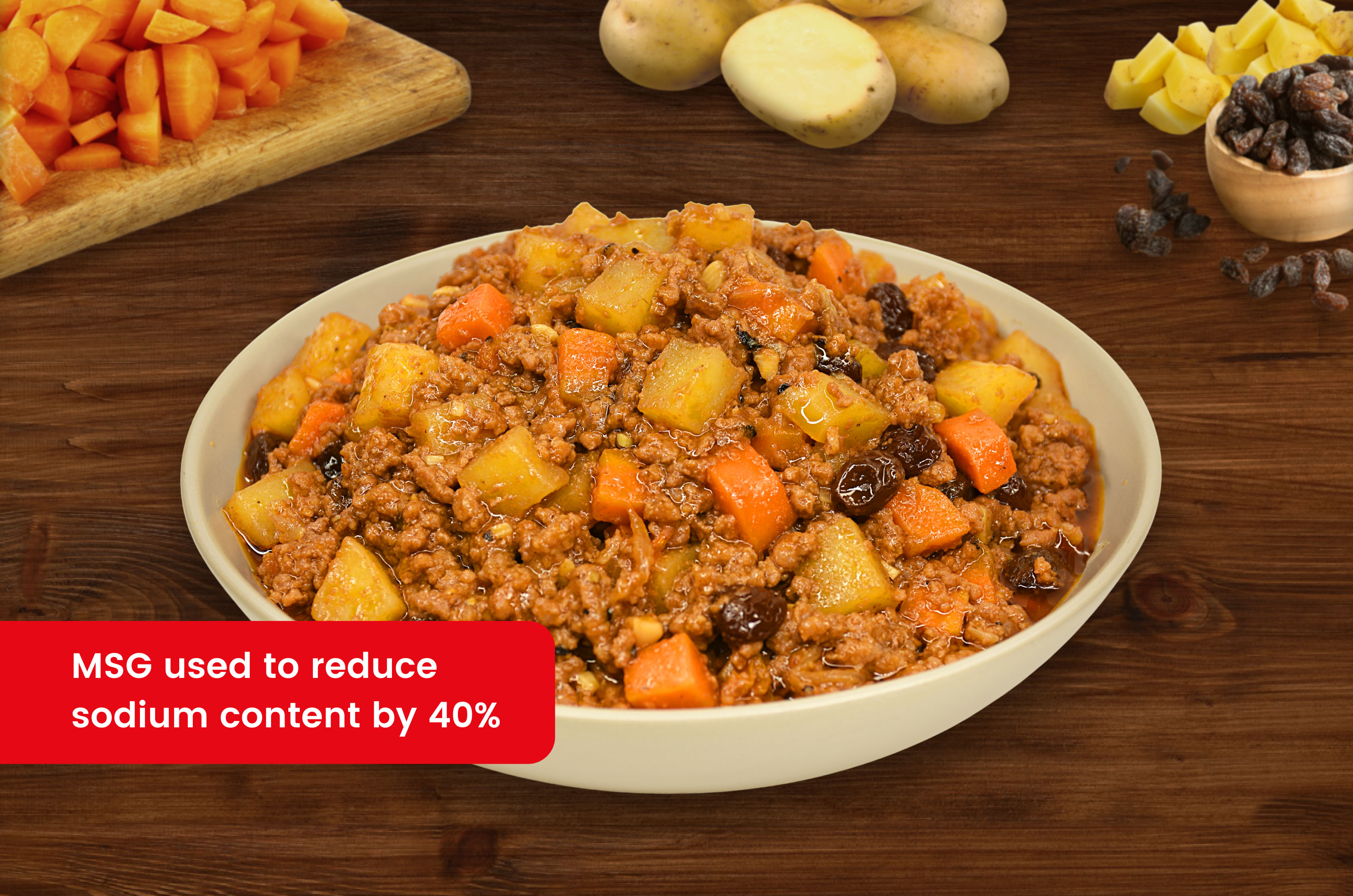 Ingredients
1 Tbsp. (15ml) Cooking oil
1/2 cup (75g) Onion, sliced
2 Tbsps. (20g) Garlic, crushed
1 cup (170g) Tomato, chopped
2 Tbsps. (60g) Tomato paste
1/2 kilo (500g) Beef, ground
1/2 cup (125ml) Tomato sauce, no salt added
8 tsps. (40ml) Fish sauce
1/4 tsp. (1.25g) Pepper, ground, black
1/2 pack (5.5g) AJI-NO-MOTO® Umami Seasoning
1 cup (120g) Potato, diced
1 cup (150g) Carrot, diced
2 Tbsps. (12g) Raisins
Reduced sodium by 40%
Original seasoning/condiment: 1 tsp. (5g) Salt, 1/4 cup (60ml) Fish sauce
NUTRITION INFORMATION
Nutrition Facts
Calories per serving (kcal)
124.3
Carbohydrates (g)
8.7
Proteins (g)
13.4
Fat (g)
3.9
Dietary Fiber (g)
1.6
Calcium (mg)
51.1
Iron (mg)
2.6
Sodium (mg)
316.2
Good to Know Nutrition Facts!
Tomatoes and other tomato-based products are good sources of lycopene which helps in maintaining good heart health.
Preparation time: 15 minutes
Cooking time: 45 minutes
Procedure
SAUTÉ. In a hot pan with oil, sauté onion, garlic, tomato, and tomato paste. Add ground beef and continue cooking on medium fire until the fat starts to render. Add tomato sauce.
SEASON. Add fish sauce, pepper, and AJI-NO-MOTO ®.
SIMMER. Add potato, carrots and raisin. Cook for 1-2 minutes.
SERVE. Transfer to a serving bowl. Serve while hot.
Makes 10 servings
Serving size: 1/4 cup (85g)
Cooking Tips
Whenever using tomato paste, always have it sautéed first to ensure that it won't make the dish taste too sour.
Product Used