BEEF SALPICAO
AJI-NO-MOTO® UMAMI SEASONING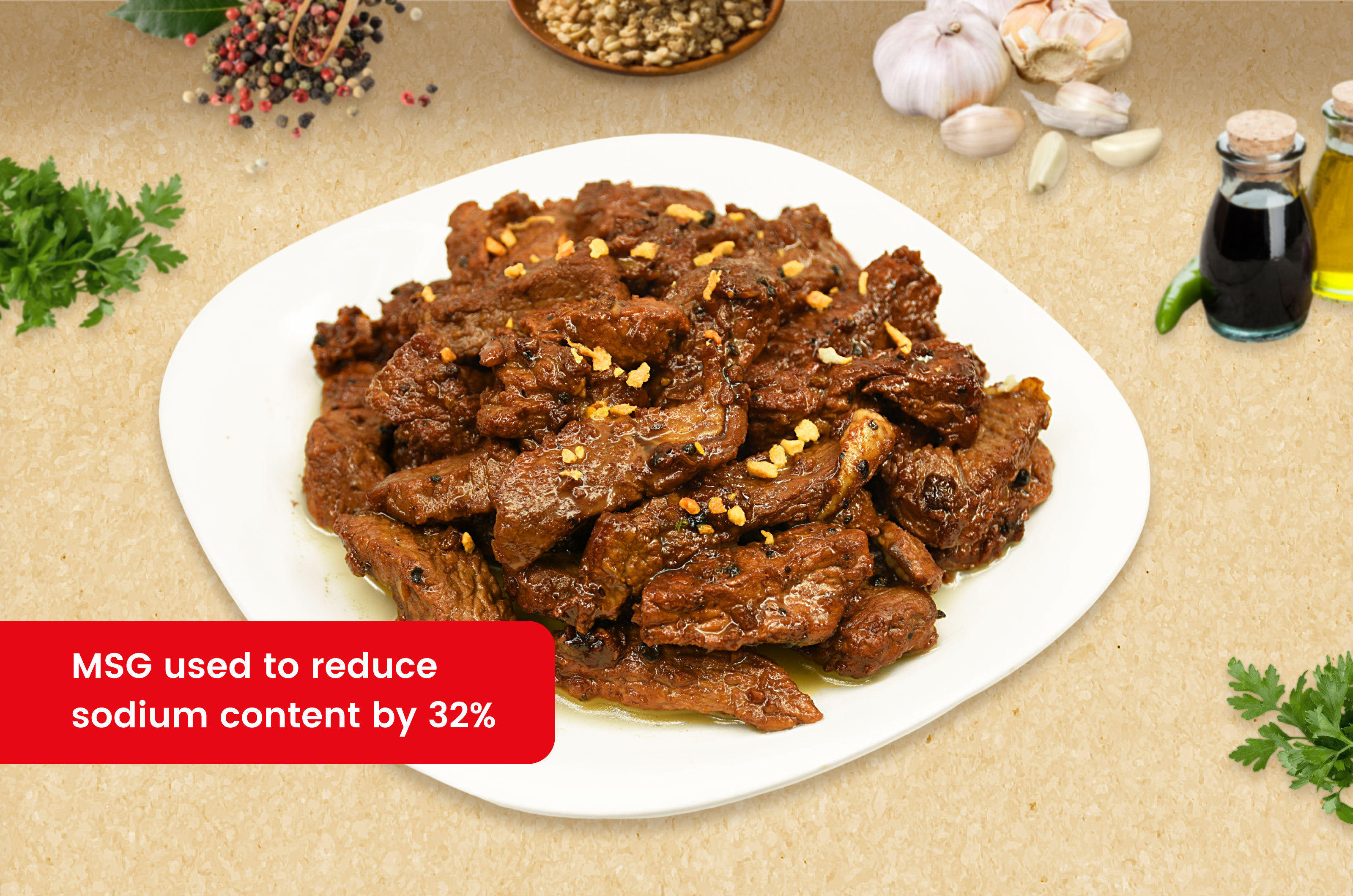 Ingredients
1 Kilo (1000g) Beef, sirloin, cut into serving size
3 Tbsps. (45ml) Soy sauce
1/2 tsp. (2.5g) Pepper, black, ground
3 Tbsps. (45g) Garlic, chopped
3 Tbps. (45ml) Cooking oil
1/2 pack (5.5g) AJI-NO-MOTO® Umami Seasoning
1/2 cup (120ml) Worcestershire sauce
2 Tbsps. (30g) Garlic, toasted (optional)
Reduced sodium by 32%
Original seasoning/condiment: 1 tsp. (5g) Salt
NUTRITION INFORMATION
Nutrition Facts
Calories per serving (kcal)
185.8
Carbohydrates (g)
2.7
Proteins (g)
21.1
Fat (g)
10.1
Dietary Fiber (g)
0.2
Calcium (mg)
26.8
Iron (mg)
2.7
Sodium (mg)
294.9
Good to Know Nutrition Facts!
Beef Protein is highly nutritious and helps in muscle maintenance and growth.
Preparation time: 20 minutes
Cooking time: 30 minutes
Procedure
MARINATE.-In a bowl combine soy sauce, pepper and garlic. Add beef and let it stand for ten(10) minutes.
SEASON. Add AJI-NO-MOTO® then mix well.
SEAR. Heat oil in a pan and sear until the color turns brown. Toss all sides in the pan to ensure that all sides are cooked well. Add Worcestershire sauce and continue tossing until the liquid dries up.
SERVE. Transfer to a plate, top with toasted garlic, serve and enjoy.
Makes 10 servings
Serving size: 1/3 cup (85g)
Cooking Tips
Use the most tender part of the beef such as sirloin or tenderloin to ensure a nice texture of the cooked dish.
Product Used