4 Benefits of Serving Bite-Size Party Food
October 4, 2019 | 11:36 am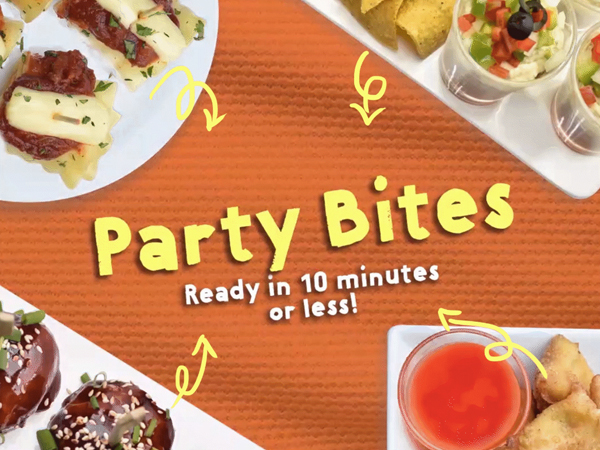 Do you remember the last time you truly enjoyed a party food? During gatherings or parties, we're often treated to eat-all-you-can buffets that satisfy our food cravings because of the vast food choices.
From classic Pinoy ulam recipes to a wide array of international dishes, it is during these occasions that we usually indulge ourselves by filling up our plates multiple times. However, there are times that the feeling of regret or guilt comes after because we have consumed more than what we can handle.
It is worth noting that this is not the case for everyone. Others want to maintain their healthy eating habits while still enjoying every food choices through getting small portions.
If ever you are hosting a gathering or party this holiday season, you can offer something new to the table through serving bite-size food.
Here are four benefits of serving bite-size party food that will not only work to your advantage but will also allow your guests to enjoy numerous dish:
Potluck parties are very common and you can get several invitations to bring your specialty. But if you are working on a tight budget, splitting a big dish into bite-size pieces will make room for a more sophisticated offering. This will also avoid people from hoarding big portions of the dish since you can make enough servings for every guest.
Check out these party bites for recipes that cost less than PhP 300.00 for around 15 to 20 guests:
Using affordable Ajinomoto products could be a plus factor in scoring your food with umami taste.
Hosting parties could be very exhausting. The pressure of preparing the best party food can add up to the stress, making the whole experience exhausting rather than fun and enjoyable. Try to make each of these four (4) delicious bite-size dishes in 10 minutes or less. You can also call for reinforcements and start the party festivities by cooking with your friends. The recipe procedures are quick and simple enough based on food solutions introduced by Ajinomoto.
A responsible party host sees to it that their guests will not only enjoy and return home safely but also feel satisfied with the delicious and healthy food. A party plate filled with full servings of appetizer, pasta, meat dish, and side dish could easily accumulate 1270 or more than half of 2000 calories* (recommended daily calorie intake) for healthy adults It could be possible to cut down on this massive calorie consumption if there is a bite-size option. These four (4) bite-size recipes only give 685 calories based on the serving suggestions.
*2,000 calories a day is used as a guide for general nutrition advice. Your calorie needs may be higher or lower and vary depending on your age, sex, height, weight, and physical activity level. (US FDA)
Your party guests could have diverse food preferences and there are also those who are "takaw tingin" or people who gets more food than they could actually finish. It is often late for one to realize they can't finish what's on their plate and it usually ends as a waste. Serving party bites is a clever way of making your guests sample the food before getting more helpings they could finish.
Looking at the merits of serving bite-size meals during parties, it is safe to say that definitely bite-size satisfies. Always be a step ahead with Ajinomoto. Discover more Pinoy ulam recipes and party food trends through COOKMUNITY.