A Private Mukbang Sesh for 2
February 11, 2021 | 3:00 pm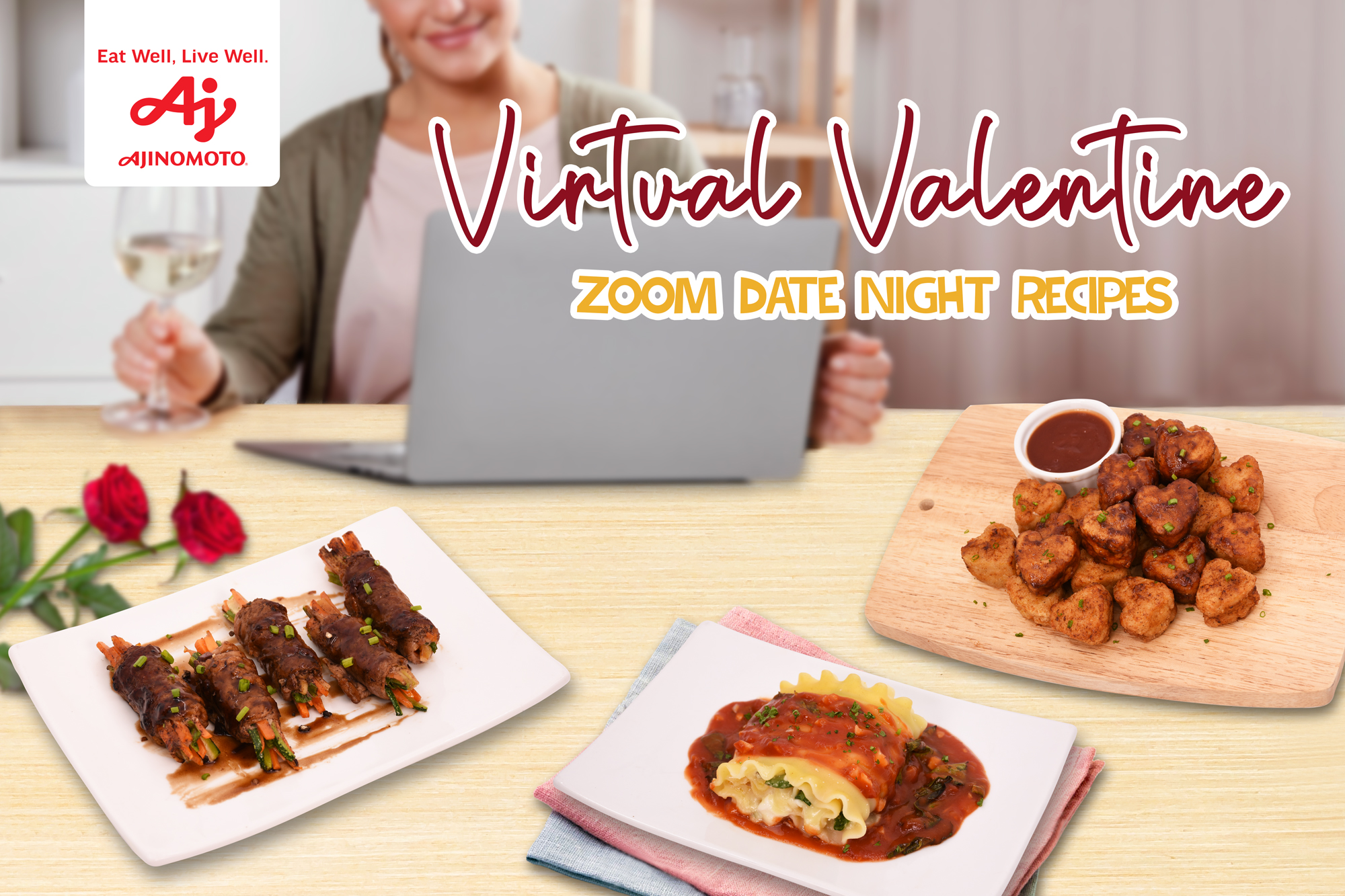 Courtship often involves food as gifts or food for sharing because eating together creates a kind of intimacy between couples. It would not be a surprise to find many love stories with unforgettable dining experiences.
Since you can virtually do anything online nowadays, why not invite the apple of your eye into a romantic virtual date. To make the event special, the food served should be especially cooked, packed and delivered with love. COOKMUNITY® offers this romantic virtual date set menu that you can easily cook especially for the man/woman of your dreams.
Balsamic glaze combines balsamic vinegar with a sweet ingredient to provide a sweet and sour flavor and delicious aroma to your steak. This Balsamic Glazed Steak Rolls recipe will only require thin slices of beef sirloin.
The first step is to place the sirloin in a bowl and sprinkle salt, pepper, and a dash of oil. Toss until ingredients are well incorporated and set aside. To make the steak rolls, take a strip of the marinated steak and lay it with the fat side towards you. Place some strips of carrots, zucchini, stalks of spring onions, and dried oregano as fillings and roll the beef up over the filling, securing it with toothpick. Repeat the same process with the other steak. In a pan, add butter, onions, and steak roll ups then sear for a couple of minutes. Turn beef roll to cook all sides.
To make the sauce, get a bowl, add balsamic vinegar, water, and SARSAYA® Oyster Sauce. Let it simmer for at least 15 minutes. Serve steak rolls into a serving container then pour the sauce.
To energize the romantic date, why not serve this Three Cheese Lasagna Roll recipe? To make the sauce, add butter, onion, garlic, tomato sauce, and basil in a pot and let it simmer for 15 minutes. To make cheese mixture as filling, get a medium bowl then combine spinach, egg, AJI-NO-MOTO® Umami Seasoning, mozzarella, parmesan, and ricotta and mix well.
The next step is to assemble by laying out a lasagne sheet on a plate then put 2 tbsps. of the cheese mixture on one end. Roll up the lasagna sheet carefully and place in the baking pan. Repeat this with all of the lasagna sheets. Preheat oven at 350˚C or 662˚F for at least 15 minutes. Then bake for at least 5-10 minutes or until cheese melts down. Finally, transfer the lasagna rolls into a serving container then pour the tomato-basil sauce on top.
You can be creative in professing your love through this BBQ Heart Chicken Nuggets recipe. It would be a good addition to your virtual date since these bite-sized nuggets can be easily consumed. The procedure in making this is likewise easy. To make the chicken mixture combine ground chicken, milk, and bread crumbs in a medium bowl and mix well. You would need to fill a mini heart-shaped cookie cutter with chicken mixture then dredge the heart-shaped nuggets in CRISPY FRY® Breading Mix (Original). In a pan, fry nuggets until golden brown and drain excess oil using a strainer. These nuggets made with CRISPY FRY® will win the heart of your date for its well-seasoned taste and crispiness.
You can coat the nuggets with a special and delicious BBQ sauce. Just combine a commercially-made BBQ sauce, cider vinegar and honey and simmer in a small pot  for a few minutes.
Securely pack these three (3) dishes in clean and spill-proof containers. Place the packed food in a paper bag and seal it properly. Make sure cooked food will be served fresh so take note of timing of delivery. Lastly, ensure the food packs are placed in an insulated thermal bag, which you can specify when booking for food delivery.
May you have a fantastic mukbang session for two and make beautiful memories to last a lifetime.