BRINGHE
AJI-NO-MOTO® UMAMI SEASONING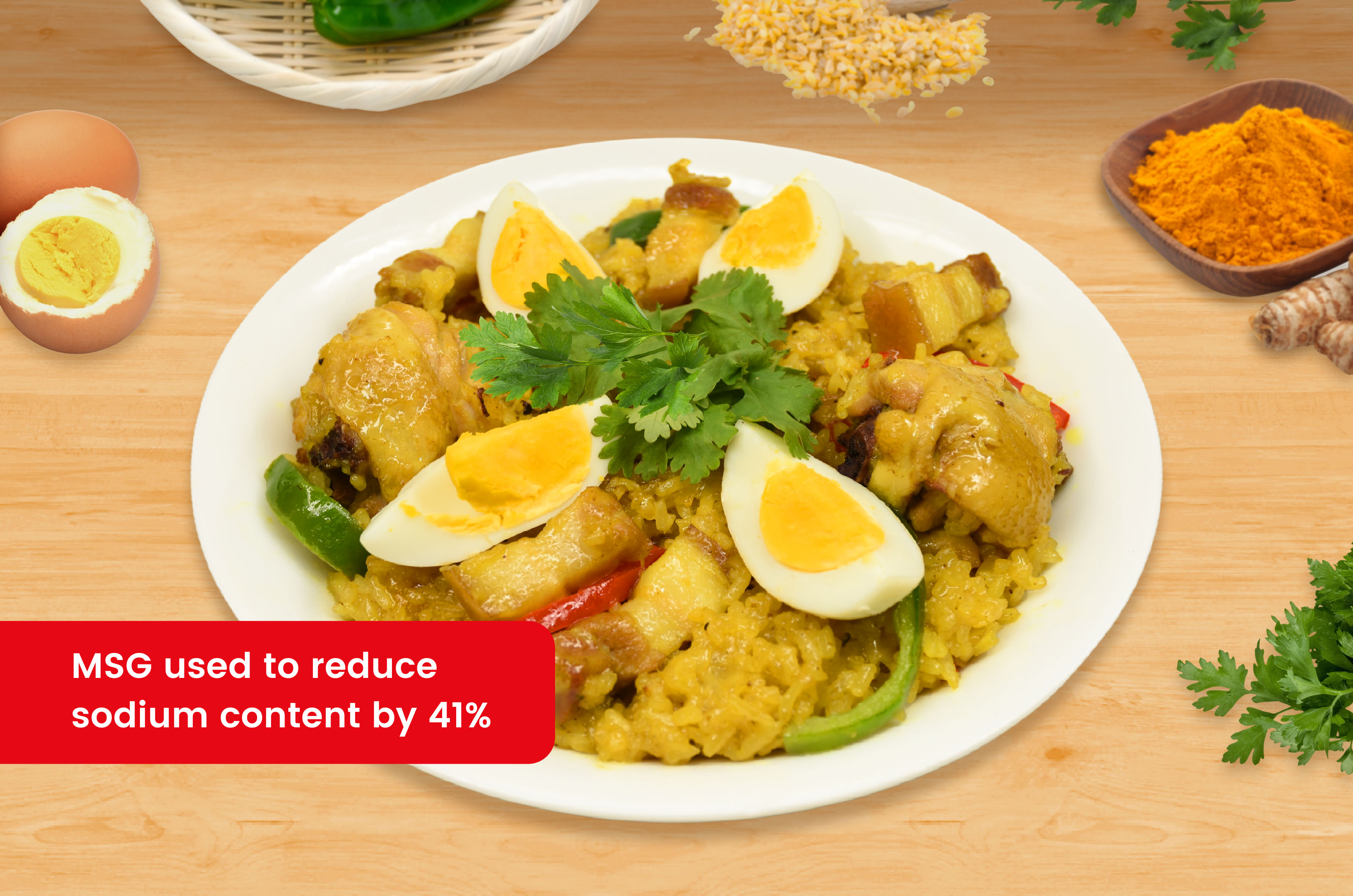 Ingredients
2 Tbsps. (30ml) Cooking oil
1/2 cup (75g) Onion, sliced
1 Tbsp. (10g) Garlic, crushed
1/4 kilo (250g) Chicken, cut into serving size
1 cup (200g) Pork meat, strips
1 cup (200g) Glutinous rice
1 cup (200g) Long grain rice
1 tsp. (5g) Turmeric powder
1 tsp. (5g) Salt
1/4 tsp. (1.25g) Pepper, black, ground
1/2 pack (5.5g) AJI-NO-MOTO® Umami Seasoning
2 cups (500ml) Water
2 cups (500ml) Coconut milk
1/4 cup (40g) Red bell pepper, strips
1/4 cup (40g) Green bell pepper, strips
1 pc. (1g) Banana leaf, well-cleaned
4 pcs. (240g) Egg, hard-boiled
Reduced sodium by 41%
Original seasoning/condiment: 1 Tbsp. (15ml) Fish sauce, 2 tsps. (10g) Salt
NUTRITION INFORMATION
Nutrition Facts
Calories per serving (kcal)
549.6
Carbohydrates (g)
38.9
Proteins (g)
20.5
Fat (g)
34.7
Dietary Fiber (g)
1.1
Calcium (mg)
55.8
Iron (mg)
3.1
Sodium (mg)
373.9
Good to Know Nutrition Facts!
Rice is a good Carbohydrate source to supply the body's need for energy.
Preparation time: 15 minutes
Cooking time: 1 hour
Procedure
SAUTÉ. In a pan, heat oil and sauté onion, garlic, chicken, pork, glutinous rice and long grain rice.
SEASON. Add turmeric powder, salt, pepper and AJI-NO-MOTO®.
BOIL. Add water and coconut milk. Stir to combine. Add green and red bell pepper. Cover with banana leaf. Let it boil, then lower heat to simmer until rice is cooked. Stir once in a while to prevent scorching at the bottom. Top with boiled egg and heat for another minute.
SERVE. Transfer to a serving bowl, and serve while hot.
Makes 9 servings
Serving size: 1 cup (235g)
Cooking Tips
For added flavor, you may add chicken liver.
Product Used