BULALO RECIPE
AJI-NO-MOTO® UMAMI SEASONING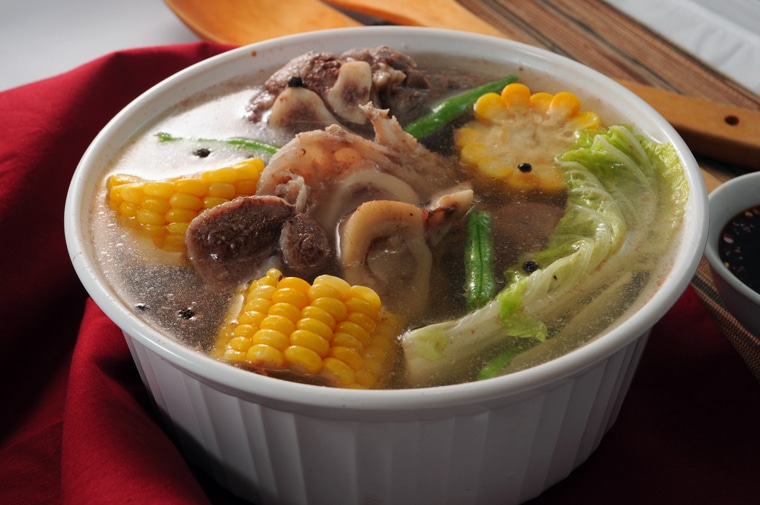 Ingredients
3 liters (3000ml) water
1 tablepoon (6g) peppercorn, whole
1 kilogram Beef Shank
2 cubs (440g) corn, japanese sweet, cut
1 cup (100g) Baguio beans, strips
2 cups (100g) Chinese Cabbage
12g Ajinomoto®Umami Seasoning
3 tablespoons (45ml) Fish Sauce
Preparation and Cooking Time: 30 minutes
Preparation
Procedure
MIX. In a pot, pour in water and add in peppercorn and beef shank. Bring to a boil and lower down to simmer.
ADD corn and continue to let it simmer until the beef is tender. Then, add in baguio beans and chinese cabbage.
SEASON With fish sauce and Ajinomoto®Umami Seasoning. Serve hot.
Makes: 5 servings
Serving size: 1 cup soup with 140g of meat each.
Cooking Notes
Add the vegetables when beef is already tender to prevent it from overcooking.
NUTRITION INFORMATION
Nutrition Facts
Calories per Serving
374
Carbohydrates (g)
8.5
Proteins (g)
63.2
Fat (g)
9.5
Dietary Fiber (g)
1.6
Calcium (mg)
124
Iron (mg)
5.6
Sodium (mg)
177.4
Product Used