BULANGLANG + FRIED CHICKEN RECIPE
AJI-NO-MOTO® UMAMI SEASONING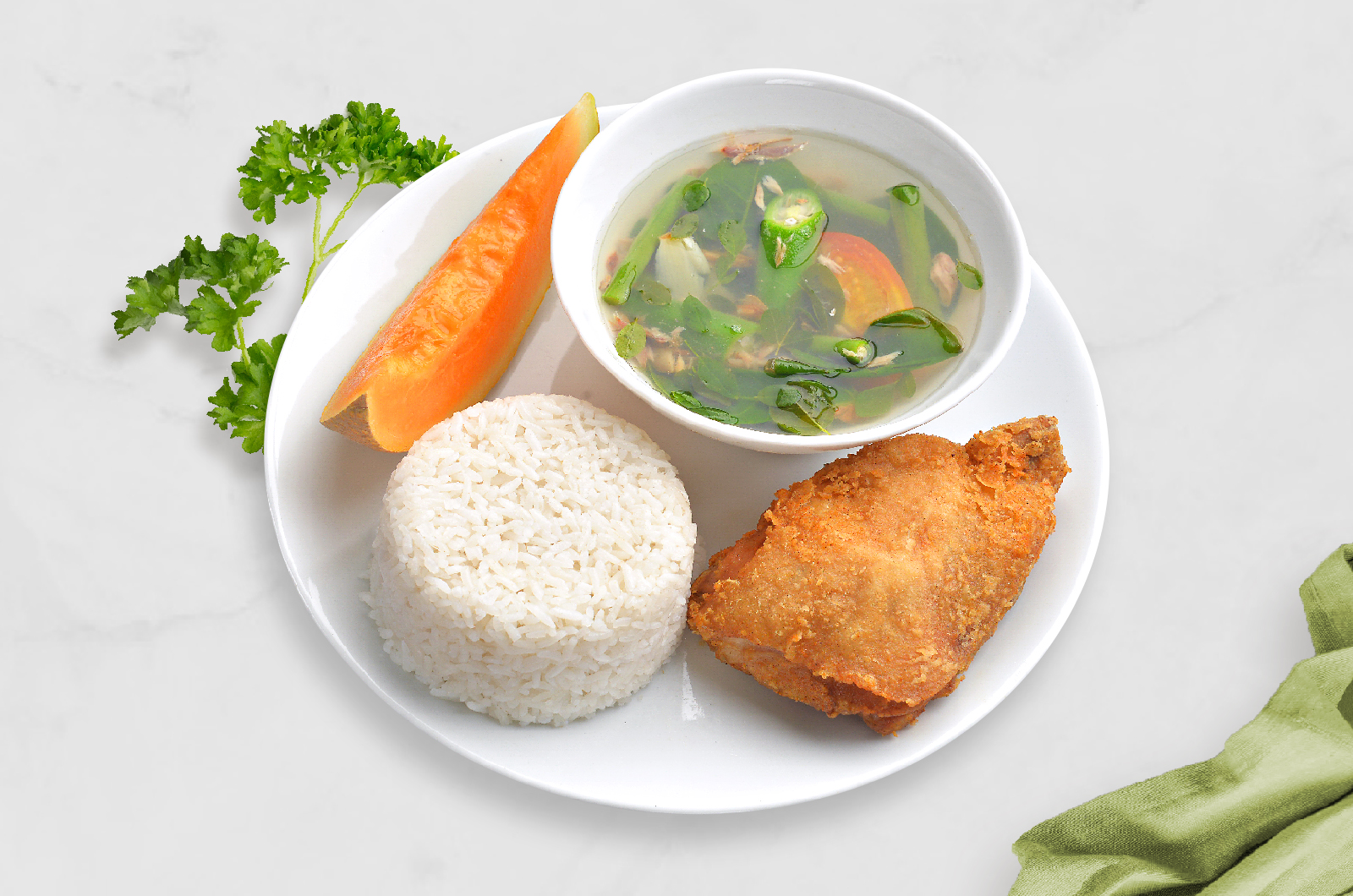 Ingredients
Bulanglang
4 cups (1 Liter)  Rice washing
8 cloves (18 grams)  Garlic, pounded
1 piece (24 grams) Ginger, pounded
3 pieces (150 grams)  Tomato
2 pieces (50 grams) Smoked fish,flaked
2 1/2 tablespoon (75 mL) Fish sauce
1 pack (11 grams) AJI-NO-MOTO® Umami Seasoning
1 bunch (200 grams)  Sitao, cut to 1 inch length
1 bunch (200 grams) Okra, cut to 1 inch length
1 bunch (140 grams)  Alugbati leaves
8 stalks (50 grams) Malunggay leaves
Fried Chicken
1/2 Kilogram (500 grams) Chicken
1/2 pakete (33.50 grams) TASTY BOY®  Regular Breading Mix
1/2 tasa (125 ml) Cooking oil
NUTRITION INFORMATION
Nutrition Facts
Calories per serving
558
Carbohydrates (g)
79.2
Proteins (g)
27.1
Fat (g)
14.7
Phosphorus (mg)
360
Calcium (mg)
272
Iron (mg)
8.1
Vitamin A (m g RE)
1188
Thiamin (mg)
0.33
Riboflavin (mg)
0.35
Niacin (mg NE)
17
Vitamin C (mg)
213
Procedure
Bulanglang
1.BOIL. In a pot combine rice washing, garlic, ginger, tomato and smoked fish. Let it boil until tomato becomes soft to be pressed.
2. SEASON with fish sauce and AJI-NO-MOTO®.
3. BOIL. Add sitao and okra. let it boil for 2 minutes. Add alugbati and malunggay and let it boil for 1 minute. Serve with Fried Breaded Galunggong.
Fried Chicken
1. DREDGE. Roll the chicken in TASTY BOY® Regular Breading Mix.
2. FRY. In a pan, heat oil and fry the breaded chicken.
No. of Servings: 4-5 servings
Serving Size: 1 bowl (130 grams) Bulanglang and 1 piece (60 grams) Chicken
Meal Serving Idea: 1 cup rice, 1 bowl Bulanglang, 1 piece Fried Chicken, 1 piece Melon
Product Used