CAMOTE TOPS SALAD AND HARD-BOILED EGG RECIPE
AJINOMOTO AJI-SHIO® SEASONING MIX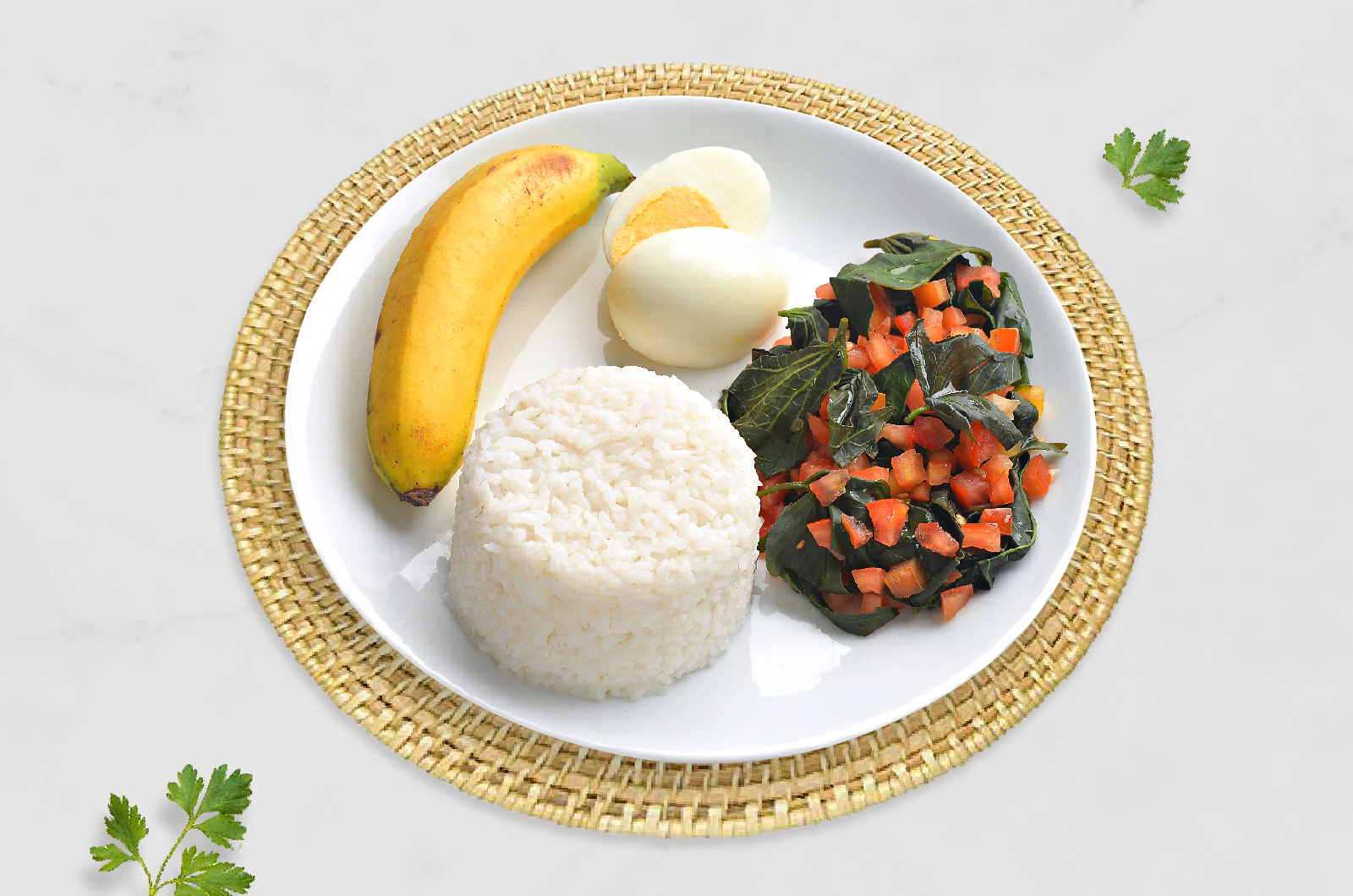 Ingredients
5 bunches (270 grams) Camote Tops
1/4 cup (62.5 ml) Water
1/4 cup (62.5 ml) Vinegar
1/2 teaspoon (3 grams) Salt
2 teaspoons (4 grams)  AJI-SHIO® Pepper Seasoning Mix
1 teaspoon (5 ml) Soy sauce
2 tablespoons (24 grams) Sugar, brown
1/4 cup (35 grams) Onion, cubed
1 cup (130 grams) Tomato, cubed
NUTRITION INFORMATION
Nutrition Facts
Calories per serving
414
Carbohydrates (g)
73.3
Proteins (g)
13.5
Fat (g)
7.4
Phosphorus (mg)
236
Calcium (mg)
182
Iron (mg)
6.5
Vitamin A (m g RE)
435
Thiamin (mg)
0.17
Riboflavin (mg)
0.38
Niacin (mg NE)
4.1
Vitamin C (mg)
39
Procedure
1. STEAM. Pour water in the steamer's base and let it boil. Once the water is boiling, assemble the camote tops on the steamer and steam for 2-3 minutes. Set aside.
2. MIX and BOIL. In a pan, mix water, vinegar, salt and AJI-SHIO® Pepper and sugar. Switch on your stove's fire. Without stirring, let the mixture boil for 2 minutes. Let it cool and set aside.
3. ASSEMBLE. In bowl, toss steamed camote tops, onions and tomatoes and pour the vinegar mixture. Assemble camote tops salad in a plate with rice and hard-boiled egg.
No. of Serving: 4-5 servings
Size per serving: 1 cup (90 grams)
Meal Serving Idea: 1 cup Rice, 1 cup Camote Tops Salad, 1 piece Hard-boiled Egg, 1 piece Banana
Cooking Tips
If steamer is not available, place the camote tops on a plate and put on top of the rice during the last 15 minutes of the rice-cooking process.
Product Used