Canned Lunch Meatballs
AJINOMOTO AJI-SHIO® SEASONING MIX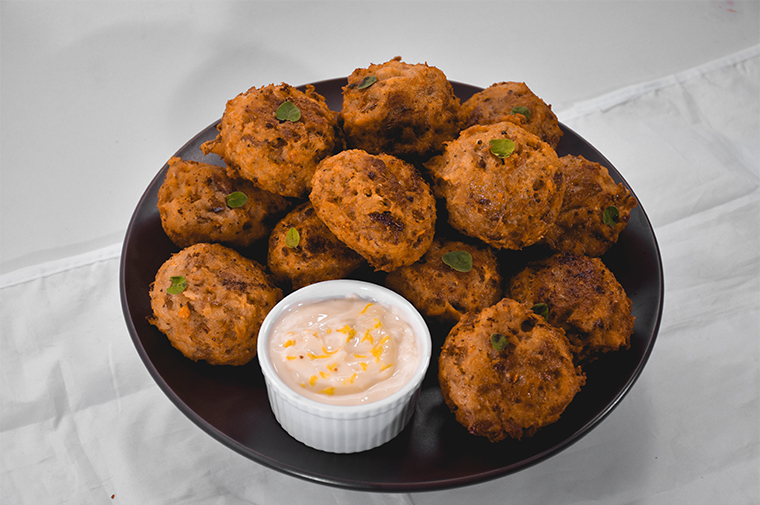 Ingredients
2 cans (320 grams) Tuna flakes in oil, canned
2 tablespoons (30 grams)Onion, red, minced
1 pack (6 grams) Aji-Shio® Seasoning Mix (Garlic) 1 pc (50 grams) Egg, beaten
1 cup (140 grams) All Purpose Flour
1/2 cup (60 grams) Carrots, minced
1/2 cup (63 grams) Cheese, small cubes
1 cup (250 ml) Oil, cooking
NUTRITION INFORMATION
Nutrition Facts
Calories per serving
245.1  Calories
Carbohydrates (g)
12.6 grams
Proteins (g)
9.4 grams
Fat (g)
17.4  grams
Dietary Fiber (g)
0.8 gram
Calcium m(g)
75.5 milligrams
Iron (mg)
1.3  milligrams
Sodium (mg)
416.4 milligrams
Good to Know Nutrition Facts!
Tuna is a lean meat providing protein with good fats.  It is also packed with B Vitamins. (PFCT)
Preparation
Makes: 10 servings
Procedure:

COMBINE tuna flakes, red onion, Aji-Shio® Seasoning Mix (Garlic), beaten egg, all purpose flour, carrots and cheese. Mix Well.
ROLL into 1-inch balls.
DEEP FRY meatballs until golden brown.
SERVE while it's hot. Enjoy!
Cost
Recipe Cost: Php 150.36
Cost per Serving: Php 15.04
Cooking Tips
You can freeze tuna meat balls for at least one (1) hour prior to cooking for better texture.
Product Used