CHEESY MUSHROOM RICE BALL RECIPE
AJI SAVOR™ RICE TOPPING MIX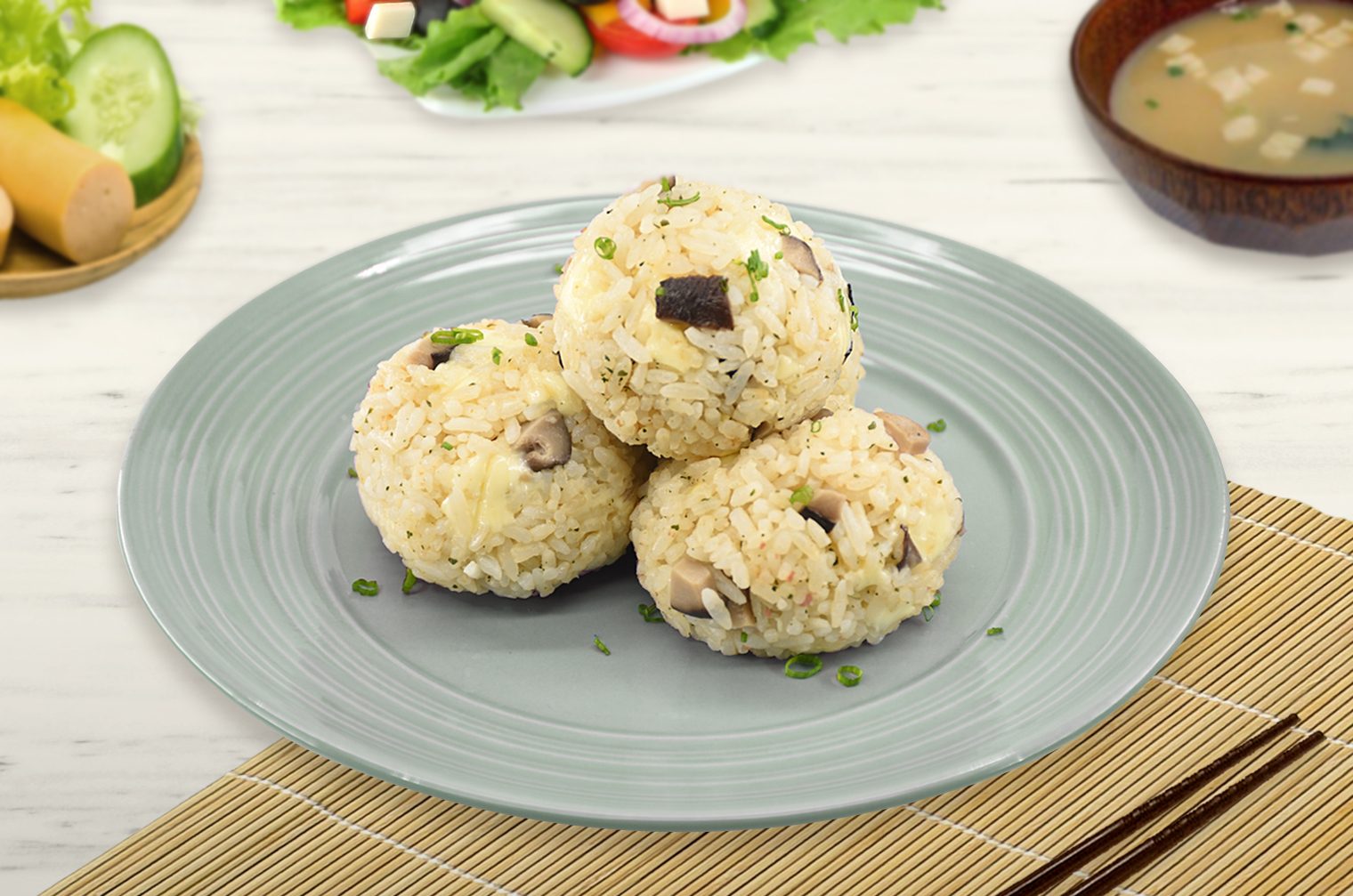 Ingredients
1 cup (170g) Rice, cooked
1 pack (4g) AJI SAVOR™ Rice Topping Mix (Beef)
1 Tbsp (15ml) Cooking Oil
2 tbsps (30g) Shiitake Mushroom, diced
2 tbsps (30g) Cheese, quickmelt, diced
NUTRITION INFORMATION
Nutrition Facts
Calories per serving (kcal)
98.8
Carbohydrates (g)
13.6
Proteins (g)
1.5
Fat (g)
4.2
Dietary Fiber (g)
0.3
Calcium (mg)
118.5
Iron (mg)
0.3
Sodium (mg)
148.7
Good to Know Nutrition Facts!
Rice Ball Recipe is rich in Carbohydrates, which supplies energy to our body, and Calcium, provided by                    AJI SAVOR™, which is  needed for the growth and repair  of bones and teeth.
Preparation time: 10 minutes
Cooking time: 15 minutes
Procedure
1. MIX. On a bowl, add 1 cup of rice and AJI SAVOR™ (Beef).
2. FRY. On a pan, heat oil. Lightly cook Shiitake Mushroom. Drain excess oil. Add mushroom to rice mixture.
3. ROLL. Scoop 1/4 cup of rice mixture and roll into a ball. Repeat with the rest of the rice mixtures.
4. SERVE and enjoy.
Makes 4 servings
Serving size: 1pc (60g) Rice Ball
Cooking Tips
Make sure to mix rice and AJI SAVOR™ Rice Topping Mix very well for equal flavor distribution.
Product Used