CHICKEN AFRITADA
AJINOMOTO® BRAND GINISA FLAVOR SEASONING MIX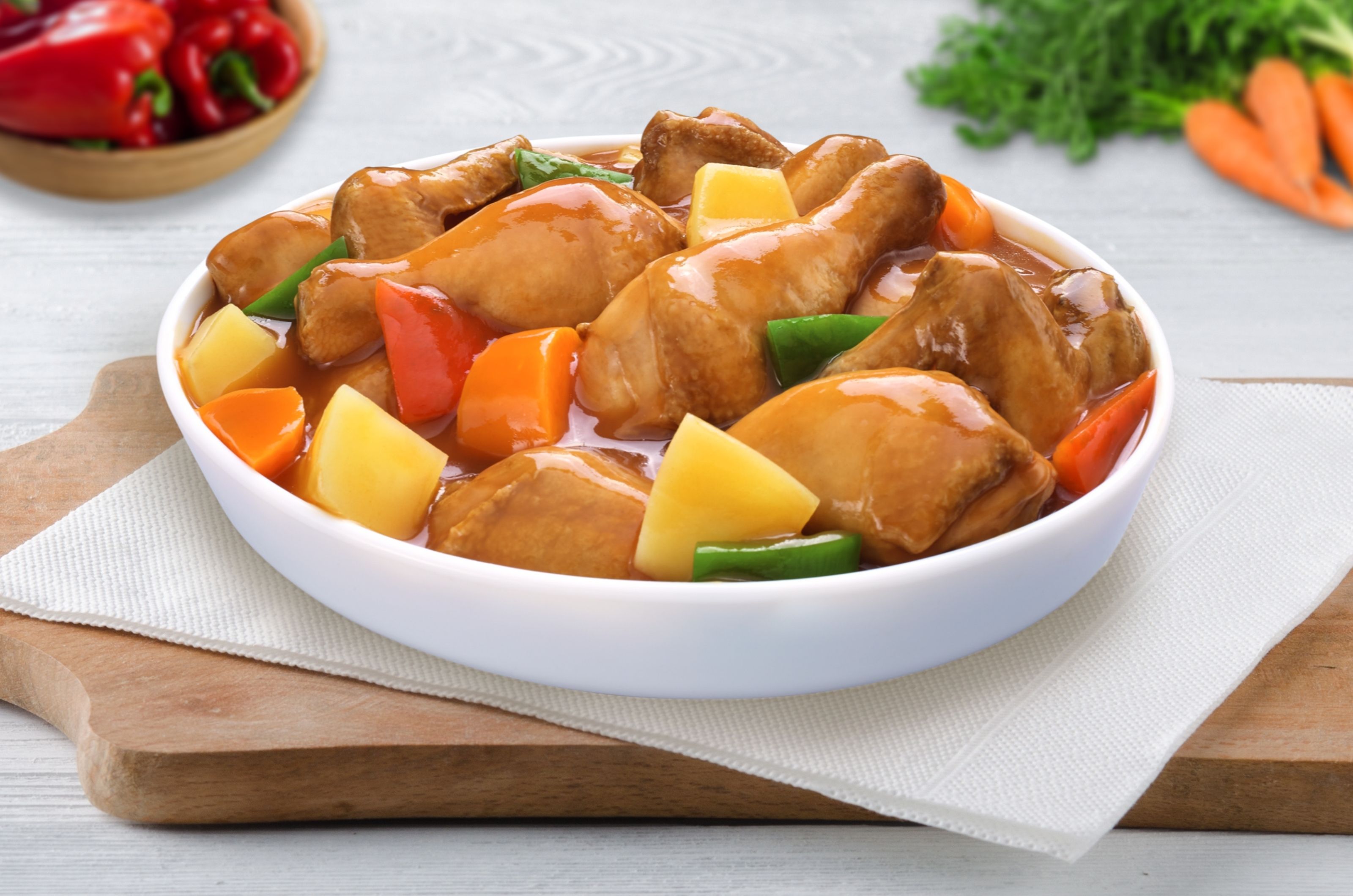 Ingredients
2 Tbsps. (30ml) Cooking Oil
1/4 cup (60g) Red Onion, sliced
2 Tbsps. (30g) Garlic, minced
3 cups (650g) Chicken, cut into serving portions
1/2 cup (120ml) Water
1 Tbsp. (15g) Tomato Paste
1/2 cup (100g) Carrots, cubed
1/2 cup (100g) Potatoes, cubed
1/4 cup (50g) Green Bell Pepper, cubed
1/4 cup (50g) Red Bell Pepper, cubed
2 cups (500ml) Tomato Sauce
1 pack (7g) AJI-GINISA® Flavor Seasoning Mix
NUTRITION INFORMATION
Nutrition Facts
Calories per serving (kcal)
234.2
Carbohydrates (g)
12.7
Proteins (g)
20.4
Fat (g)
11.4
Dietary Fiber (g)
1.4
Calcium (mg)
61.4
Iron (mg)
2.6
Sodium (mg)
696.2
Good to Know Nutrition Facts!
Chicken is a good source of Protein that is essential for muscle building and repairing worn-out tissues in the body.
Preparation time: 15 minutes
Cooking time: 40 minutes
Procedure
SAUTÉ. In a pan, heat oil. Sauté onion and garlic. Add chicken and cook for 5 minutes.
SIMMER. Add water and simmer for 5 minutes. Add tomato paste, carrots, potatoes, and red and green bell peppers. Simmer for another 5 minutes. Add tomato sauce and simmer for another  3 minutes.
SEASON. Add AJI-GINISA® Simmer for another 5 minutes. Mix well.
SERVE. Transfer to a serving bowl. Serve and enjoy.
Makes 8 servings
Serving size: 1 cup (214g)
Cooking Tips
When cooking with tomato sauce, make sure to simmer in low heat. This ensures that your sauce will not be overly sour.
Product Used