CHICKEN BINAKOL RECIPE
AJI-NO-MOTO® UMAMI SEASONING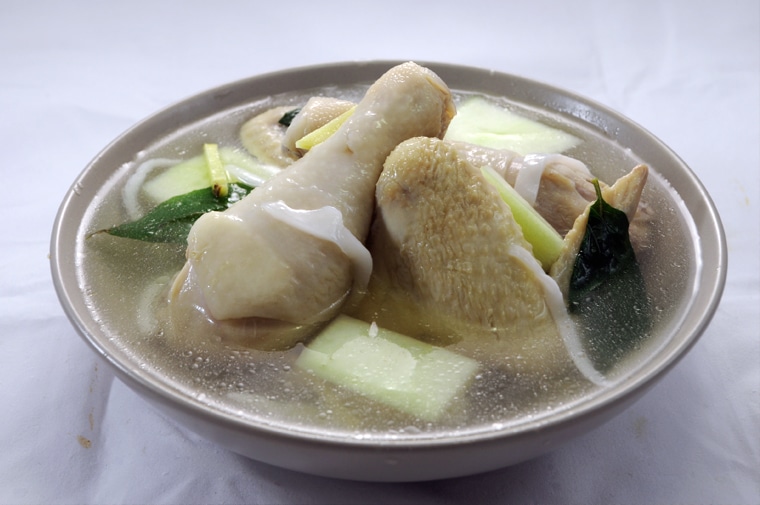 Ingredients
1 tablespoon (12ml) Cooking oil
1/4 cup (35g) Onion, sliced
1 tablespoon (12g) Garlic, minced
1/3 cup (33g) Ginger, sliced
500g Chicken
1 liter (1000ml) Water
2 cups (290g) Papaya, unripe, cube
1/2 cup (50g) Coconut meat
1/4 cup (50ml) Coconut water
3 tablespoons (45ml) Fish sauce
1 pack  ChickenSavor™ All-in-One- Seasoning Mix
Preparation and Cooking Time: 30 minutes
Preparation
Procedure
SAUTE. In a pot, add oil and saute onion, garlic, and ginger until translucnet and fragrant. Then, add chicken and brown it a bit.
SIMMER. Pour in water and ring to a boil and lower down to simmer.
ADD. When chicken is almost cooked, add in papaya, coconut meat, and coconut water.
SEASON with fish sauce and ChickenSavor™ All-in-One- Seasoning Mix . Serve hot.
Makes: 5 servings
Serving size: 1 cup (360g each)
Cooking Notes
 You may add more coconut meat and coconut water based on preference.
NUTRITION INFORMATION
Nutrition Facts
Calories per Serving
238
Carbohydrates (g)
6.4
Proteins (g)
26.5
Fat (g)
12.2
Dietary Fiber (g)
1.8
Calcium (mg)
68
Iron (mg)
3.2
Sodium (mg)
920.1
Product Used