CHICKEN CARBONARA RECIPE
CHICKENSAVOR™ ALL-IN-ONE SEASONING MIX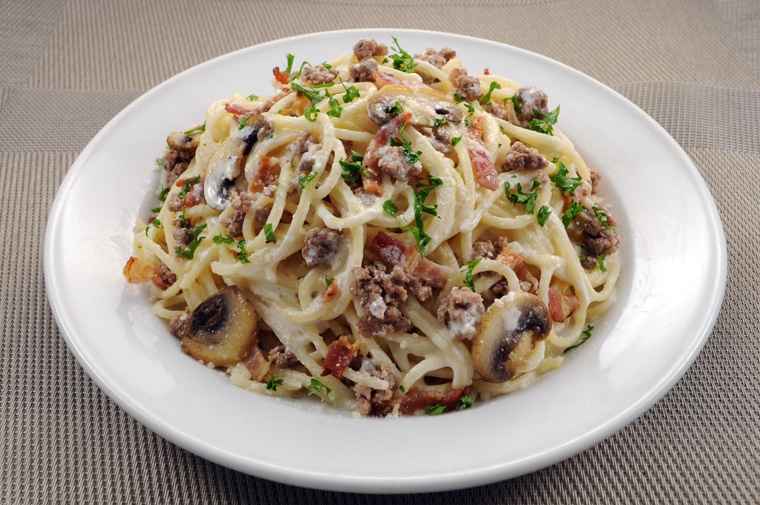 Ingredients
Pasta
250 grams Fettuccine Noodles
10 cups (2.5L) Water
1/8 cup (25 g) Salt
Sauce
2 tablespoons (30 g) Butter, unsalted
1 cup (200 g) Chicken Breast, thick strips
1/2 cup (70 g) Ham, small diced
1/2 cup (115 g) Mushroom, sliced
1/4 cup (35 g) Onion, minced
1/8 cup (12 g) Garlic, minced
500 ml Cream, all-purpose
1 cup (250 ml) Water
2 packs (14 g) ChickenSavor® Seasoning Mix
To Taste Pepper, black ground
Preparation and Cooking Time: 30-40 minutes
Preparation
BOIL. On a pot with salted boiling water, cook pasta until al dente.
SAUTE. On a medium heat pan, add unsalted butter and saute chicken breast, ham and mushroom; add onion and garlic stir until translucent.
SIMMER. Add the cream and water and let it simmer.
SEASON. with ChickenSavor® Seasoning Mix and pepper. Add in the cooked pasta mix well. Serve Hot.
Makes: 5 servings
Serving size: 1 cup (170g) Chicken Carbonara
Cooking Notes
If thickened sauce is desired, use the pasta water to bind everything together.
NUTRITION INFORMATION
Nutrition Facts
Calories per Serving
421
Carbohydrates (g)
9.2
Proteins (g)
14.4
Fat (g)
36
Dietary Fiber (g)
1.0
Calcium (mg)
146
Iron (mg)
1.9
Sodium (mg)
2922
Product Used