CHICKEN EMBOTIDO
CHICKENSAVOR™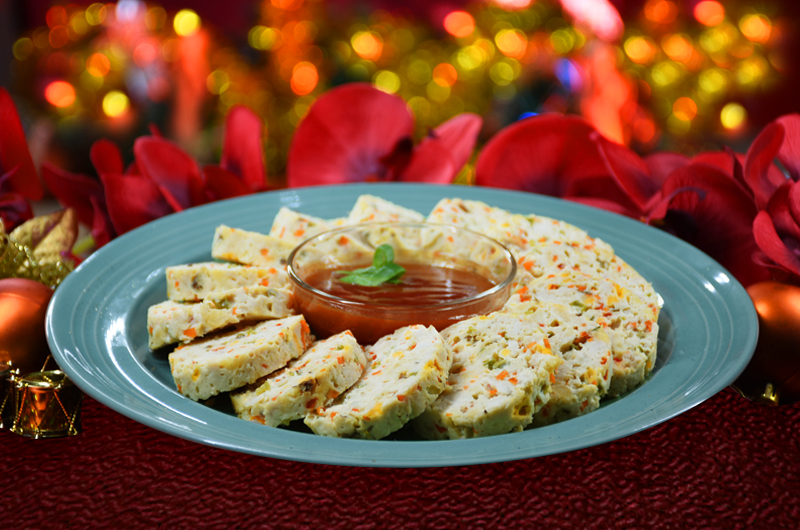 Ingredients
1 kg 1000g Chicken, ground
3 Tbsps 45g Carrots, diced
3 Tbsps 45g Green Bell Pepper, diced
3 Tbsps 45g Red Bell Pepper, diced
3 Tbsps 45g Raisins, chopped
3 Tbsps 45g Sweet Relish, chopped
3 Tbsps 45g White Onion, diced
1/4 cup 60g Cheese, diced
2 pcs 120g Egg, beaten
3 Tbsps 45g Breadcrumbs
2 Tbsps 30ml Cooking Oil
2 packs 16g Chickensavor ™ All-in-One Seasoning Mix
NUTRITION INFORMATION
Nutrition Facts
Calories per serving
400.2 Calories
Carbohydrates (g)
15.5 grams
Proteins (g)
42.5 grams
Fat (g)
18.3 grams
Dietary Fiber (g)
1.6 gram
Calcium m(g)
159.6 milligrams
Iron (mg)
3.3 milligrams
Sodium (mg)
987.9 milligrams
Good to Know Nutrition Facts!
Chicken is good source of protein. Breast part is a linear meat variety getting most of the protein with less fat.
Preparation
Makes: 6 servings
Procedure:

1. MIX. In a bowl, mix all ingredients until all ingredients are evenly distributed.
2. ROLL. On an aluminum foil, scoop 1 cup of chicken mixture. Roll and seal tightly.
3. CHILL. Place rolls in a refrigerator to chill and firm it up.
4. STEAM. Place rolls in a steamer and steam for 45 minutes.
5. SERVE. Serve and enjoy.
Cost
Recipe Cost: Php 348.73
Cost per Serving: Php 58.12
Cooking Tips
You may cut the vegetables bigger for texture variation.
Product Used