CHICKEN PASTEL
AJI-NO-MOTO® UMAMI SEASONING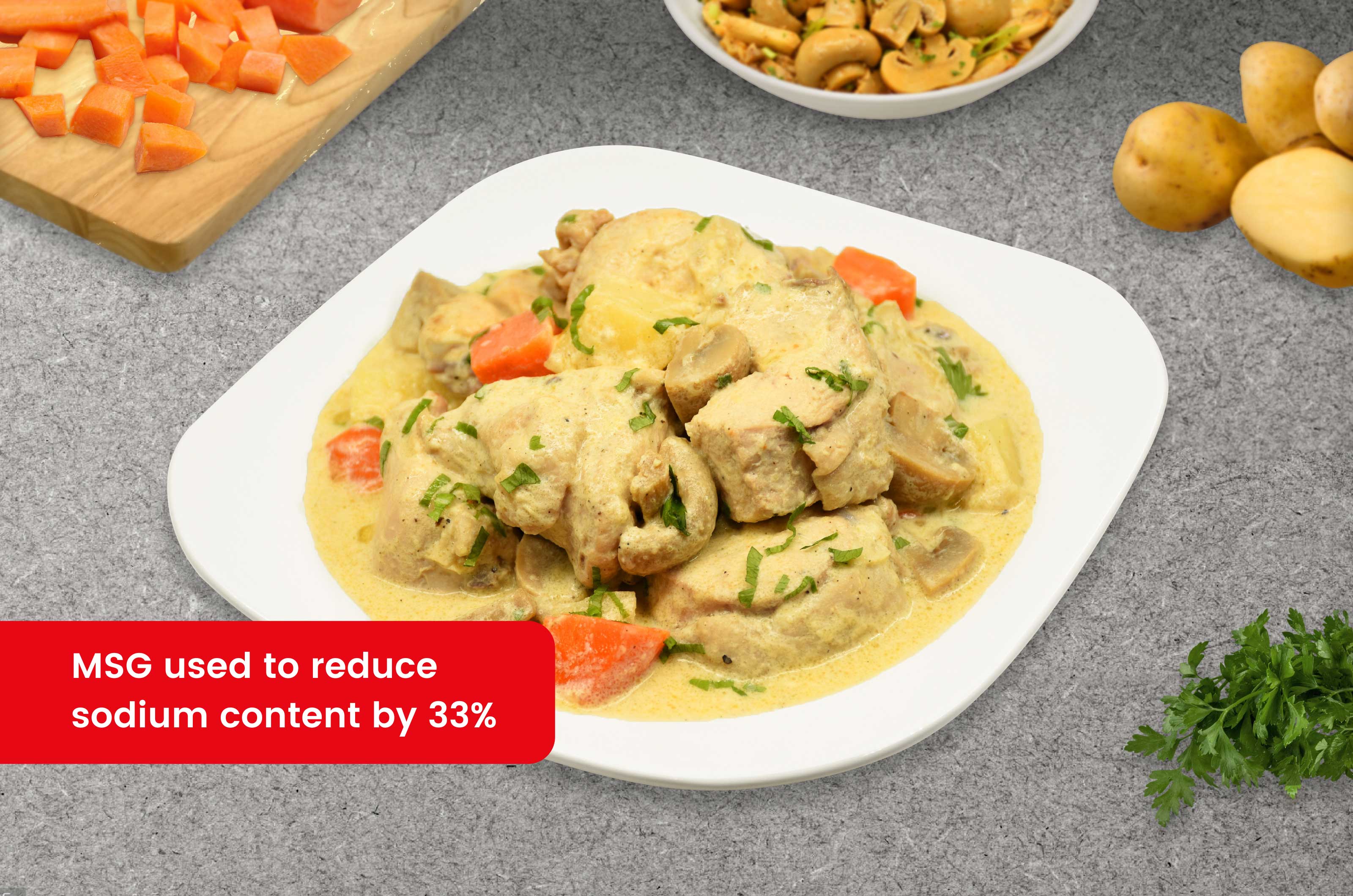 Ingredients
6 cups (1500ml) Water
1 Kilo (1000g) Chicken breast, cut into serving portions
2 Tbsps. (30ml) Oil
1 1/2 Tbsps. (22.50g) Butter, unsalted
1/4 cup (60g) Mushroom, halved
1/2 cup (75g) Onions, sliced
2 Tbsps. (20g) Garlic, minced
1 tsp. (5g) Cornstarch
1 1/2 cups (375ml) Chicken broth (from boiled chicken)
1 cup (250ml) All-Purpose cream
1.4 tsp. (1.25g) Ground black pepper
3 Tbsps. (45ml) Fish sauce
1 pack (11g) AJI-NO-MOTO® Umami Seasoning
1/2 cup (95g) Potato, sliced
1/2 cup (54g) Carrot, diced
Reduced sodium by 33%
Original seasoning/condiment: 2 tsps. (10g) Salt
NUTRITION INFORMATION
Nutrition Facts
Calories per serving (kcal)
264.0
Carbohydrates (g)
5.0
Proteins (g)
1.9
Fat (g)
8.7
Dietary Fiber (g)
0.7
Calcium (mg)
15.4
Iron (mg)
0.8
Sodium (mg)
400.0
Good to Know Nutrition Facts!
Chicken breast is the leanest chicken meat choice if trying to reduce Fat intake.
Preparation time: 15 minutes
Cooking time: 45 minutes
Procedure
BOIL. In a pot, add water and chicken. Let it boil until chicken is tender. Set aside both chicken meat and broth.
SEAR. In a pan with hot oil, add butter and sear chicken until surface is slightly brown. Set aside. Add mushroom and sear for 1 minute. Set aside.
SAUTÉ. In the same pan, sauté onion and garlic until fragrant. Add chicken and mushroom.
BOIL. Mix cornstarch with 1 1/2 cups of broth before adding to the pan. Add all-purpose cream and let it boil for 2 minutes, covered.
SEASON. Add pepper, fish sauce and AJI-NO-MOTO ®.
SIMMER. Add potatoes and carrots. Simmer for 3 minutes, covered.
SERVE. Transfer to a serving platter and serve while hot.
Makes 10 servings
Serving size: 1 cup (120g)
Cooking Tips
To prevent the drying up of the chicken meat, cover the pan when boiling or simmering.
Product Used