CHICKEN SOPAS RECIPE
CHICKENSAVOR™ ALL-IN-ONE SEASONING MIX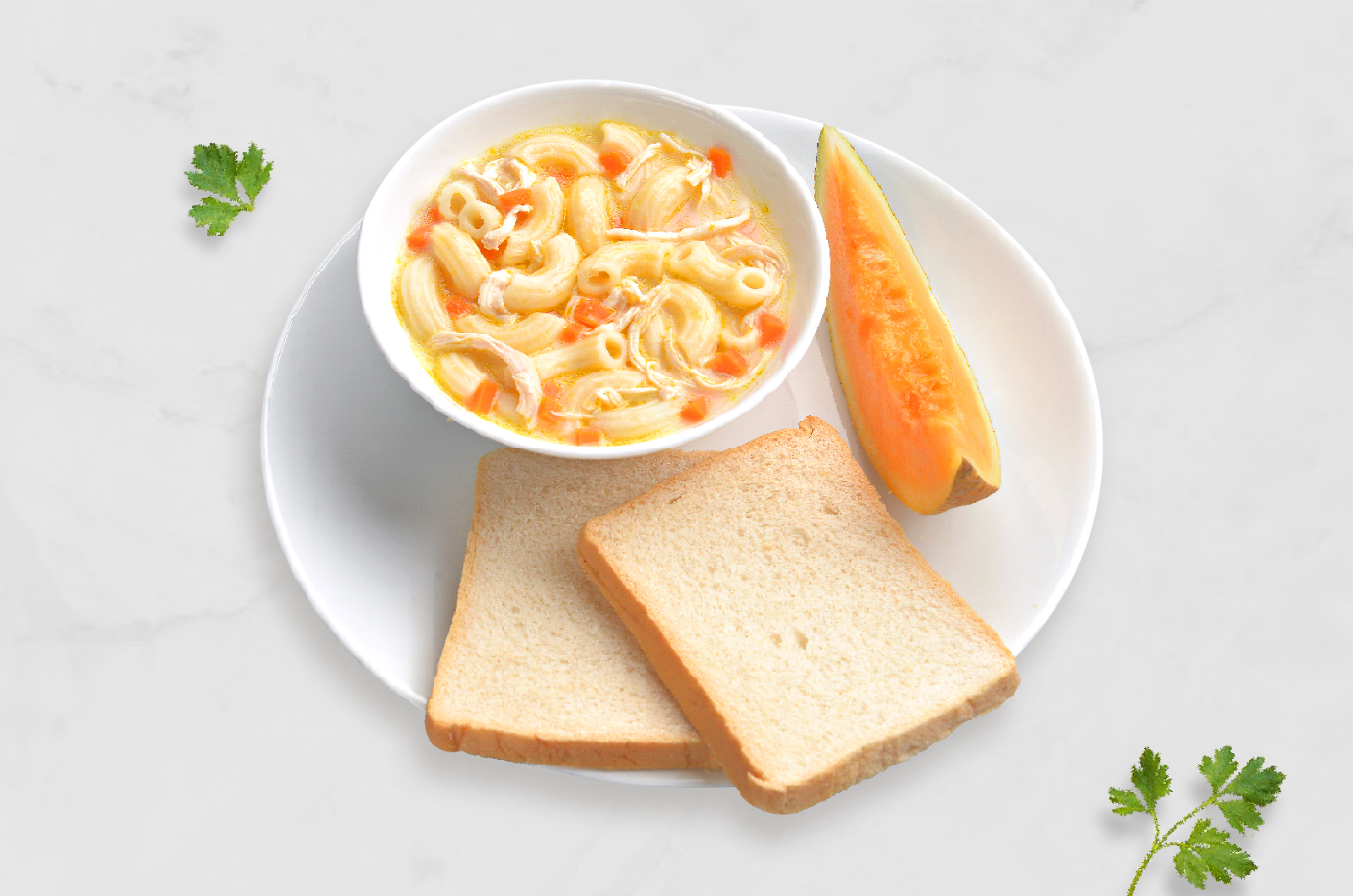 Ingredients
1 tablespoon (15 ml) Cooking oil
4 teaspoons (13 grams) Onions, sliced
2 teaspoons (8 grams) Garlic, minced
1/4 cup (80 grams) Chicken, shredded
1/2 cup (68 grams) Carrots, cubed
4 cups (1 Liter) Water
1 tablespoon (5 grams) Margarine
1 cup (110 grams) Elbow macaroni
1/4 cup (60 mL) Evaporated milk
2 packs (16 grams) CHICKENSAVOR™ All-in-One Seasoning Mix
1/8 teaspoon (0.63 grams) Black pepper,  ground
1/2 cup (25.50 grams)  Cabbage, shredded
NUTRITION INFORMATION
Nutrition Facts
Calories per serving
340
Carbohydrates (g)
54.6
Proteins (g)
13
Fat (g)
7.6
Phosphorus (mg)
172
Calcium (mg)
131
Iron (mg)
3.8
Vitamin A (m g RE)
696
Thiamin (mg)
0.44
Riboflavin (mg)
0.23
Niacin (mg NE)
7.8
Vitamin C (mg)
71
Procedure
1. SAUTÉ. In a pan, heat oil to sauté onion and garlic. Add the chicken and cook until it turns light brown. Add carrots and continue cooking for 30 seconds.
2. BOIL. Add water, margarine and elbow macaroni. Cook the elbow macaroni according to the packs instruction. Let it boil. Add the evaoprated milk.
3. SEASON with CHICKENSAVOR™ All-in-One Seasoning Mix and ground black pepper.
4. BOIL. Add the cabbage and boil for 30 seconds. Serve while hot.
No. of Servings: 4-5 servings
Serving Size: 1 cup (185 grams)
Meal Serving Idea: 1 cup Sopas, 2 pieces Sliced Bread, 1 piece Melon
Cooking Tips
Always cook pastas until "al dente" (not too soft, not hard). Once desired doneness is achieved immediately drain the pasta and place it under running water to stop further cooking of the noodles.
Product Used