CHICKEN SOTANGHON SOUP RECIPE
AJI-NO-MOTO® UMAMI SEASONING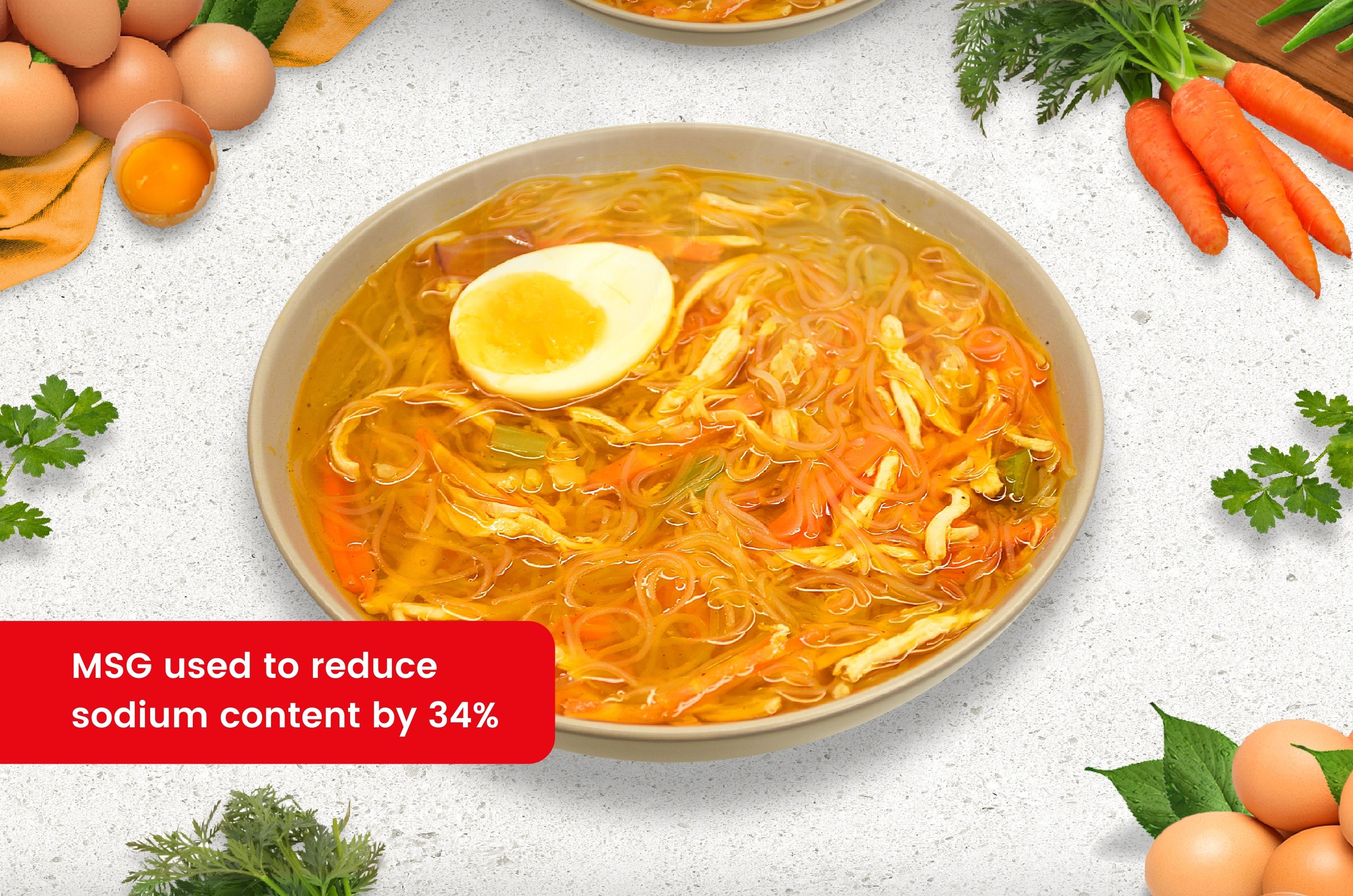 Ingredients
3 Tablespoons (45 ml) Cooking oil
1 Tablespoon (15 grams) Onions, chopped
2 Tablespoons (30 grams) Garlic, minced
2 stalks (20 grams) Celery, chopped
1/2 kilo (500 grams) Chicken breast, filleted, flaked
2.5 Liters (2,500 ml) Chicken stock
1/2 cup (120 ml) Annatto water
1 cup (200 grams) Sotanghon noodles, soaked, drained
1/2 cup (120 grams) Carrots, julienne
1 1/2 cups (150 grams) Cabbage, shredded
1/2 pack (5.5 grams) AJI-NO-MOTO® Umami Seasoning
1 1/2 Tablespoons (23 ml) Fish sauce
1 teaspoon (4 grams) Pepper, black, ground
2 Tablespoons (30 grams) Garlic, peeled, sliced, roasted
1/2 cup (120 grams) Spring onions, chopped
Reduced sodium by 34%
Original sodium content: 1/4 cup (60 ml) Fish sauce
NUTRITION INFORMATION
Nutrition Facts
Calories per serving (kcal)
242
Carbohydrates (g)
25.8
Proteins (g)
14.7
Fat (g)
8.9
Dietary Fiber (g)
1.7
Calcium (mg)
47.4
Iron (mg)
2.0
Sodium (mg)
287.3
Good to Know Nutrition Facts!
Chicken breast is high in Protein which is needed for the building and repair of muscles.
Preparation time: 15 minutes
Cooking time: 20 minutes
Procedure
SAUTÉ. In a pan heat oil, sauté onion and garlic until onions become soft and fragrant.
BOIL & SIMMER. Add celery, chicken and chicken stock, let it boil. Add annatto water and sotanghon noodles, and then cover and simmer for ten (10) minutes. Add carrots and cabbage then cook for another minute.
SEASON. Add AJI-NO-MOTO®, fish sauce and pepper. Mix well and cook for another minute.
SERVE. Transfer to a serving bowl. Top with toasted garlic and spring onions. Serve and enjoy.
Makes 8 servings
Serving size: 1/2 cup (112 g)
Cooking Tips
For a recipe with so many ingredients, it would be better to group them according to the sequence of the procedure to save time and avoid confusion while cooking.
Product Used