CHICKEN TINOLA RECIPE
CHICKENSAVOR™ ALL-IN-ONE SEASONING MIX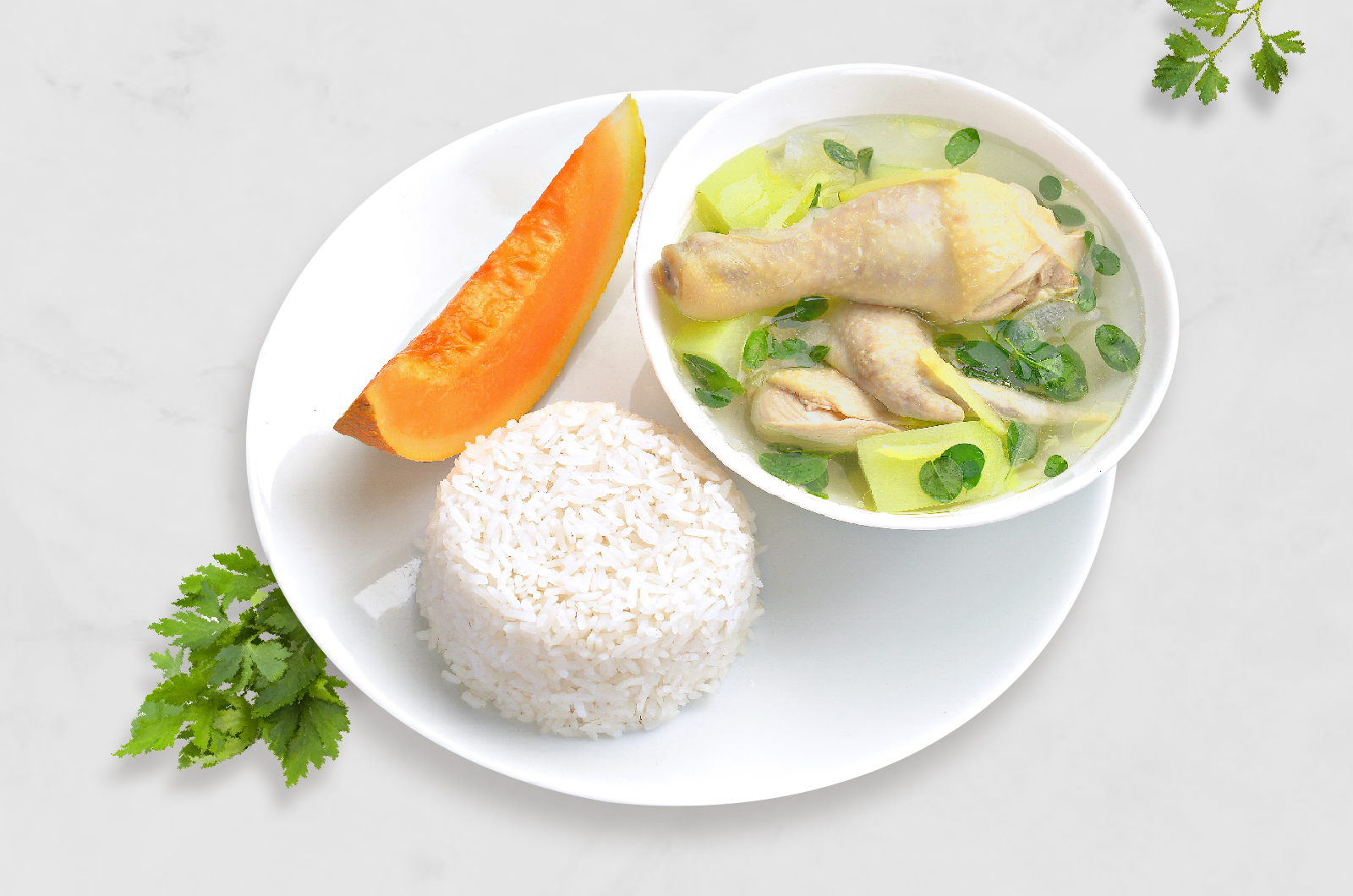 Ingredients
1 teaspoon (5 grams) Cooking oil
4 teaspoons (20 grams) Onions, sliced
2 teaspoons (10 grams) Garlic, minced
1/2 cup (62.50 grams) Ginger, sliced
3 cups (700 grams) Chicken, tinola cut
4  cups (1 Liter) Water
2 cups (435 grams) Unripe Papaya, sliced 1/2 inch thick
2 packs (16 grams) CHICKENSAVOR™ All-in-One Seasoning Mix
6 belly slices (350 grams) Bangus
2 tablespoons (30 ml) Fish sauce
1 teaspoon (1 gram) Whole peppercorn
2 tablespoons (30 ml) Fish sauce
1 cup (20 grams) Malunggay leaves
NUTRITION INFORMATION
Nutrition Facts
Calories per serving
400
Carbohydrates (g)
61.1
Proteins (g)
15.7
Fat (g)
10.2
Phosphorus (mg)
186
Calcium (mg)
85
Iron (mg)
3.2
Vitamin A (m g RE)
437
Thiamin (mg)
0.17
Riboflavin (mg)
0.18
Niacin (mg NE)
8.2
Vitamin C (mg)
80
Procedure
1. SAUTÉ. In a pot, heat oil to sauté onion, garlic and ginger. Add the chicken and saute for 3 minutes.
2. BOIL. Add water and let it boil until chicken beocmes tender. Add unripe papaya and continue boiling until papaya is tender.
3. SEASON with CHICKENSAVOR™, fish sauce and ground black pepper.
4. BOIL. Add the malunggay leaves and let it boil for 1 minute. Serve while hot.
No. of Servings: 10 servings
Serving Size: 2 pieces (60 grams) Chicken Meat, 1 cup (90 grams) Unripe Papaya and Malunggay
Meal Serving Idea: 1 cup Rice, 2 pieces Chicken Meat, 1 cup Unripe Papaya and Malunggay Leaves, 1 slice Melon
Cooking Tips
Ginger helps in eliminating the unwanted stench taste of chicken. You can add more ginger based on your liking.
Product Used