CHICKEN IN TOMATO SALSA
AJI-NO-MOTO® UMAMI SEASONING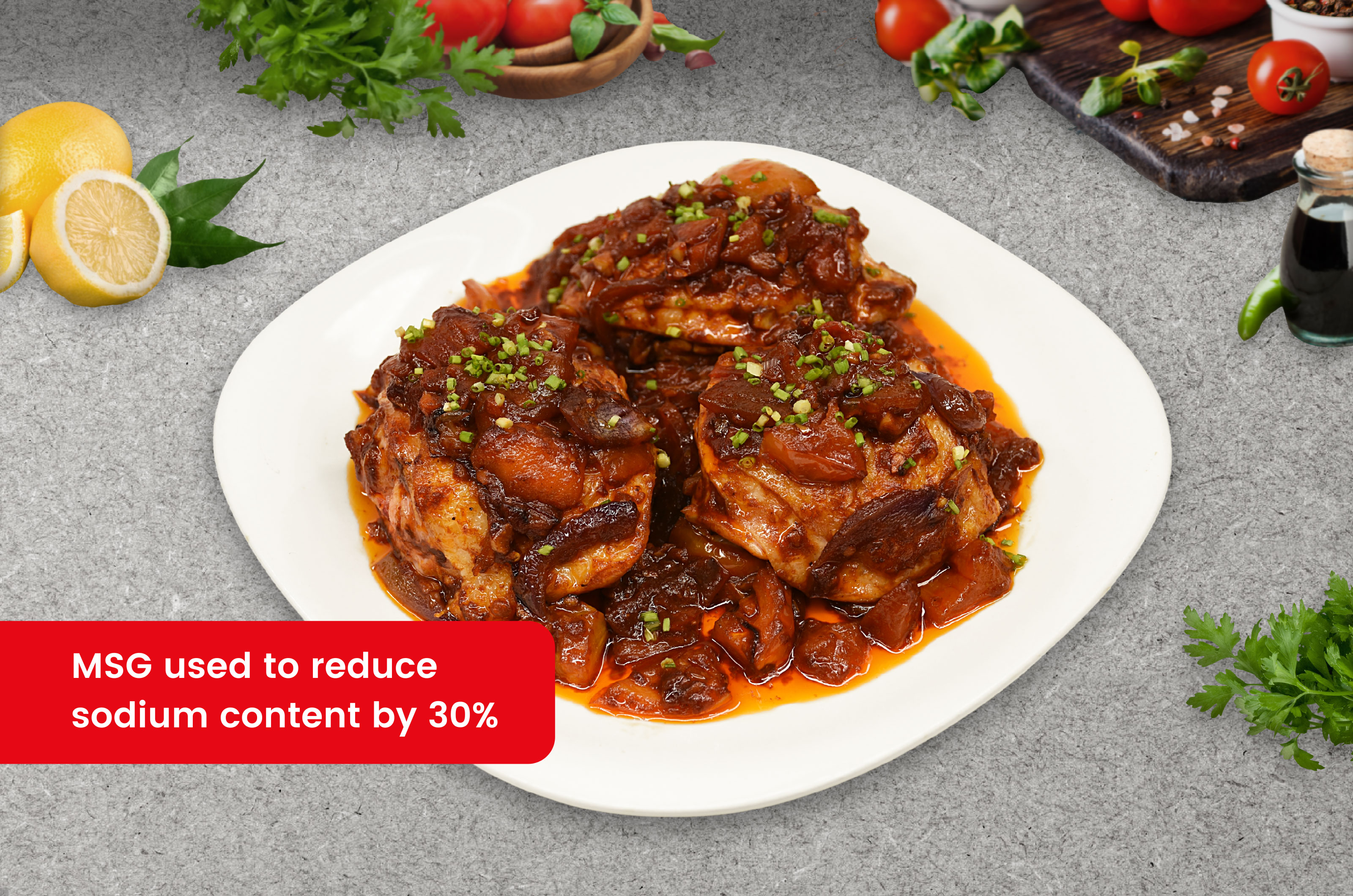 Ingredients
4 cups (800g) Chicken thigh, bone-in
1 tsp. (5g) Salt
1 tsp. (2g) Pepper
1/4 cup (60ml) Cooking oil
1/4 cup (60g) Red onion, chopped
2 Tbsps. (30g) Garlic, minced
1/2 cup (120g) Tomato, diced
2 tsps. (10ml) Soy sauce
1/2 pack (5.5g) AJI-NO-MOTO® Umami Seasoning
Reduced sodium by 30%
Original seasoning/condiment: 2 Tbsps. (30ml) Soy sauce, 2 tsps. (10g) Salt
NUTRITION INFORMATION
Nutrition Facts
Calories per serving (kcal)
185.5
Carbohydrates (g)
2.6
Proteins (g)
16.3
Fat (g)
12.3
Dietary Fiber (g)
0.7
Calcium (mg)
24.0
Iron (mg)
1.0
Sodium (mg)
336.1
Good to Know Nutrition Facts!
Chicken is low in calories but high in Protein thus can be beneficial for weight loss.
Preparation time: 15 minutes
Cooking time: 25 minutes
Procedure
MARINATE. In a bowl, marinate the chicken in salt and pepper. Set aside.
SAUTÉ. In a pan, heat oil. Sauté onion, garlic, and tomato. Cook until tomatoes are blistered and softened. Add chicken. Cook until meat is browned.
SIMMER. Add soy sauce, lemon juice, and AJI-NO-MOTO®. Simmer until chicken is fully cooked.
SERVE. Transfer in a serving plate. Serve and enjoy.
Makes 10 servings
Serving size: 1/2 cup (84g)
Cooking Tips
Use high heat when sautéing and low hit when simmering. This brings out the natural sweetness of tomatoes.
Product Used