CHICKENSAVOR™ HOTOTAY RECIPE
CHICKENSAVOR™ ALL-IN-ONE SEASONING MIX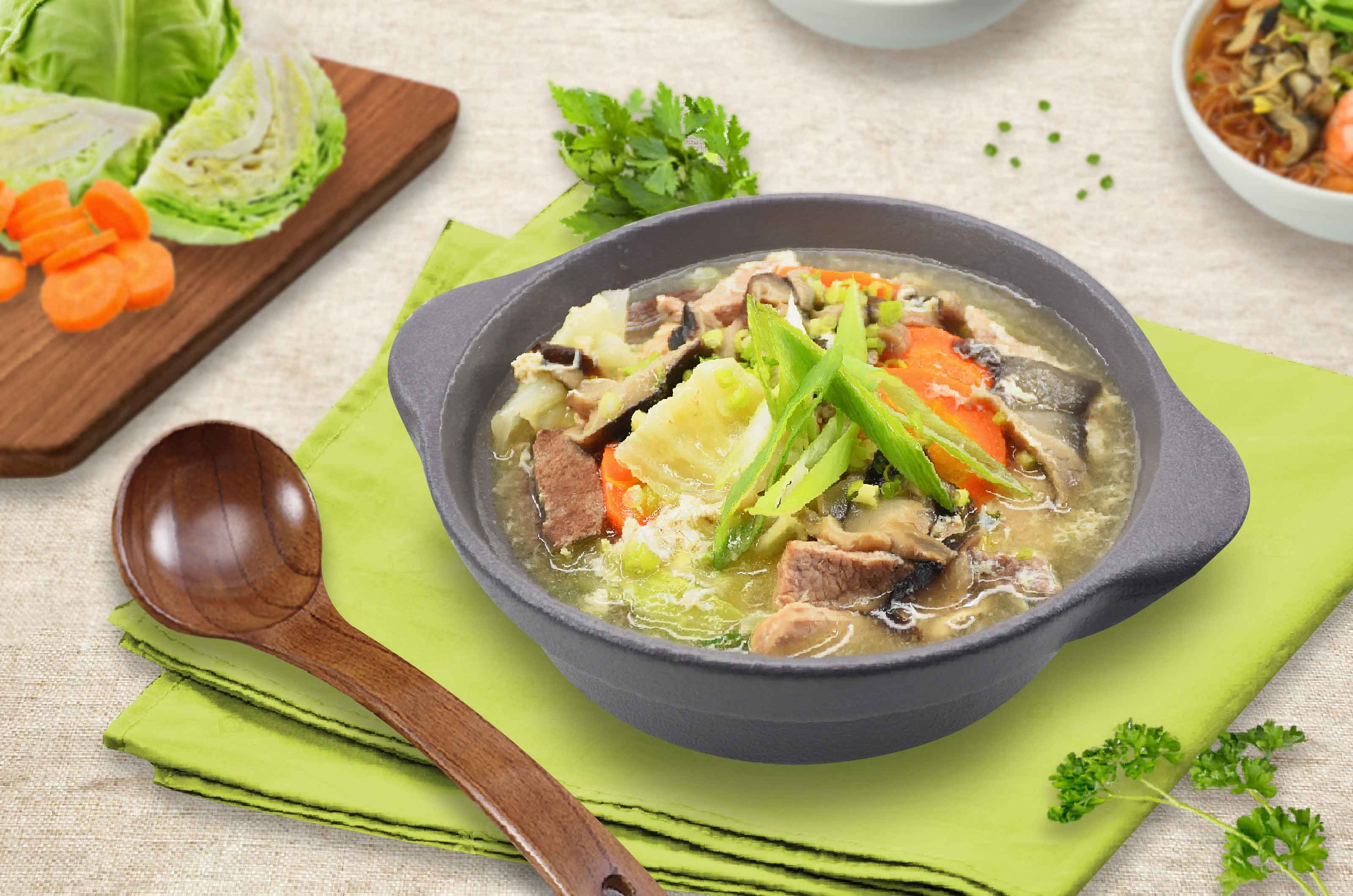 Ingredients
3 tbsps (45.0 ml) Cooking Oil
1/4 cup (55.0 g) Red Onion, minced
1 tbsp (10.0 g) Garlic, minced
1 tbsp (10.0 g) Onion Leeks, chopped
1 cup (230.0 g) Pork cutlets, strips
1 cup (230.0 g) Chicken Breast, chopped
1/2 cup (120.0 g) Pork Liver, chopped
4 cups (1,000.0 ml) Water
1 pack (8.0 g) CHICKENSAVOR™ All – in – One Seasoning Mix
1/4 cup (50.0 g) Carrots, sliced
1/4 cup (60.0 g) Shiitake Mushroom, chopped
1/4 cup (40.0 g) Cabbage, chopped
2 pcs (120.0 g) Egg, beaten
NUTRITION INFORMATION
Nutrition Facts
Calories per serving (kcal)
232.6
Carbohydrates (g)
3.9
Proteins (g)
16.4
Fat (g)
16.7
Dietary Fiber (g)
0.6
Calcium (mg)
37.0
Iron (mg)
3.9
Sodium (mg)
309.8
Good to Know Nutrition Facts!
This recipe contains a good amount of Iron perfect for healthy blood cells.
Preparation time: 20 minutes
Cooking time: 30 minutes
Procedure
SAUTÉ. In a pot, heat oil. Sautè onion, garlic, and onion leeks until fragrant. Add pork, chicken, and pork liver. Cook until browned.
BOIL. Add water. Bring to a boil then simmer for 5 minutes.
SEASON with CHICKENSAVOR™ and simmer for another 5 minutes.
MIX. Add carrots, mushroom, cabbage and egg. Mix until soup is thickened.
SERVE. Transfer in a serving bowl. Serve while hot.
Makes 8 servings
Serving size: 1 cup 250g
Cooking Tips
For thicker consistency, you may add slurry (1 part cornstarch and 1 part water) to your soup.
Product Used