CHINESE PORK BARBECUE RECIPE
AJI-NO-MOTO® UMAMI SEASONING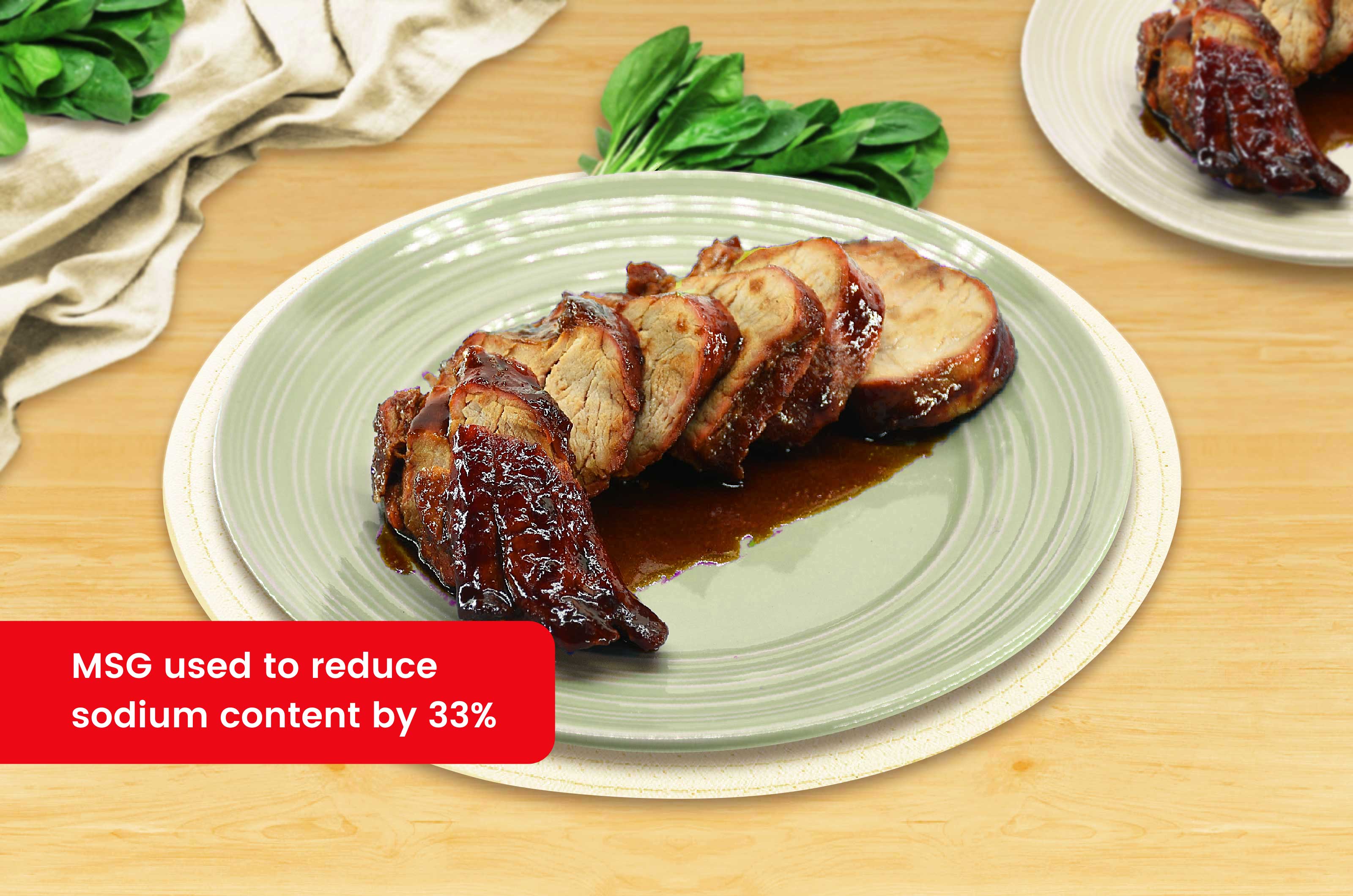 Ingredients
1/2 cup (120ml) Honey
3 tablespoons (45ml) Hoisin sauce
1 teaspoon (5ml) Light soy sauce
1 teaspoon (1g) Five spice powder
1 pack (11g) AJI-NO-MOTO® Umami Seasoning
2 tablespoons (30ml) Sesame oil
1/2 kilo (500g) Pork tenderloin, slab
5 tablespoons (75ml) Water
Reduced sodium by 33%
Original sodium content: 3 Tablespoons (45 ml) Soy sauce
NUTRITION INFORMATION
Nutrition Facts
Calories per serving (kcal)
234.7
Carbohydrates (g)
12.8
Proteins (g)
10.6
Fat (g)
15.7
Dietary Fiber (g)
0.1
Calcium (mg)
14.3
Iron (mg)
1.4
Sodium (mg)
375.3
Good to Know Nutrition Facts!
Pork Tenderloin is a good source of Protein with less fat than other pork cuts.
Preparation time: 20 minutes
Cooking time: 40 minutes
Procedure
MIX. In a bowl, mix honey, hoisin sauce, light soy sauce, five spice powder, and AJI-NO-MOTO®. Mix well.
MARINATE. On a plate, place Pork Tenderloin slab. Spoon 1/2 sauce mixture to the pork slab until all sides are coated. Marinate for at least 2 hours.
ROAST. In a roasting pan, place pork slab. Roast for 35 minutes in a pre-heated oven at 190 degrees Celcius.
SIMMER. In a pan, add 1/2 sauce mixture and water. Simmer until sauce thickens.
SERVE. Transfer on a platter, slice pork meat and spoon thickened sauce.
Makes 8 servings
Serving size: 1/4 cup (60 g) Pork, 2 Tablespoons (10 ml) Sauce
Cooking Tips
Brush pork with the excess marinade every 10 minutes to keep the pork moist.
Product Used