CHOPSUEY CHOWDER RECIPE
AJINOMOTO® BRAND GINISA FLAVOR SEASONING MIX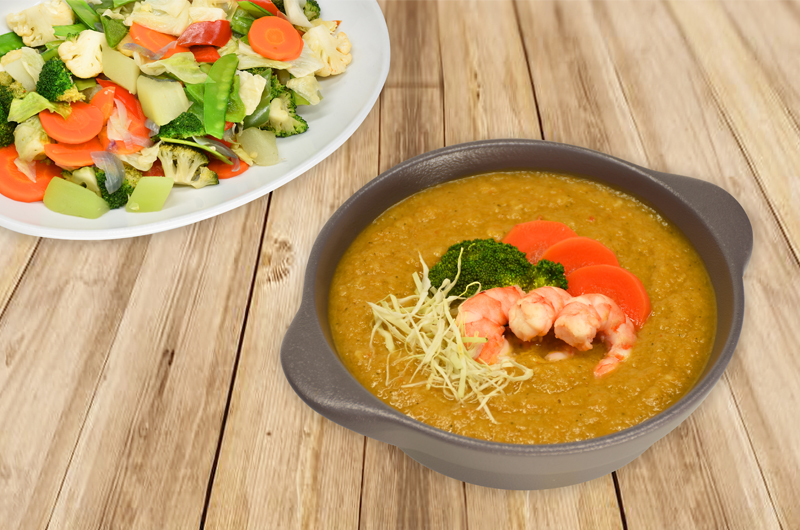 Ingredients
2 cups 450 gm Chopsuey, cooked
1 cup 200 gm Squash, cubed
1 cup 250 ml Water
1 pack 7 gm AJI-GINISA® Flavor Seasoning Mix
1/4 cup 60 gm All Purpose Cream
1/4 cup 50 gm Shrimp, shelled, boiled
NUTRITION INFORMATION
Nutrition Facts
Calories per serving
116.8
Carbohydrates (g)
15
Proteins (g)
5
Fat (g)
4.2
Dietary Fiber (g)
2.9
Calcium m(g)
100.4
Iron (mg)
0.9
Sodium (mg)
511.5
Good to Know Nutrition Facts!
The dish is packed with vitamins and minerals. Thru blending the vegetables, it will be more palatable and appetizing to kids who are picky eaters.
Preparation time: 10 minutes
Cooking time: 10 minutes
Procedure
BOIL. In a pot, mix chopsuey, squash, and water. Season with AJI-GINISA®. Boil until squash is tender.
BLEND. In a food processor, blend chopsuey mixture until well blended.
ADD all purpose cream. Blend for 2 more minutes.
ASSEMBLE. On a serving bowl, pour blended chopsuey mixture. Top with shrimp.
SERVE and Enjoy.
Makes 4 servings
Serving size: 1 cup (250g) Chowder
Cooking Tips
Cube squash into smaller sizes to fasten up the boiling process.
Product Used