CREAMY TUNA-BROCCOLI PASTA RECIPE
AJINOMOTO® BRAND GINISA FLAVOR SEASONING MIX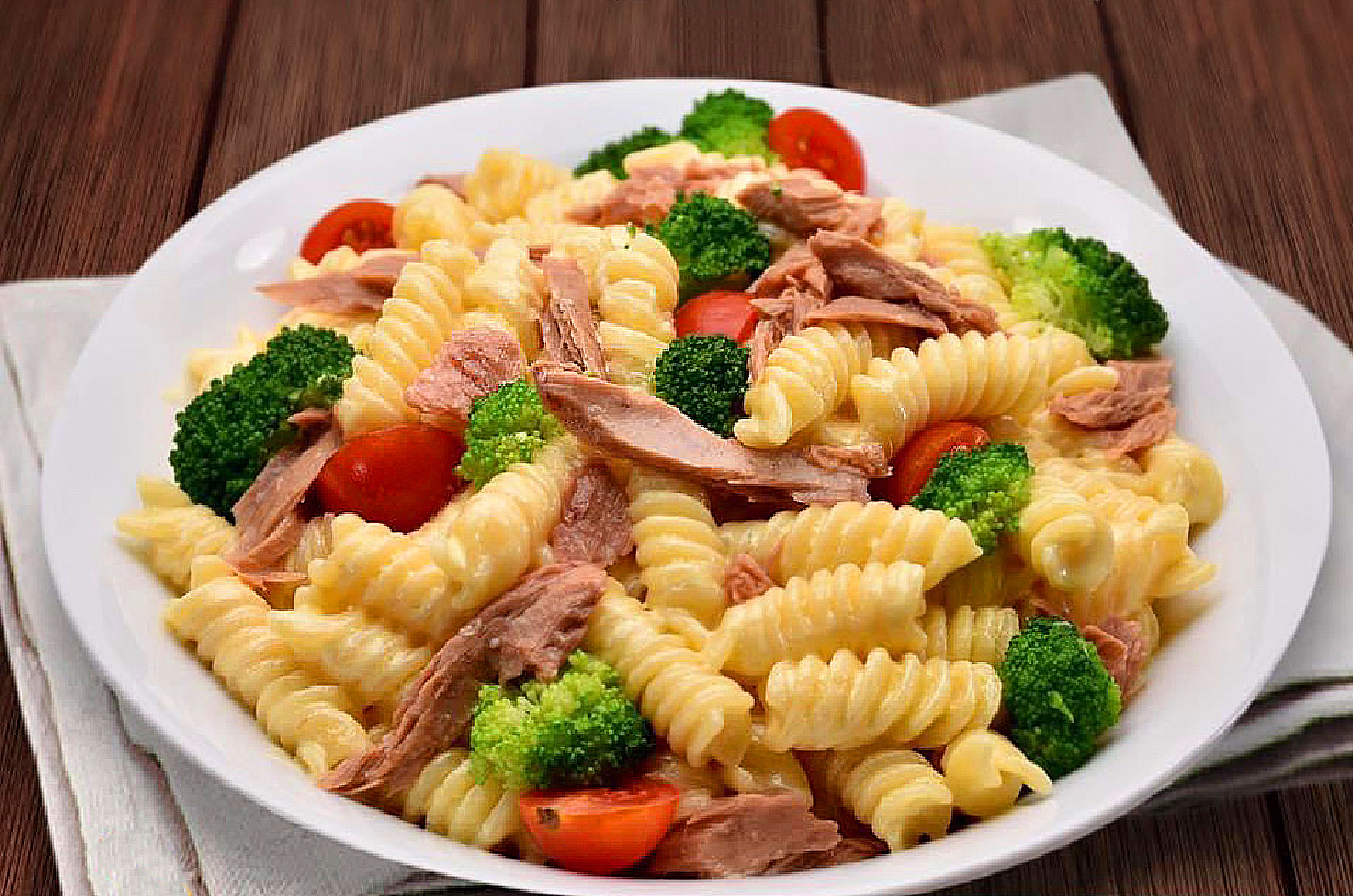 Ingredients
4 cups (1000 ml) Water
1/2 kilo (500 grams) Pasta, spiral type
2 Tablespoons (30 ml) Cooking oil
2 Tablespoons (30 grams) Unsalted butter
2 Tablespoons (30 grams) White onions, minced
2 Tablespoons (30 grams) Garlic, minced
1 can (420 grams) Tuna flakes in oil
1 cup (136 grams) Tomatoes, quartered
1 1/2 cups (375 ml) All-Purpose Cream
2 cups (312 grams) Broccoli, blanched, flowerettes
1 pack (7 grams) AJI-GINISA® Flavor Seasoning Mix
To taste Salt and pepper
NUTRITION INFORMATION
Nutrition Facts
Calories per serving (kcal)
578.6
Carbohydrates (g)
51.6
Proteins (g)
11.9
Fat (g)
32.3
Dietary Fiber (g)
4.6
Calcium (mg)
102.5
Iron (mg)
3.0
Sodium (mg)
500.2
Good to Know Nutrition Facts!
Pasta is a good source of Carbohydrates that provides energy for our body.
Preparation time: 10 minutes
Cooking time: 20 minutes
Procedure
BOIL & COOK. In a pot, boil water, add pasta, and cook until pasta is tender. Set aside.
SAUTÉ. In a pan, heat oil then add unsalted butter then sauté white onions and garlic. Cook until translucent
ADD. Add tuna, tomato, all-purpose cream and broccoli. Let it simmer for 5 minutes. Add pasta and mix well.
SEASON. Add AJI-GINISA®. Add salt and pepper to taste. Mix well.
SERVE and enjoy.
Makes 8 servings
Serving size: 1 cup (250 grams) Pasta/veggies, 2 Tablespoons (31 ml) Sauce
Cooking Tips
To ensure that pasta dish will not become dry, produce 1 1/2 cups of sauce for every 1/2 kilo of pasta .
Product Used