CRISPY KANGKONG RECIPE
TASTY BOY® ALL PURPOSE BREADING MIX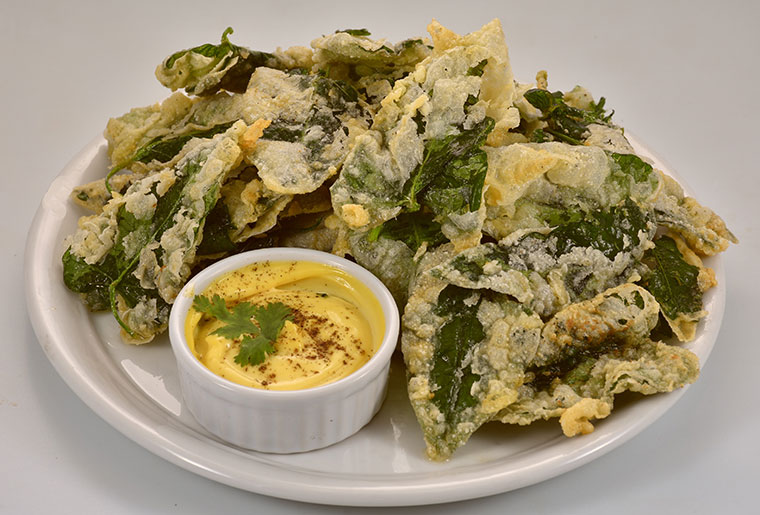 Ingredients
2 cups (450ml) Oil
2 pcs Egg
1/2 cup (62g) Cornstarch
3/4 cup (95g) TASTY BOY® Breading Mix (Regular)
4 cups (130g) Kangkong
4 tablespoons (58.40g) Mayonnaise
2 tablespoons (40g) Mustard
1/2 teaspoon (1g) Pepper, ground
NUTRITION INFORMATION
Nutrition Facts
Calories per serving (kcal)
180
Carbohydrates (g)
26.8
Proteins (g)
 3.9
Fat (g)
 6.1
Dietary Fiber (g)
0.6
Calcium m(g)
59
Iron (mg)
2.2
Sodium (mg)
1059.70
Good to Know Nutrition Facts!
Leafy vegetables, like Kangkong, are good sources of calcium and iron!
Nutrition Facts (DIP)
Calories per serving
84 Calories
Carbohydrates (g)
0.3 grams
Proteins (g)
 0.2 grams
Fat (g)
9.2 grams
Dietary Fiber (g)
 0.1 gram
Calcium m(g)
4 milligrams
Iron (mg)
0.1 milligrams
Sodium (mg)
144.4 milligrams
Preparation and Cooking time: 30 minutes
Procedure
MIX egg, cornstarch and TASTY BOY® (Regular) in a small bowl.
COAT kangkong leaves evenly with mixed batter.
COMBINE mayonnaise, mustard and ground pepper and set aside.
FRY in oil the kangkong leaves with temperature of 175˚C until kangkong is cooked. SERVE and enjoy.
Makes 5 servings
Serving size: 1 cup (30g) Kangkong & 5 tsps (25ml) Dip
Cooking Tips
You can also use alugbati and spinach leaves for this dish.
Product Used