CUCUMBER-PINEAPPLE SALAD RECIPE
AJI-NO-MOTO® UMAMI SEASONING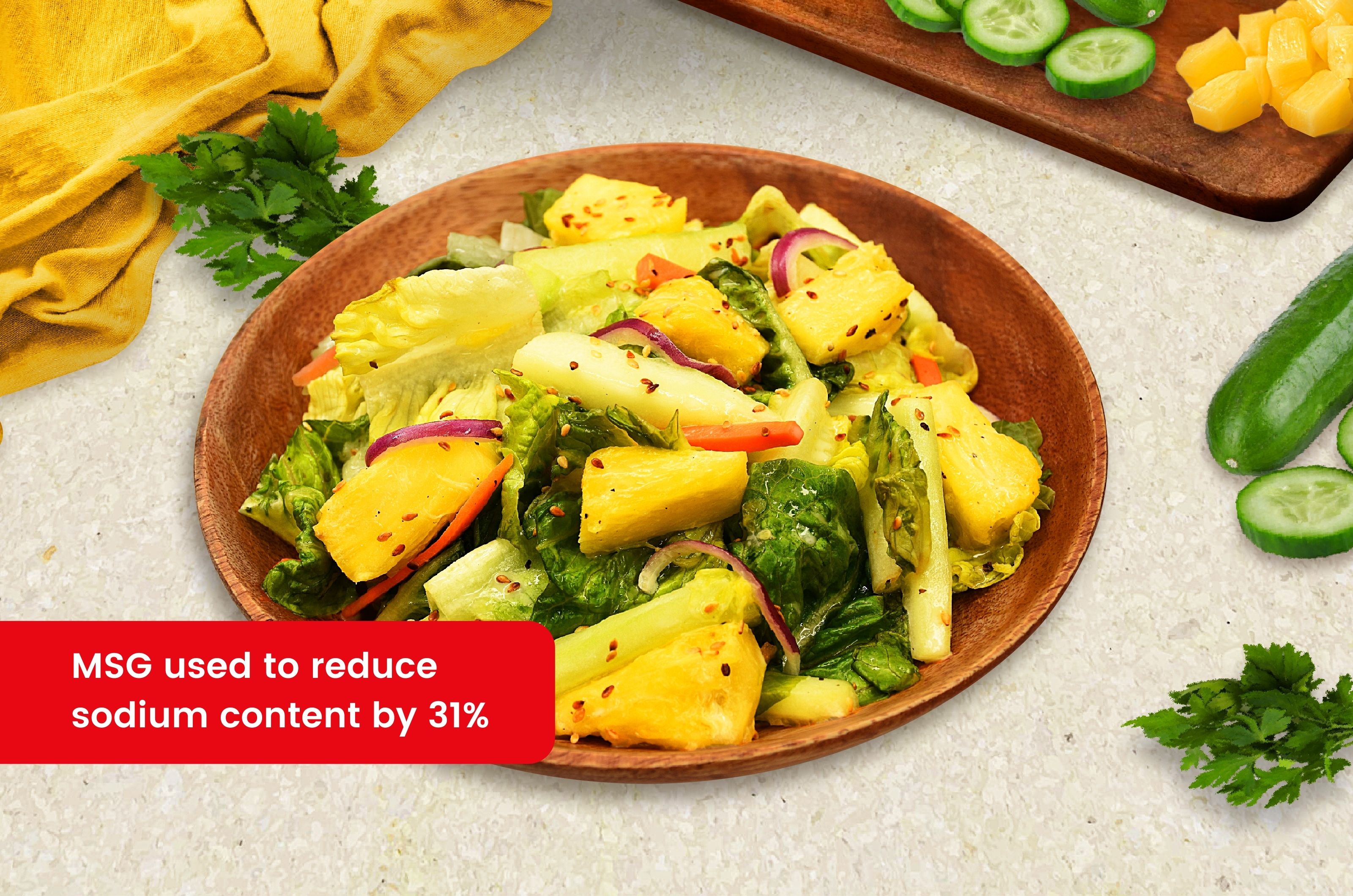 Ingredients
1/4 cup (60 grams) Sugar
2/3 cup (60 ml) Wine vinegar
2 Tablespoons (30 ml) Water
1 cup (220 grams) Pineapple, chunks
1 piece (208 grams) Cucumber, thin strips
1 piece (206 grams) Carrots, thin strips
1/3 cup (37 grams) Red onion, sliced
6 cups (450 grams) Romaine lettuce, chopped
1 cup (220 ml) Mayonnaise
1 pack (11 grams) AJI-NO-MOTO® Umami Seasoning
1 teaspoon (5 grams) Salt, rock
1/8 teaspoon (0.3 grams) Black pepper, ground
1 Tablespoon (9 grams) Sesame seeds, toasted
Reduced sodium by 31%
Original sodium content: 1 Tablespoon (15 grams) Salt
NUTRITION INFORMATION
Nutrition Facts
Calories per serving (kcal)
194.7
Carbohydrates (g)
12
Proteins (g)
1.4
Fat (g)
15.1
Dietary Fiber (g)
1.3
Calcium (mg)
70.8
Iron (mg)
2
Sodium (mg)
367.1
Good to Know Nutrition Facts!
Raw fruit and vegetables contain many elements that may help cleanse the colon like fiber that is good for a healthy bowel movement.
Preparation time: 15 minutes
Cooking time: 15 minutes
Procedure
BOIL. In a saucepan combine sugar, wine vinegar, and water. Let it boil until sugar completely dissolves. Set aside to cool down.
MIX. In a mixing bowl, add pineapple, cucumber, carrots, red onion, and lettuce then add the mayonnaise and the cool mixture. Toss well.
SEASON. Add AJI-NO-MOTO®, salt and pepper. Mix well.
SERVE. Transfer to a salad plate, top with toasted sesame seeds, serve and enjoy.
Makes 12 servings
Serving size: 1 cup (120 grams)
Cooking Tips
Use a variety of fresh mixed greens to add more crunch and taste to your salad.
Product Used