EGG MUFFIN BOUQUET RECIPE
AJI-NO-MOTO® UMAMI SEASONING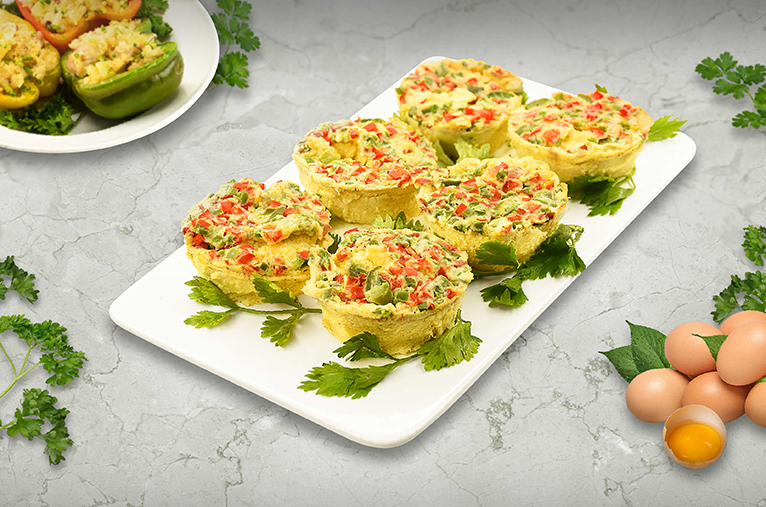 Ingredients
6 pcs (360 g) Egg, beaten
1/4 cup (65 g) Red Bell Pepper, minced
1/4 cup (65 g) Green Bell Pepper, minced
1/4 cup (65 g) Shiitake Mushroom, minced
2 Tbsps (35 g) Tomato, minced
1 pack (11 g) AJI-NO-MOTO® Umami Seasoning
NUTRITION INFORMATION
Nutrition Facts
Calories per serving (kcal)
61.0
Carbohydrates (g)
3.0
Proteins (g)
5.9
Fat (g)
5.0
Dietary Fiber (g)
0.5
Calcium (mg)
38.8
Iron (mg)
1.5
Sodium (mg)
232.5
Good to Know Nutrition Facts!
Egg yolks contain Vitamin A and antioxidants -lutein and zeaxanthin- that are all necessary for maintaining good eyesight.
Preparation time: 10 minutes
Cooking time: 30 minutes
Procedure
MIX. In a bowl, add beaten eggs, red and green bell peppers, mushroom, tomato, and AJI-NO-MOTO®. Mix well until incorporated.
SCOOP. Using a soup ladle, scoop egg mixture into a muffin pan.
BAKE. Place filled muffin pan in an oven at 170 degrees celsius and bake for 25 minutes.
SERVE. Scrape the sides of the muffin and scoop it out of the muffin pan. Transfer to a plate. Serve and enjoy.
Makes 8 servings
Serving size: 1 muffin (75g)
Total recipe cost: Php 96.43
Cooking Tips
Use non-stick muffin pan in making this recipe. If you have a regular muffin pan (stainless), brush oil into the muffin pans before scooping egg mixture.
Product Used