EGG WRAP RECIPE
AJINOMOTO® BRAND GINISA FLAVOR SEASONING MIX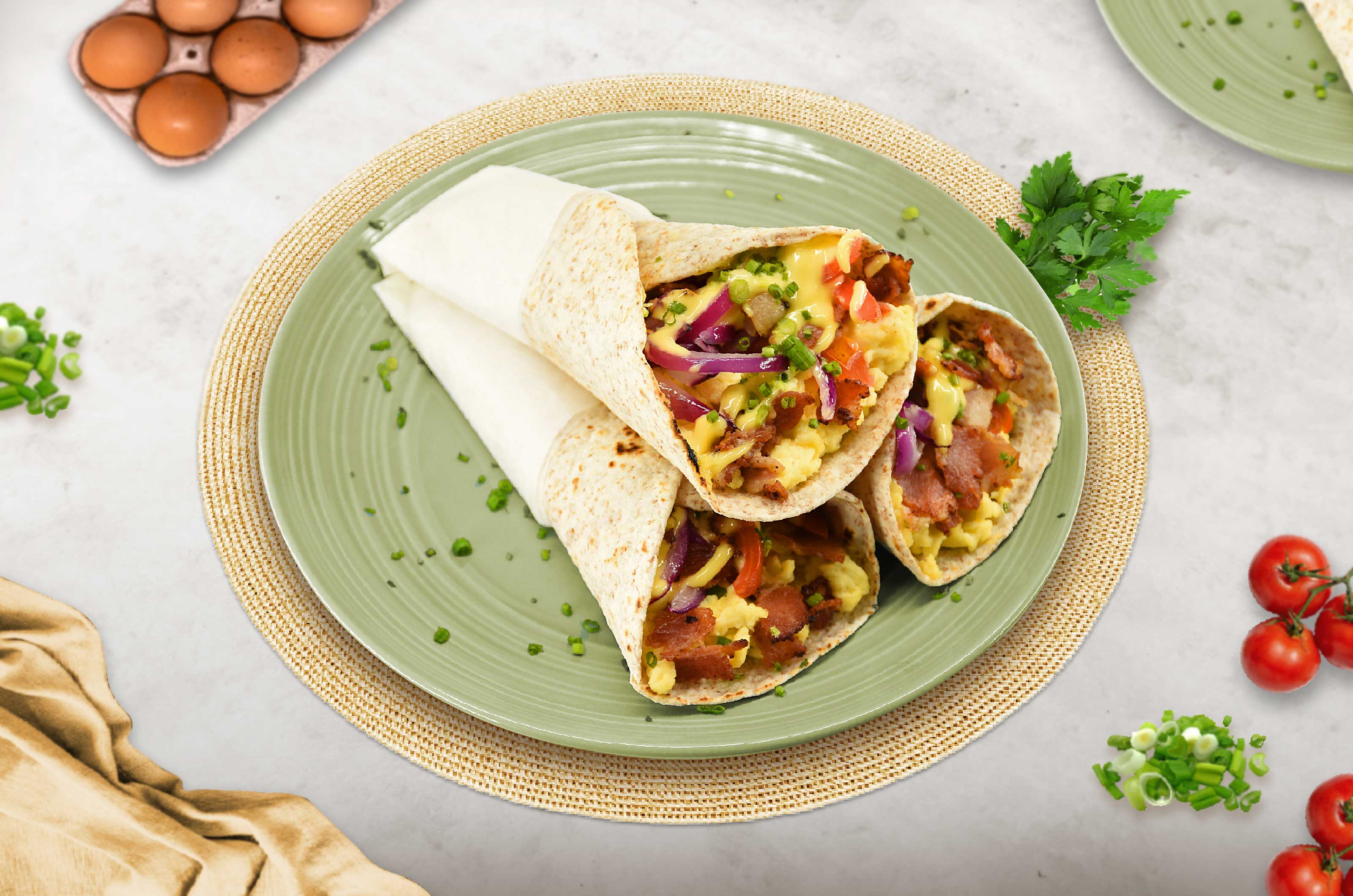 Ingredients
1 Tbsp (15ml) Cooking Oil
3 Tbsps (45g) Bacon, chopped
1 Tbsp (15g) Red Onion, slices
2 pcs (120g) Egg, beaten
1 Tbsp (15g) Tomato, slices
1 pack (7g) AJI-GINISA® Flavor Seasoning Mix
6 pcs (60g) Tortilla Bread, toasted
2 Tbsps (30ml) Cheese Spread
NUTRITION INFORMATION
Nutrition Facts
Calories per serving (kcal)
140.8
Carbohydrates (g)
7.2
Proteins (g)
4.9
Fat (g)
10.3
Dietary Fiber (g)
0.2
Calcium (mg)
61.4
Iron (mg)
1.0
Sodium (mg)
528.2
Good to Know Nutrition Facts!
Eggs are low carbohydrate, low calorie and inexpensive source of protein containing all essential amino acids in adequate amounts for body's growth and development.
Preparation time: 15 minutes
Cooking time: 25 minutes
Procedure
SAUTÉ. In a pan, heat oil. sauté bacon, red onion, egg and tomato.
SEASON. Add AJI-GINISA®. Mix well to incorporate. Set aside.
ASSEMBLE. On a countertop, assemble tortilla bread, egg filling, and cheese spread. Roll tortilla bread to seal the filling.
SERVE. Transfer to a plate. Serve and enjoy.
Makes 6 servings
Serving size: 1 pc Tortilla (10g) + 1/8 cup Egg Filling (35g) + 1 tsp Cheese Spread (5ml)
Cooking Tips
Use aluminum foil or wax paper to hold the wrap and keep the fillings in.
Product Used