ESCABECHENG TILAPIA RECIPE
CRISPY FRY® FISH BREADING MIX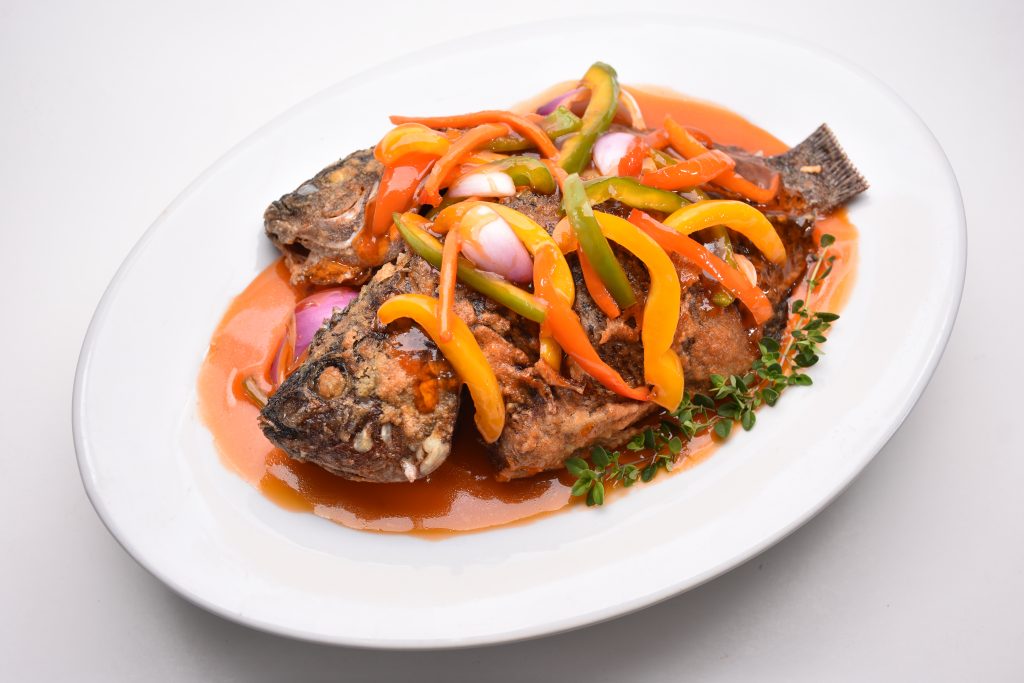 Ingredients
2 pcs ( 500g) medium – sized tilapia
1 pack ( 20g) CRISPY FRY ® Fish Breading Mix
2 cups (500ml) cooking oil
For the Sauce:
2 Tbsps  (30ml) Cooking oil
1/4 cup   ( 30g) Red onions, quartered
1/4 cup   ( 30g) Green bell pepper, strips
1/4 cup   ( 30g) Red bell pepper, strips
1/4 cup   ( 30g) Yellow bell pepper, strips
1/2 cup   ( 80g) Carrots, strips
2 packs   (400ml) Sarsaya® Sweet and Sour Sauce
NUTRITION INFORMATION
Nutrition Facts
Calories per serving
452.0
Carbohydrates (g)
30.6
Proteins (g)
15.5
Fat (g)
28.9
Dietary Fiber (g)
0.9
Calcium m(g)
76.8
Iron (mg)
1.1
Sodium (mg)
475.5
Good to Know Nutrition Facts!
Tilapia is a good source of protein and is relatively low in fat. Protein is directly linked to proper growth and development of organs, membranes, cells and muscles.
Preparation
COAT & FRY. Coat tilapia evenly with CRISPY FRY® Fish Breading Mix. Fry in hot oil until golden brown. Set aside.
STIR- FRY. In a pan, heat oil, stir- fry onion, green, red, yellow bell pepper and carrots.  Pour SARSAYA® Sweet and Sour Sauce.
ASSEMBLE. In a plate, assemble fried tilapia and pour sauce and vegetables on top.
SERVE and enjoy.
Makes 5-6 servings
Serving size: 1 slice (90g) Tilapia, 1/2 cup (100g) Sauce and Vegetables
Cooking Tips
Using a sharp knife, make a few shallow diagonal cuts across the surface of the skin. This is to stop the fish from curling up during cooking.
Product Used