FISH AND BROCCOLI IN SAVORY TOFU DRESSING RECIPE
CRISPY FRY® SEASONED CRUMBS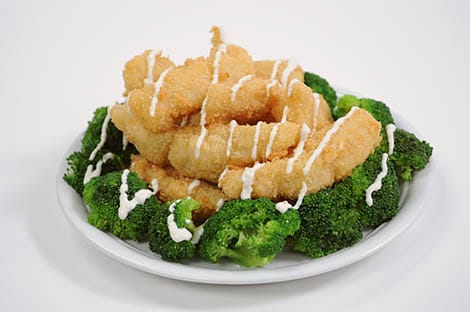 Ingredients
300 ml cooking oil, palm
1 pack (300 grams) cream dory, bite-sized
1 pack (50 grams) CRISPY FRY® SEASONED CRUMBS
2 liters water, tap
1 cup broccoli, florets
Dressing:
1/2 cup water, filtered
2 tablespoons soy sauce
1 cup tofu, soft, mashed
1 teaspoon sesame oil
to taste salt, iodized
to taste pepper, black, ground
NUTRITION INFORMATION
Nutrition Facts
Calories per Serving (kcal)
160
Carbohydrates (g)
1
Proteins (g)
15
Fat (g)
10
Good to Know Nutrition Facts!
Raw broccoli contains almost 90% water, 7% carbs and 3% protein, and almost no fat.
Broccoli is very low in calories, providing only 31 calories per cup.
Preparation and Cooking time: 20 – 30 minutes
Procedure
BLANCHE. In a pot, pour water and let it boil rapidly before adding broccoli. Blanche for 3 minutes.
COAT. Dredge and roll dory fillet in CRISPY FRY® SEASONED CRUMBS.
FRY. Heat oil in pan (350F – 375°F), deep-fry coated dory fillet until golden brown. Drain fried fish on paper towels.
Dressing:
BLEND. In a blender, combine water, soy sauce, tofu, sesame oil. Add salt and pepper to taste. Blend all ingredients until it reaches a smooth consistency.
ARRANGE AND SERVE. In a serving plate, arrange blanched broccoli and place fried fish cubes at the center. Pour dressing over fish and broccoli. Serve hot.
Makes 4-5 servings
Size per serving: 3 pcs (60g) Fish with Broccoli
Cooking Tips
Any type of fish may be used if cream dory is not available.
Product Used