Fish and Broccoli in Savory Tofu Dressing
CRISPY FRY® SEASONED CRUMBS®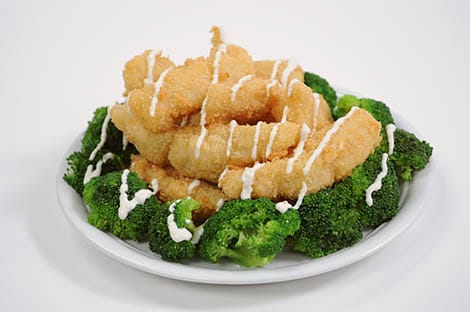 Ingredients
300 ml cooking oil, palm
1 pack (300 grams) cream dory, bite-sized
1 pack (50 grams) CRISPY FRY® SEASONED CRUMBS
2 liters water, tap
1 cup broccoli, florets
Dressing:
1/2 cup water, filtered
2 tablespoons soy sauce
1 cup tofu, soft, mashed
1 teaspoon sesame oil
to taste salt, iodized
to taste pepper, black, ground
Preparation
Preparation and Cooking Time: 30 minutes Makes: 4-5 servings
Serving size: 2-3 matchbox-sized fish with broccoli.
Procedure
BLANCHE. In a pot, pour water and let it boil rapidly before adding broccoli. Blanche for 3 minutes.
COAT. Dredge and roll dory fillet in CRISPY FRY® SEASONED CRUMBS.
FRY. Heat oil in pan (350F – 375°F), deep-fry coated dory fillet until golden brown. Drain fried fish on paper towels.
Dressing:
BLEND. In a blender, combine water, soy sauce, tofu, sesame oil. Add salt and pepper to taste. Blend all ingredients until it reaches a smooth consistency.
ARRANGE AND SERVE. In a serving plate, arrange blanched broccoli and place fried fish cubes at the center. Pour dressing over fish and broccoli. Serve hot.
Cooking Notes
Any type of fish may be used if cream dory is not available.
NUTRITION INFORMATION
Nutrition Facts
Calories per Serving
160
Carbohydrates (g)
1
Proteins (g)
15
Fat (g)
10
Product Used