FISH CURRY RECIPE
AJI-NO-MOTO® UMAMI SEASONING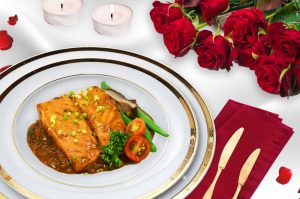 Ingredients
CURRY SAUCE:
1/4 cup 30g Coriander Leaves & Stem
1 1/2 cups 325ml Coconut Milk
2 Tbsps 30g Red Onion
1 Tbsp 15g Ginger
2 Tbsps 30g Garlic
1 Tbsp 15ml Fish Sauce
1 tsp 2g Chili Powder
1 tsp 2g Cumin
2 tsps 10g Brown Sugar
1 tsp 2g Turmeric
2 tsps 10g Shrimp Paste
1 tsp 5g Red Chili
1 pack (11g) AJI-NO-MOTO® Umami Seasoning
OTHER INGREDIENTS:
2 cups 450g Salmon Fillet, slices
3 pcs 5g Bay Leaves
2 Tbsps 25g Cherry Tomato, halved
2 Tbsps 20g Shiitake Mushroom, sliced
2 Tbsps 25g Green beans
NUTRITION INFORMATION
Nutrition Facts
Calories per serving
587.1
Carbohydrates (g)
18.6
Proteins (g)
14.2
Fat (g)
50.4
Dietary Fiber (g)
0.5
Calcium (mg)
49.0
Iron (mg)
1.8
Sodium (mg)
1047.9
Good to Know Nutrition Facts!
Salmon is rich in Omega – 3 fatty acid and Protein which is good for the heart's health and for muscle building.
Preparation time: 15 minutes
Cooking time: 25 minutes
Procedure
1. MIX. In a food processor, mix curry sauce ingredients until well incorporated.
2. SIMMER. In a pan, simmer curry sauce. Add salmon fillet, and bay leaves. Simmer for another 5 minutes.
3. ADD cherry tomatoes, shiitake mushroom, and green beans.
4. SERVE and enjoy.
Makes 6 servings
Serving size: 1 cup (200g) Fish Curry
Cooking Tips
To produce a flaky, evenly cooked salmon, do not overcook the fish by flipping it occasionally on simmering heat.
Product Used