FISH FILLET IN MANGO SALSA RECIPE
CRISPY FRY® FISH BREADING MIX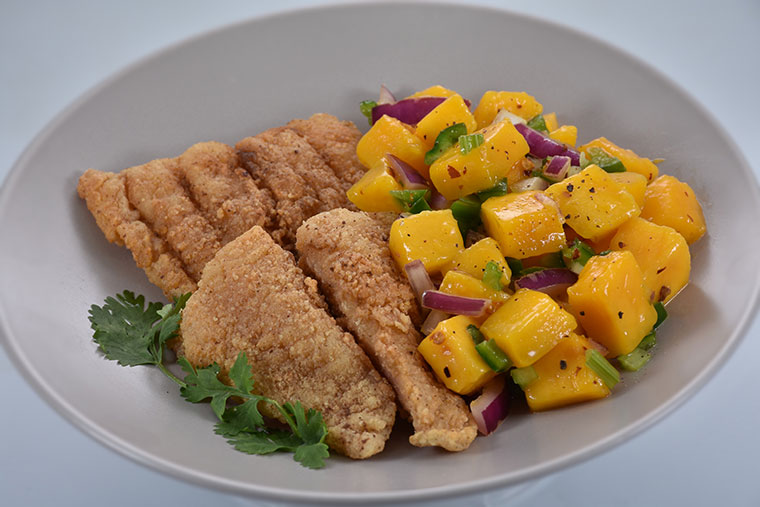 Ingredients
2 cups (450ml) Oil
2 cups (500g) Fish Fillet
1 pack (20g) CRISPY FRY ® Fish Breading Mix
1/2 cup (80g) Cornstarch
2 cups (240g) Mango
2 tablespoons (30g) Onion
1/4 cup (10g) Cilantro
1/2 cup (25g) Green Pepper
2 tablespoons (30g) Honey
1 tablespoon (10g) Lemon Zest
NUTRITION INFORMATION
Nutrition Facts
Calories per serving (kcal)
267
Carbohydrates (g)
24.6
Proteins (g)
13.1
Fat (g)
12.3
Dietary Fiber (g)
1.4
Calcium m(g)
38
Iron (mg)
 1.0
Sodium (mg)
 583.0
Good to Know Nutrition Facts!
Fishes are good protein substitute for meat!
Pinggang Pinoy® Meal Suggestion:
1 cup rice
1 cups fresh green salad
1 cup Fish Fillet in Mango Salsa
1 glass of water
Preparation and Cooking time: 1 hour
Procedure
WASH fish and drain.
COAT evenly with CRISPY FRY ® Fish Breading Mix.
FRY in oil with temperature of 175˚C – 185 ˚C until fish is cooked. Set Aside.
MIX. In a separate bowl, mix mango, onion, cilantro, green pepper, honey and lemon zest until well blended.
SERVE cooked fish fillet with mango salsa while its hot and enjoy.
Makes 6 servings
Serving size: 1/4 cup (70g) Fish & 1/4 cup (70g) Salsa
Cooking Tips
You can also use tilapia fillet or lapu lapu in this dish.
Product Used