FISH AND MALUNGGAY SOUP RECIPE
AJI-NO-MOTO® UMAMI SEASONING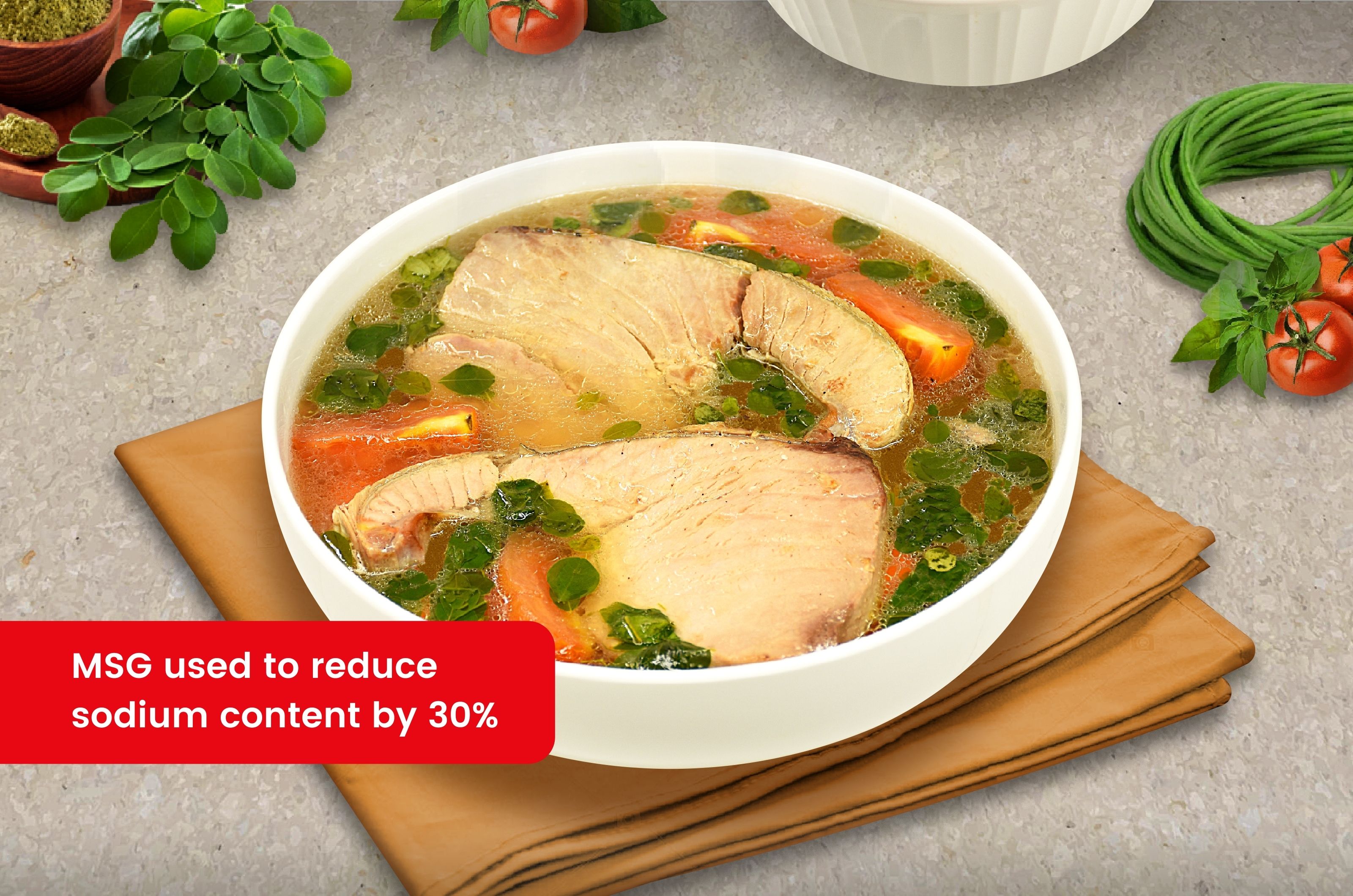 Ingredients
2 Tablespoons (30 ml) Cooking oil
1/4 cup (60 grams) Onions, chopped
2 Tablespoons (30 grams) Garlic, chopped
1/4 cup (60 grams) Tomatoes, diced
1 kilo (1,000 grams) Tuna, cut into serving size
1 Liter (1,000 ml) Rice washing
3 Tablespoons (45 grams) Ginger, sliced
1 cup (35 grams) Malunggay leaves, well-cleaned
1 pack (11 grams) AJI-NO-MOTO® Umami Seasoning
1 Tablespoon (15 ml) Fish sauce
1/8 teaspoon (0.3 grams) Peppercorns, ground, black
Reduced sodium by 30%
Original sodium content: 1/4 cup (65 ml) Fish sauce
NUTRITION INFORMATION
Nutrition Facts
Calories per serving (kcal)
201.8
Carbohydrates (g)
3.4
Proteins (g)
31.0
Fat (g)
7.2
Dietary Fiber (g)
0.6
Calcium (mg)
76.0
Iron (mg)
2.2
Sodium (mg)
360.1
Good to Know Nutrition Facts!
Adding malunggay to your daily dishes is an effective, natural way to prevent tiredness and fatigue because it is packed with antioxidants that can protect cells from damage and may boost your immune system.
Preparation time: 10 minutes
Cooking time: 15 minutes
Procedure
SAUTÉ. – In a pan heat oil, sauté onion, garlic, and tomatoes until soft and fragrant. Add tuna and cook for ten (10) minutes.
SIMMER. Add rice washing, ginger and malunggay leaves. Simmer for one to three (1-3) minutes.
SEASON. Sprinkle 1 pack of AJI-NO-MOTO®, add fish sauce, pepper, and mix well.
SERVE. Transfer to a serving bowl, serve and enjoy.
Makes 8 servings
Serving size: 1 cup (185 g)
Cooking Tips
You can slide your forefinger and thumb to the stem of malunggay to strip off the leaves easily.
Product Used