GARLIC CHICKEN MAMI RECIPE
AJINOMOTO AJI-SHIO® SEASONING MIX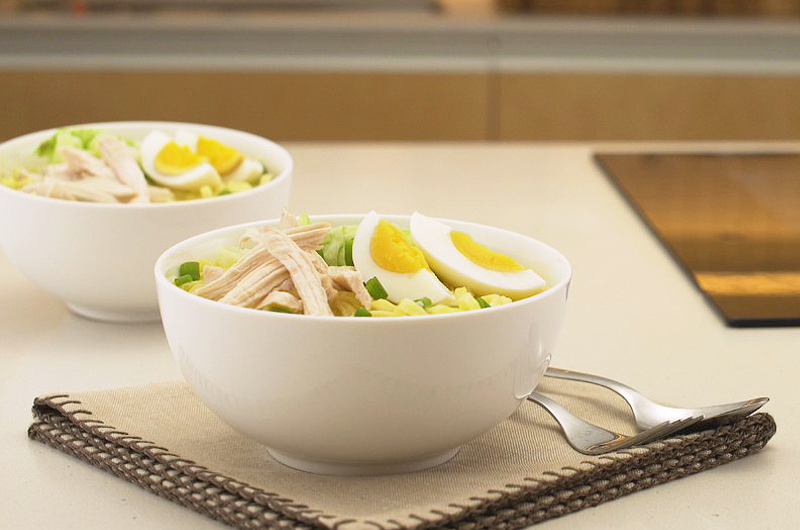 Ingredients
Chicken Broth:
50 cups (12.5L) Water
3 1/4 kg (3125g) Chicken breast, strips
40 cups (10L) Chicken broth
Mami:
3/4 cup (187.5ml) Cooking oil
13 packs (234g) AJI-SHIO® Garlic Seasoning Mix (18g)
7.5kgs Mami noodles, boiled
1 kilo Cabbage, washed & shredded
1/4 kilo ( 250g) Spring onions, chopped
1 1/2 tsps (7.5g) Black pepper, ground
2 dozens ( 24-25pcs) Eggs, hard boiled, shelled, sliced
NUTRITION INFORMATION
Nutrition Facts
Calories per serving
236.80
Carbohydrates (g)
18.2
Proteins (g)
13.3
Fat (g)
12.3
Dietary Fiber (g)
2.0
Calcium (mg)
41.9
Iron (mg)
1.9
Sodium (mg)
744.8
Good to Know Nutrition Facts!
Chicken breast is a leaner choice of meat making it an excellent source of protein with less fat.
Preparation time: 20 minutes
Cooking time: 15 minutes
Procedure
BOIL. In a pot, put water, add chicken breast (including bones) in water and bring to a boil to make the chicken broth. Set aside chicken meat and broth in different containers. Discard chicken bones.
STIR-FRY. Heat oil in a casserole and saute chicken breast. Add chicken broth and bring to a boil.
SEASON. Season with AJI-SHIO® Garlic and set aside.
SERVE. To serve, assemble mami noodles and add chicken broth.
TOP. Add cabbage and top with spring onions, black pepper and boiled egg.
Makes 100 servings
Cost
Recipe Cost: Php 1061.28
Cost per Serving: Php 10.61
Selling price per 1 bowl: Php 15.00
Profit for 100 bowls: Php 438.72
% Mark -up: 41%
Cooking Tips
Boil chicken breast with chicken bones to extract a meaty – flavorful broth.
Product Used