GARLIC PESTO RICE
AJI-NO-MOTO® UMAMI SEASONING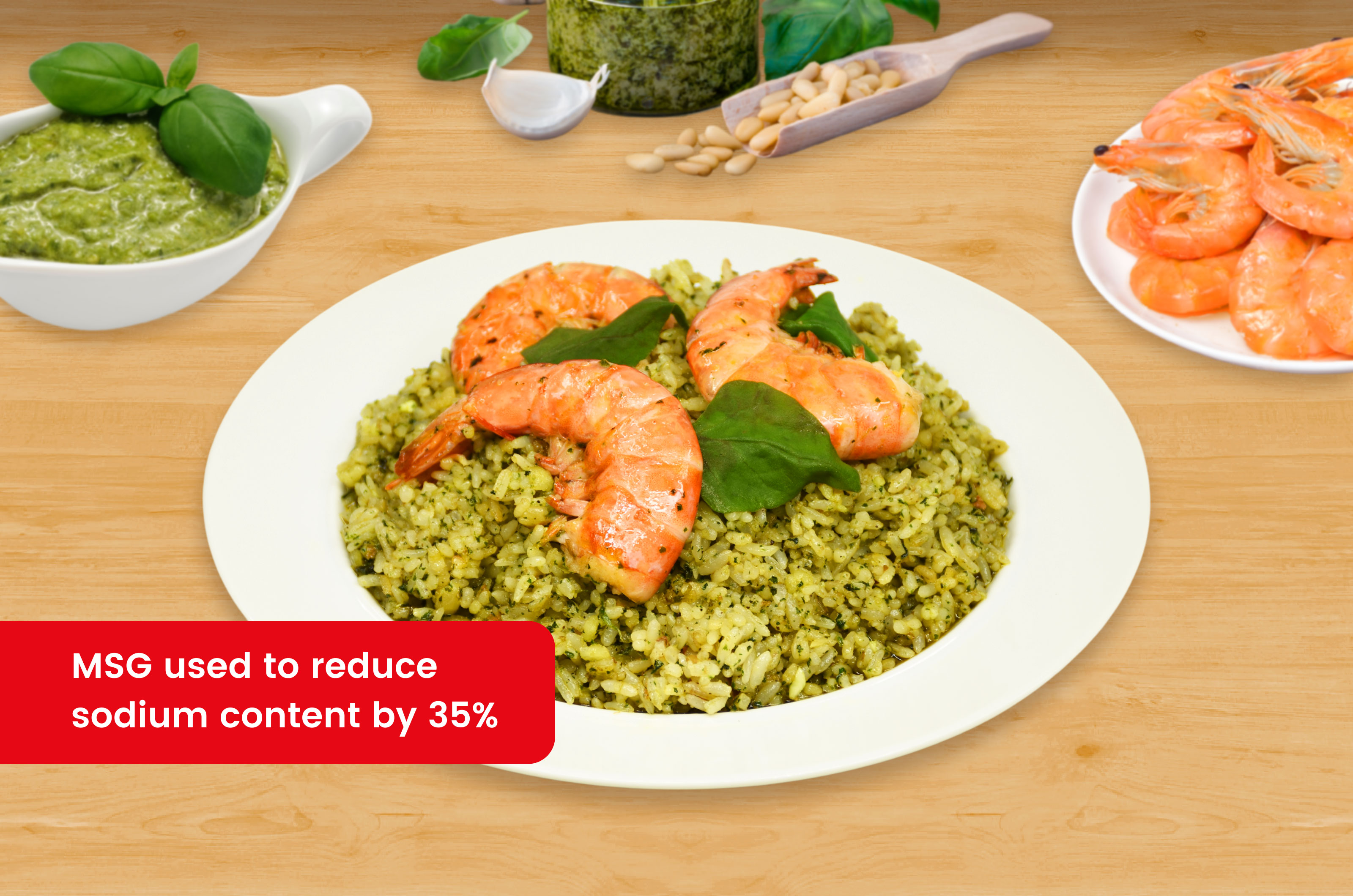 Ingredients
2 Tbsps. (30g) Garlic cloves
1/4 cup (60g) Peanuts
2 cups (200g) Spinach
1/2 cup (120ml) Olive oil
1 tsp. (5g) Salt
1/2 cup (120g) Shrimp, shelled and deveined, chopped
10 cups (1700g) Cooked rice
1/2 pack (5.5g) AJI-NO-MOTO® Umami Seasoning
Reduced sodium by 35%
Original seasoning/condiment: 2 1/2 tsps. (12.5g) Salt
NUTRITION INFORMATION
Nutrition Facts
Calories per serving (kcal)
382.7
Carbohydrates (g)
52.9
Proteins (g)
8.6
Fat (g)
15.6
Dietary Fiber (g)
4.1
Calcium (mg)
62.8
Iron (mg)
2.1
Sodium (mg)
357.5
Good to Know Nutrition Facts!
Spinach is low in Carbohydrates but high in insoluble fiber. This type of fiber may benefit your digestion.
Preparation time: 5 minutes
Cooking time: 15 minutes
Procedure
BLEND. In a food processor or blender, pulse garlic, peanuts, spinach, 100 ml olive oil, and salt. Blend until well incorporated (paste-like texture). Set aside.
PAN FRY. In a pan, add a small amount of 20 ml olive oil. Pan fry shrimp. Add Cooked Rice and toss until incorporated.
SEASON. Add AJI-N0-MOTO® and mix well.
COAT. Pour garlic-pesto on rice mixture and mix until well incorporated.
SERVE. Scoop rice into a serving plate. Serve and Enjoy.
Makes 10 servings
Serving size: 1 cup (182g)
Cooking Tips
Slowly pulse spinach mixture in order to evenly distribute components and flavor.
Product Used