GINATAANG GULAY RECIPE
AJI-NO-MOTO® UMAMI SEASONING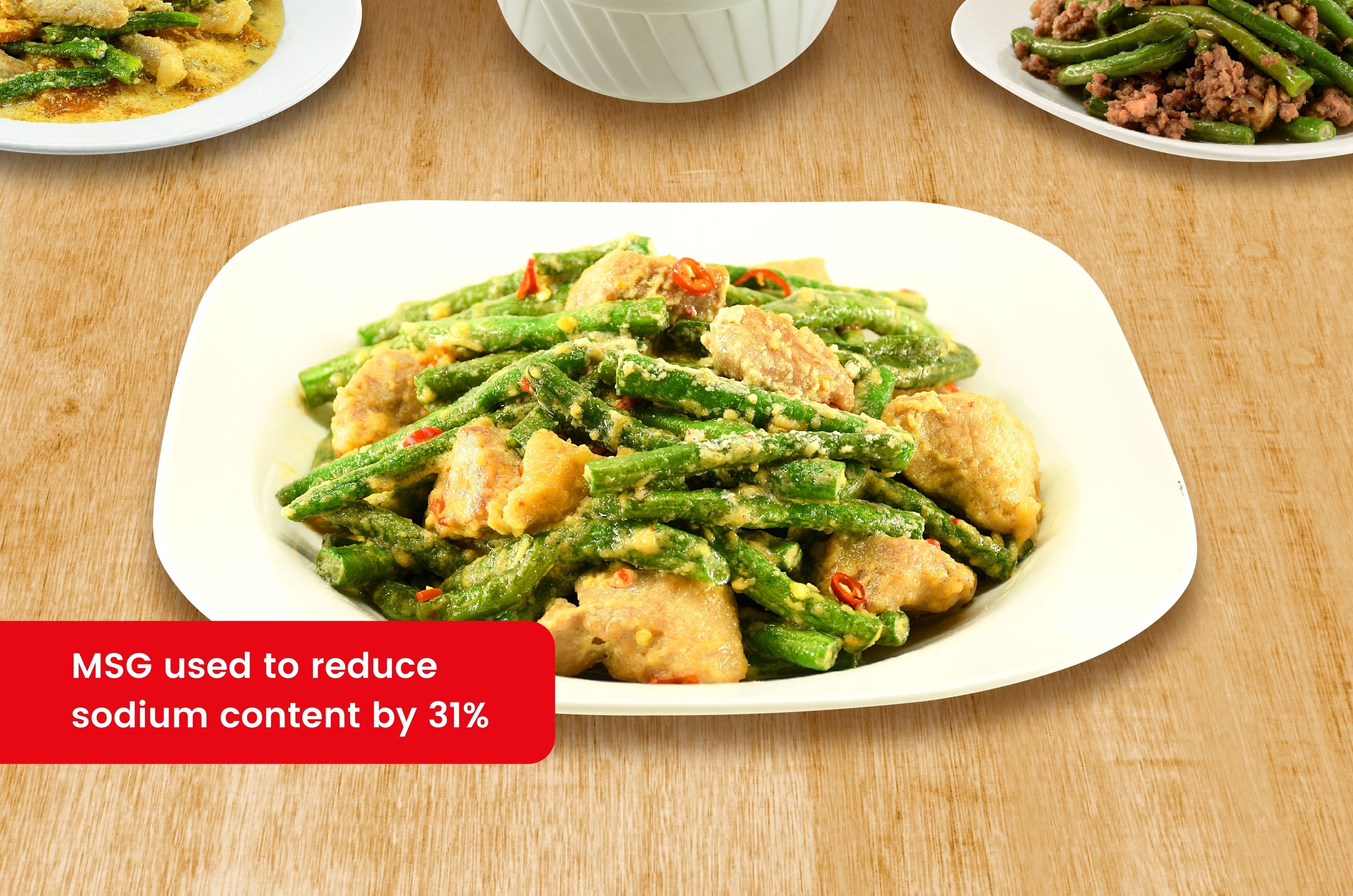 Ingredients
2 Tablespoon (30 ml) Cooking oil
2 Tablespoon (30 grams) Red onion, chopped
1 Tablespoon (15 grams) Garlic, minced
1/2 cup (120 grams) Pork, strips
2 cups (500 grams) String beans
1/2 cup (120 ml) Water
1 cup (240 ml) Coconut water
2 teaspoons (10 ml) Fish sauce
1/2 pack (5.5 grams) AJI-NO-MOTO® Umami Seasoning
Reduced sodium by 31%
Original sodium content: 7 1/2 teaspoons (37 ml) Fish Sauce
NUTRITION INFORMATION
Nutrition Facts
Calories per serving (kcal)
238.7
Carbohydrates (g)
8.9
Proteins (g)
7.5
Fat (g)
19.2
Dietary Fiber (g)
2.4
Calcium (mg)
70.8
Iron (mg)
1.6
Sodium (mg)
274.9
Good to Know Nutrition Facts!
Coconut cream is rich in Vitamin C, Vitamin E and many other B vitamins that are good anti-oxidants which help fight free radicals and thereby helps reduce the risk of having major types of diseases.
Preparation time: 10 minutes
Cooking time: 30 minutes
Procedure
SAUTÉ. In a pan, heat oil. Sauté onion and garlic. Add pork and continue cooking for 3-5 mins.
SIMMER. Add squash and string beans. Sauté for another 3 mins, and then add water. Simmer for 5 minutes.
SEASON. Add coconut milk. Season with fish sauce and AJI-NO-MOTO®. Simmer for 3 mins.
SERVE. Transfer in a serving plate, serve and enjoy.
Makes 5 servings
Serving size: 1 cup (200 g)
Cooking Tips
If your recipe only calls for a small amount of coconut cream or coconut milk, simply freeze it into cubes, ideally at 2 Tablespoons per cube. Keep the excess cubes frozen until the next use.
Product Used