Ginataang Sigarilyas, Sitaw at Kalabasa
AJINOMOTO® BRAND GINISA FLAVOR SEASONING MIX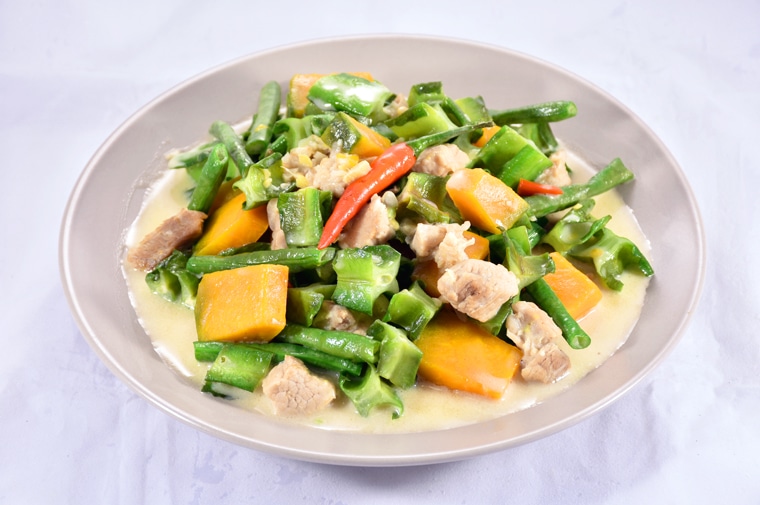 Ingredients
2 tablespoon Vegetable Oil
1/2 cup  Pork (cut into cube)
1 pc  Onion (chopped)
1 teaspoon Garlic (chopped)
1 teaspoon Ginger (minced)
1 pc Chillies (chopped)
1 teaspoon Pepper (ground)
1 teaspoon  Fish Sauce (Patis)
1 cup Winged beans (Sigarilyas) (chopped)
1 cup Sitaw (chopped)
1 cup Squash (cubed)
3/4 cup water
3/4 cup Coconut milk
1 cup Coconut cream
1 1/2 pack AJI-GINISA® Flavor Seasoning Mix
Preparation
Preparation and Cooking Time: 30 minutes Makes: 5 servings
Serving size: 180 grams per cup
Procedure
SEAR. On a hot pan pour vegetable oil. Add pork then sear until golden brown.
SAUTE. Onion, garlic, ginger, and chillies. SEASON. With pepper and fish sauce.
BOIL. Add winged beans, sitaw, squash, and water. Let it boil.
SIMMER. Reduce your fire. Let it simmer for 5-10 mins then add coconut milk and continue simmering. Add coconut cream and let it simmer until oil surfaces up and vegetable are tender.
SERVE. while hot.
Cooking Notes
Don't over cooked the vegetable to maintain the crunchness.
NUTRITION INFORMATION
Nutrition Facts
Calories per Serving
850
Carbohydrates (g)
142.90
Proteins (g)
25.5
Fat (g)
18.9
Dietary Fiber (mg)
7
Calcium (mg)
194
Iron (mg)
4.2
Sodium (mg)
607.9
Product Used