GINATAANG TILAPIA
AJI-NO-MOTO® UMAMI SEASONING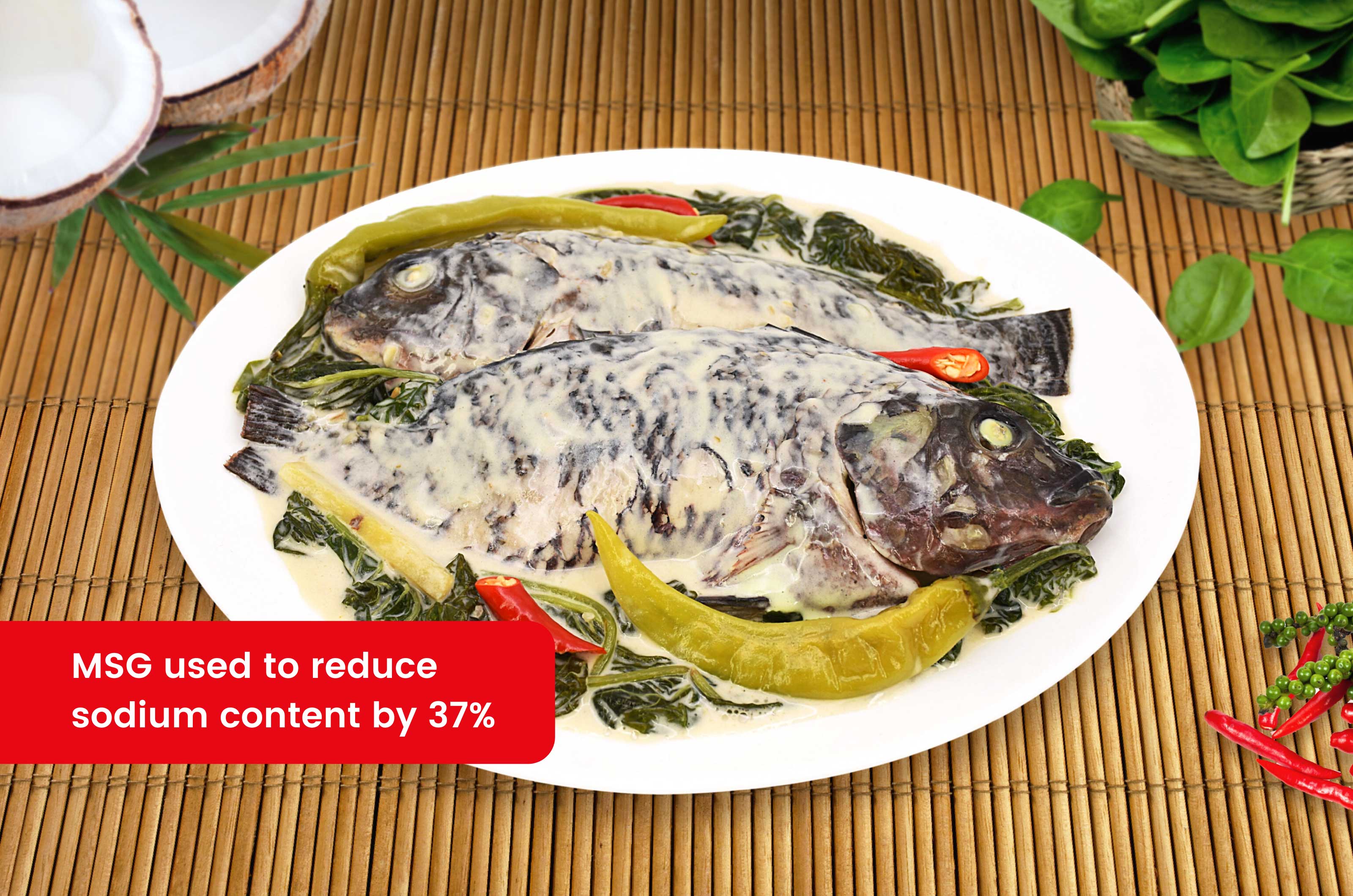 Ingredients
3 Tbsps. (45ml) Cooking oil
1/4 cup (35g) Onion, chopped
3 Tbsps. (30g) Garlic crushed
2Tbsps. (15g) Ginger, cut into strips
2 cups (500ml) Coconut milk
1 Kilo (1000g) Tlapia, well-cleaned
2 pcs. (20g) Green pepper, long whole
1 pack (11g) AJI-NO-MOTO® Umami Seasoning
2 Tbsps. (30ml) Fsh sauce
1/8 tsp.(0.75g) Ground black pepper
5 cups (100g) Spinach, fresh, leaves separated
Reduced sodium by 37%
Original seasoning/condiment: 2 tsps. (10g) Salt
NUTRITION INFORMATION
Nutrition Facts
Calories per serving (kcal)
249.5
Carbohydrates (g)
2.5
Proteins (g)
20.0
Fat (g)
17.9
Dietary Fiber (g)
0.7
Calcium (mg)
90.6
Iron (mg)
4.5
Sodium (mg)
359.5
Good to Know Nutrition Facts!
Tilapia is a rich source of potassium. It is an electrolyte that helps your body maintain a healthy balance of fluids.
Preparation time: 20 minutes
Cooking time: 30 minutes
Procedure
SAUTE. Heat the cooking oil in a pot. Sauté the onion, garlic, and ginger.
BOIL. Once the onion becomes soft, pour the coconut milk into the pot. Let boil and cover.
SIMMER. Add the tilapia. Cover and simmer for 12 minutes. Add long green chili peppers.
SEASON. Add AJI-NO-MOTO®, fish sauce and ground black pepper.  Cook for 3 minutes. Add the spinach. Cover and cook for another minute.
SERVE. Transfer to a bowl and serve while hot.
Makes 10 servings
Serving size: 1 cup (168)
Cooking Tips
Let your fish thaw in the fridge or placed in cold water however, keep the packaging or seal on. Directly exposed flesh will suck up water and result in a soggy fillet.
Product Used