GINATAANG TILAPIA RECIPE
AJINOMOTO® BRAND GINISA FLAVOR SEASONING MIX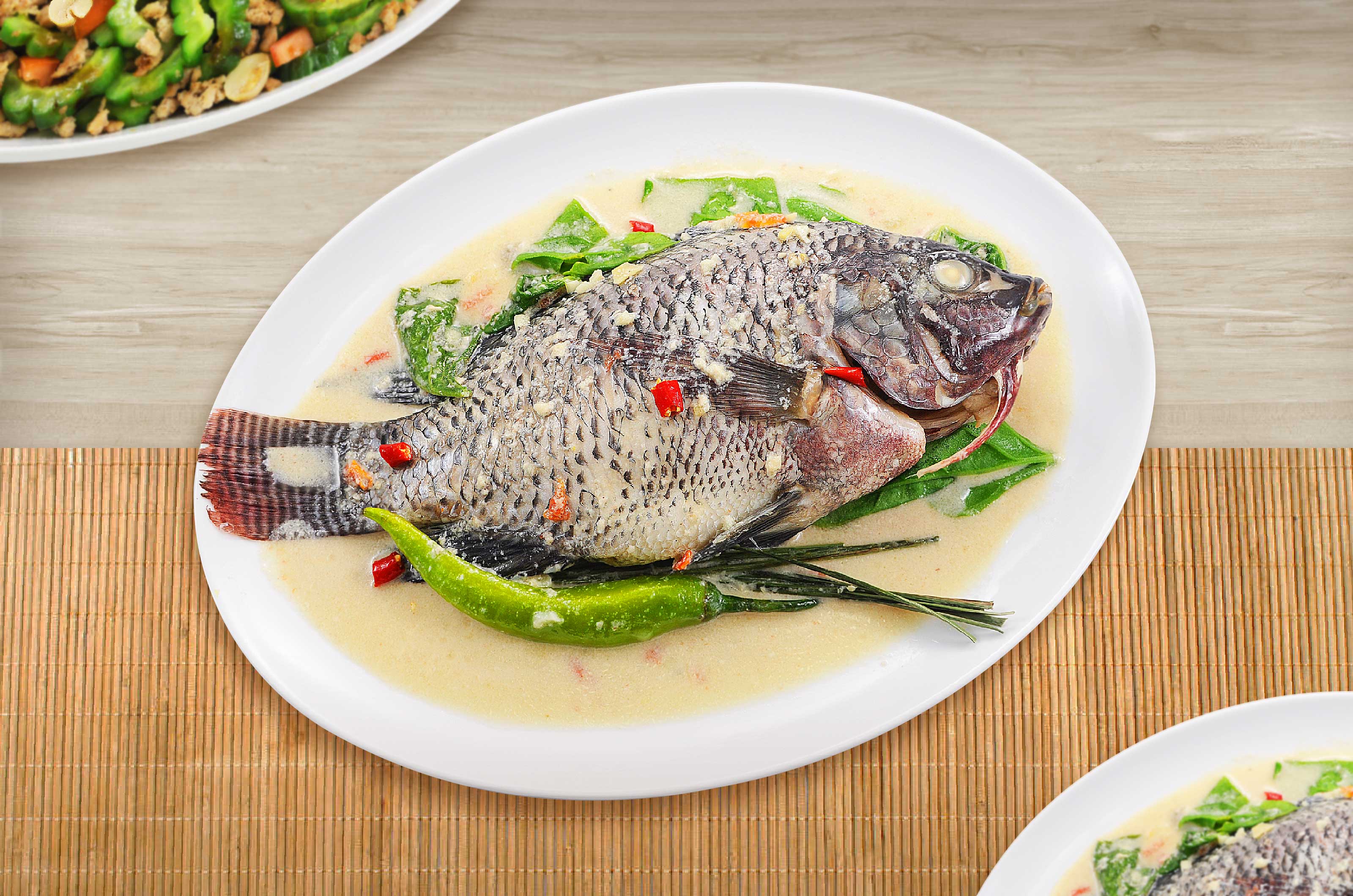 Ingredients
1 Tablespoons (15 ml) cooking oil
1/4 cup (60 g) onions, chopped
1/4 cup (60 g) garlic, chopped
1 Tablespoon (15 g) ginger,chopped
1/2 cup (120 g) tomatoes, chopped
2 cups (500 ml) coconut milk
2 pieces (300 g) tilapia, well cleaned
1/4 cup (60 g) lemon grass
1 piece (20 g) siling haba, chopped
1 piece (2 g) siling labuyo,chopped
1 pack (7 g) AJI-GINISA® Flavor Seasoning Mix
2 cups (60 g) spinach
1/2 teaspoon (2.5 ml) fish sauce (optional)
NUTRITION INFORMATION
Nutrition Facts
Calories per serving (kcal)
263.3
Carbohydrates (g)
7.9
Proteins (g)
12.1
Fat (g)
20.5
Dietary Fiber (g)
1.5
Calcium (mg)
69.7
Iron (mg)
6.3
Sodium (mg)
346.3
Good to Know Nutrition Facts!
Instead of frying Tilapia, adopt this recipe as a healthier version of your Tilapia dish.This will help you cut down fat in your food because the fish is cook by simmering in coconut milk .
Preparation time: 10 minutes
Cooking time: 20 minutes
Procedure
SAUTÉ. In hot oil, sautè onions, garlic, ginger and tomatoes.
ADD. Coconut milk , tilapia, lemon grass, siling haba and siling labuyo.
SIMMER. mix well and simmer for thirty (30) minutes .
SEASON. With AJI-GINISA® and add spinach, mix well.. Cook for one -two (1-2) minutes then add fish sauce to taste(optional). Cook for another minute.
SERVE. Transfer in a serving plate, serve and enjoy.
Makes 6 servings
Serving size: 2 pcs  (70g)
Cooking Tips
Since coconut milk is not a dairy product you can heat and reheat it quite easily using either the stovetop or the microwave.
Product Used