GINATAANG TULINGAN RECIPE
AJI-NO-MOTO® UMAMI SEASONING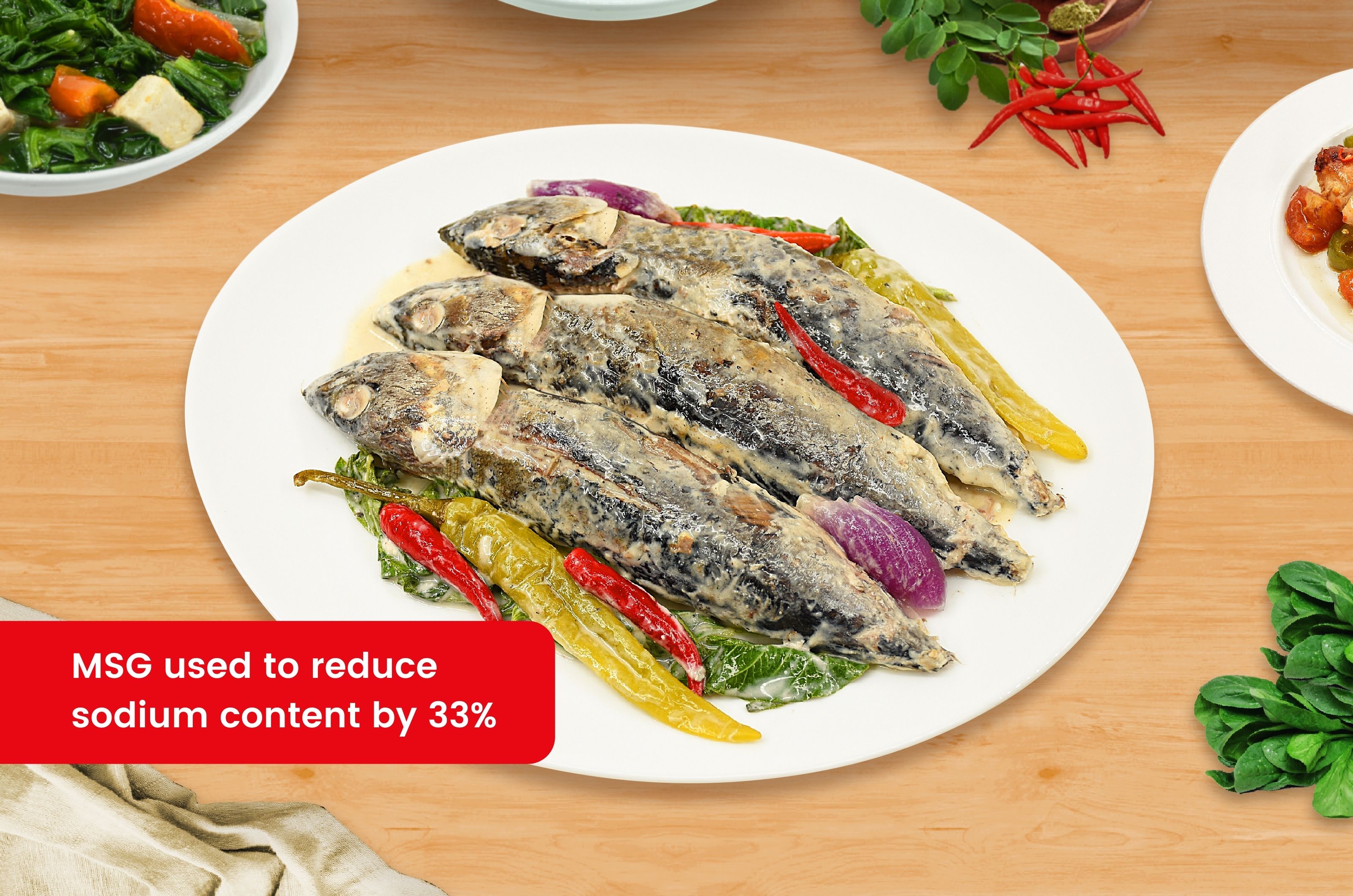 Ingredients
3 Tablespoons (45 ml) Cooking oil
2 Tablespoons (30 grams) Red onion, chopped
3 Tablespoons (45 grams) Garlic, crushed
1 Tablespoon (15 grams) Ginger, mashed
2 tetra packs (440 ml) Coconut cream
6 pieces (12 grams) Thai chili pepper
1/2 kilo (500 grams) Tulingan, well-cleaned
2 Tablespoons (30 ml) White vinegar
1 piece (3 grams) Green pepper
1/2 pack (5.5 grams) AJI-NO-MOTO® Umami Seasoning
1 1/2 Tablespoons (23 ml) Fish sauce
1/8 teaspoon (0.25 grams) Pepper, black, ground
2 cups (100 grams) Pechay Tagalog, leaves separated, well-cleaned
Reduced sodium by 33%
Original sodium content: 1/4 cup (60 ml) Fish sauce
NUTRITION INFORMATION
Nutrition Facts
Calories per serving (kcal)
329.3
Carbohydrates (g)
3.8
Proteins (g)
19.1
Fat (g)
26.5
Dietary Fiber (g)
0.5
Calcium (mg)
60.5
Iron (mg)
2.5
Sodium (mg)
296.8
Good to Know Nutrition Facts!
Coconut is high in Manganese which is essential for bone's health.
Preparation time: 15 minutes
Cooking time: 20 minutes
Procedure
SAUTÉ. In a pan heat oil, sauté onion, garlic, and ginger until onions become soft and fragrant.
SIMMER. Add coco milk and chili pepper, let it simmer for fifteen (15) minutes. Add tulingan, vinegar, finger pepper, cover the pan and let it cook until tender.
SEASON. Remove the cover, add AJI-NO-MOTO®, fish sauce and pepper, mix well and cook for another minute. Add pechay leaves, put back the cover, and turn off the fire. Let it rest for 1-2 minutes
SERVE. Transfer to a serving plate Serve and enjoy.
Makes 8 servings
Serving size: 1/2 cup (112 grams)
Cooking Tips
Whether you're buying coconut cream in a can or box, be sure to shake it before you start cooking because the creamiest part of the coco cream and/or coco milk rise to the top if stored for a period of time.
Product Used