GINISANG ALUGBATI
AJI-NO-MOTO® UMAMI SEASONING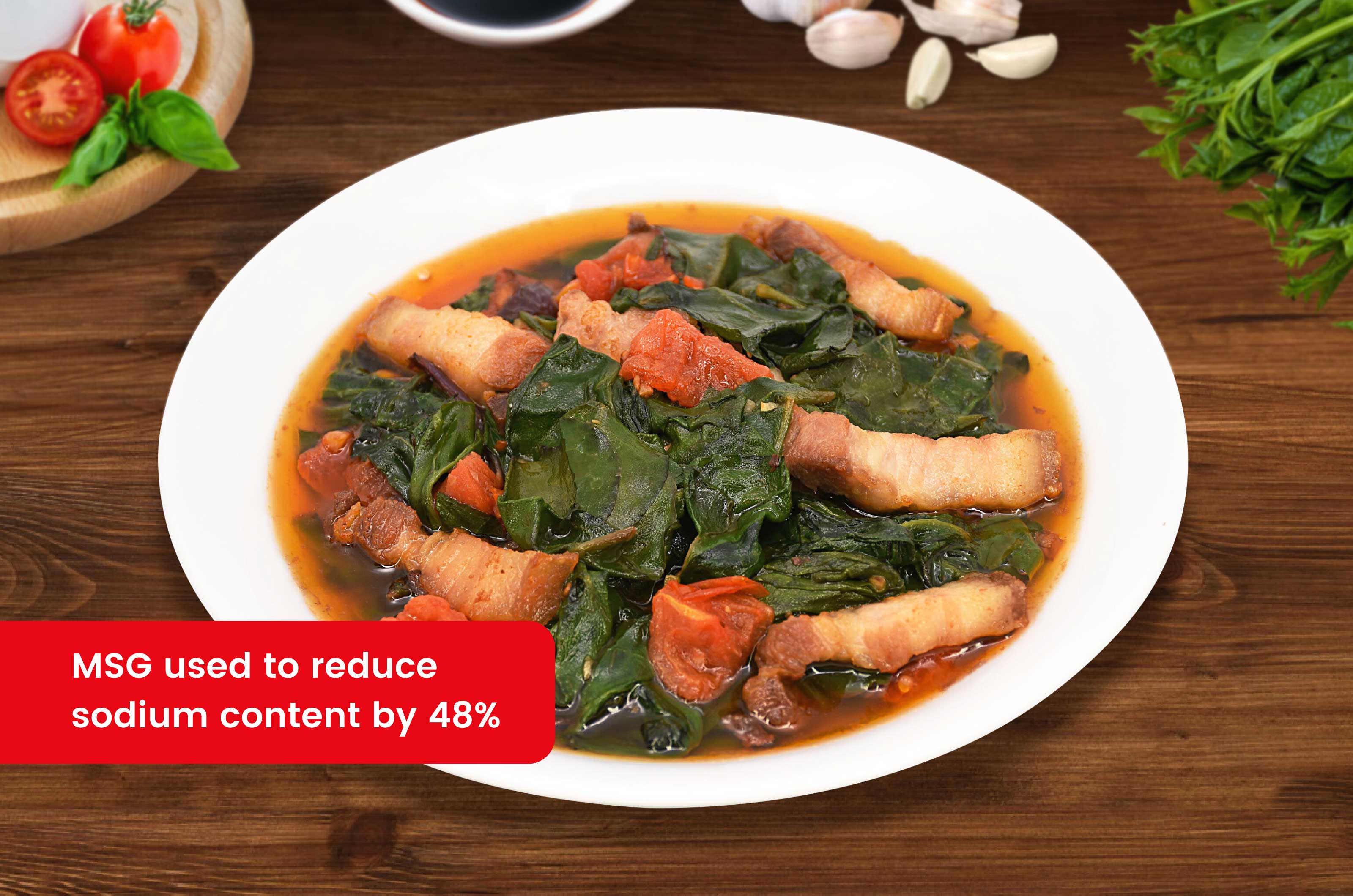 Ingredients
2 Tbsps. (30ml) Cooking oil
1 cup (250g)  Pork liempo, strips
1 cup (130g) Onion, chopped
3 Tbsps. (30g) Garlic, minced
1/2 cup (90g) Tomato, chopped
1 bunch (400g) Alugbati leaves
1/4 tsp. (1.25g) Ground black pepper
2 Tbsps. (30ml) Soy sauce
1/2 pack (5.5g) AJI-NO-MOTO® Umami Seasoning
Reduced sodium by 48%
Original seasoning/condiment: 1 tsp. (5.5g) Salt
NUTRITION INFORMATION
Nutrition Facts
Calories per serving (kcal)
19.1
Carbohydrates (g)
2.8
Proteins (g)
1.5
Fat (g)
0.2
Dietary Fiber (g)
0.7
Calcium (mg)
88.1
Iron (mg)
3.5
Sodium (mg)
234.6
Good to Know Nutrition Facts!
Alugbati is a good source of folate — a mineral essential for women of child-bearing age that prevents the development of birth defects among infants.
Preparation time: 20 minutes
Cooking time: 45 minutes
Procedure
SEAR. In a hot pan with oil, sear liempo until the surface slightly turns brown.
SAUTÉ. Add onion, garlic and tomato. Sauté for 2 minutes. Add alugbati leaves.
SEASON. Add ground black pepper, soy sauce and AJI-NO-MOTO®. Mix well.
SERVE. Transfer to a serving platter and serve while hot.
Makes 6 servings
Serving size: 3/4 cup (90g)
Cooking Tips
Sear pork liempo only up to a time that surfaces have turned slightly brown.
Product Used